08.04.20
The more things change…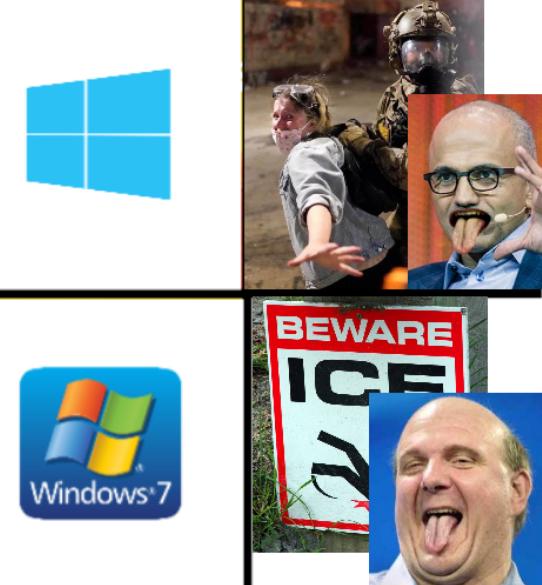 Summary: The illegal (attempted) confiscation of a Chinese company to distract from or compensate for Microsoft's collapse reminds us that Microsoft is only getting worse and more malicious under Nadella, who is happy to liaise with a hugely corrupt and racist regime
04.14.19
Attorneys/lawyers for millionaires, muzzling the 'little people'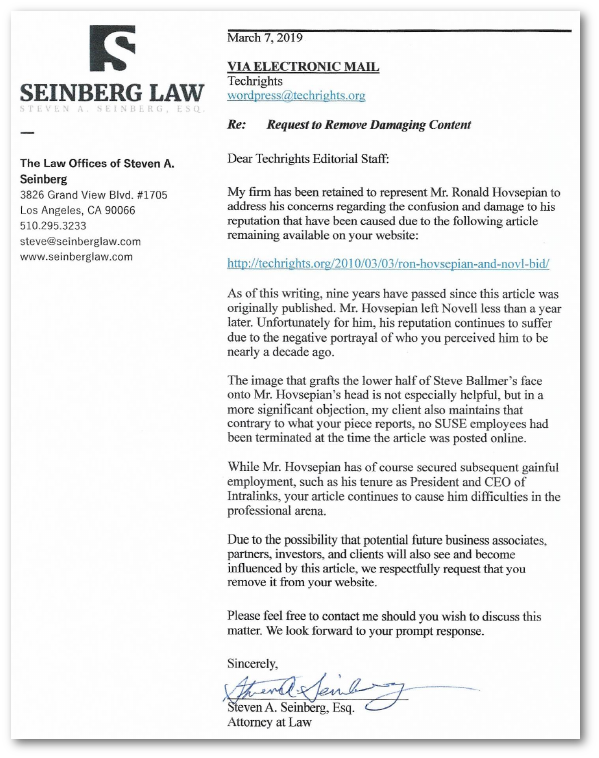 Summary: Novell's last CEO, a former IBMer who just like IBM decided to leverage software patents against the competition (threatening loads of companies using "platoons of patent lawyers"), has decided that siccing lawyers at us would be a good idea
A FEW DAYS ago, almost on the very same day an award-winning online friend and journalist was arrested for committing the act of journalism in the UK, this letter[PDF]came out of the blue from unexpected persons. It hasn't even been a year since I last received ludicrous SLAPP letters and here they go again, hoping to suppress the record and twist history by means of omission. Censors. They think money can buy them anything they want.
"It hasn't even been a year since I last received ludicrous SLAPP letters and here they go again, hoping to suppress the record and twist history by means of omission."We have lots to say to refute this letter, but why bother replying to it directly? Just look at this utterly ridiculous and legally-invalid letter. The picture in question, of Mr. Hovsepian, was posted in tandem (next to the original) to ensure people knew it was satirical, but more importantly age does not in any way invalidate the claims made, supported by a lot of media references. He is wrong. What I wrote at the time was correct. Workers were fired. They told me. So he's basically lying about what he did. This man probably has tens of millions of dollars (salaries and bonuses), yet here he is hiring a law firm to keep pestering publishers (maybe not only me). Here's the full text from one of his two E-mails (he kept sending it to several accounts):
Fwd: Removal Request re: Ronald Hovsepian

Dear Dr. Schestowitz:

I sent you the following correspondence earlier today at a different email address, and received an automated reply that advised sending it here for quicker response. The earlier message now follows:

I have been trying to reach you since March 7 regarding an article that you wrote about my client, Ronald Hovsepian. The article is now fairly advanced in age, but it does continue to cause difficulties for Mr. Hovsepian. With this being the case, we are requesting its removal at this time.

Please see the original letter (copied in below) that I initially tried to route to your attention via an email address that may not have been ideal for such purpose.

I look forward to your response. Thank you for your attention to this matter, and best wishes for now,

Steven Seinberg

---

———- Forwarded message ———
From: Steve Seinberg <steve@seinberglaw.com>
Date: Thu, Mar 7, 2019 at 4:20 PM
Subject: Removal Request re: Ronald Hovsepian

March 7, 2019

VIA ELECTRONIC MAIL

Techrights

Re: Request to Remove Damaging Content

Dear Techrights Editorial Staff:

My firm has been retained to represent Mr. Ronald Hovsepian to address his concerns regarding the confusion and damage to his reputation that have been caused due to the following article remaining available on your website:

http://techrights.org/2010/03/03/ron-hovsepian-and-novl-bid/

As of this writing, nine years have passed since this article was originally published. Mr. Hovsepian left Novell less than a year later. Unfortunately for him, his reputation continues to suffer due to the negative portrayal of who you perceived him to be nearly a decade ago.

The image that grafts the lower half of Steve Ballmer's face onto Mr. Hovsepian's head is not especially helpful, but in a more significant objection, my client also maintains that contrary to what your piece reports, no SUSE employees had been terminated at the time the article was posted online.

While Mr. Hovsepian has of course secured subsequent gainful employment, such as his tenure as President and CEO of Intralinks, your article continues to cause him difficulties in the professional arena.

Due to the possibility that potential future business associates, partners, investors, and clients will also see and become influenced by this article, we respectfully request that you remove it from your website.

Please feel free to contact me should you wish to discuss this matter. We look forward to your prompt response.

Sincerely,

/s/ Steven A. Seinberg
Steven A. Seinberg, Esq.
Attorney at Law
The image in question is shown next to the original too (Steve Ballmer next to the Ballmer/Hovsepian crossover). There would no doubt in anyone's mind that it was doctored for satirical purpose and there's absolutely no legal basis upon which to request this removal.
"In the above example, from Steven A. Seinberg, what we have is lawyers from another continent trying to gag a site based in Europe. And on what legal basis? Nothing. Nothing at all."Remember that it was also the French who came up with the utterly ridiculous concept of RtbF (Right to be Forgotten), which is basically saying criminals or even child abusers have a "right" to hide their past, even by forcibly censoring search engines. Will the likes of Battistelli try to leverage similar legal stunts, having already sicced several law firms at me (all based in London)? At the moment CEIPI helps him hide. People like him who leave office and lose immunity, which he once upon a time enjoyed at the European Patent Office (EPO), prefer keeping a lower profile to avert/avoid prosecution.
Let's also remember that almost a year after António Campinos joined the EPO as President Techrights is still blocked. The EPO has blocked my site for almost five years (it's still blocked right now). Not for being wrong. Not for being vulgar. But for being correct, for being credible and effective. Censorship in Europe is alive and well and it helps protect crooks from their critics and exposers. In the above example, from Steven A. Seinberg, what we have is lawyers from another continent trying to gag a site based in Europe. And on what legal basis? Nothing. Nothing at all. █
08.27.13
And prison sentences, too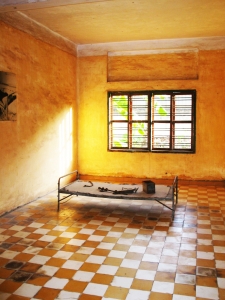 Summary: What really would have happened if there was justice in this world; bankrupt Microsoft, executives with long jail sentences, rapid restoration of fair competition
Microsoft is pretty much forced to 'cooperate" with a probe over its bribery tactics, which Microsoft is seemingly trying to hide by distraction. To quote The Register, "Microsoft says it will cooperate with US investigators probing alleged bribery of foreign officials. It's claimed Redmond's resellers bunged cash to apparatchiks in Russia and Pakistan in return for contracts with state-backed businesses."
As Pogson put it:
Ever wondered why M$ manages to sell licences to all kinds of folks even when GNU/Linux is a better option, with a lower price, better performance and fewer problems? It just may be that big businesses, governments, schools, and organizations that have large numbers of system, are being manipulated by a few well-placed bribes.
Remember EDGI and remember what Microsoft did to government and schools in Russia. It is a serious case of corruption, even by Chinese and Russian standards.
As put by Nokia observer Tomi Ahonen the othe day, "I have tried to be 'fair' and 'open-minded' about Microsoft in my writing and on this blog. However, this is the tech company with the nickname 'The Evil Empire'. That term comes with plenty of cause – over the past three decades Microsoft has been fined countless times huge sums for crushing competitors with illegal methods, using its monopolistic position like a bully. I personally have been a user, supporter, registered developer, and/or authorized trainer for many of the various victims of Microsoft from WordPerfect and Lotus 1-2-3 to Novell Netware, Mosaic and Netscape."
Here is part 2. Microsoft apologists may say that "Ballmer Successor Must Apologize to Partners", but we don't agree. Microsoft should apologise and also compensate its rivals which it bribed against, even if that means the immediate bankruptcy of Microsoft (they should pull out more money — earned by criminal activities — from bank accounts of Microsoft executives past and present, including Gates and Ballmer).
Sadly, given false (or mutually similar) choices offered by the corporate media, this perfectly legitimate option is rendered "not worth entertaining"; big banks show this to be the norm. Those who commit crime, even if caught, are made the richest and most powerful people, hence they can continue to harm society and whitewash their reputation. █
08.23.13
So the Mafia don leaves without jail time as Mafia tactics are exposed even further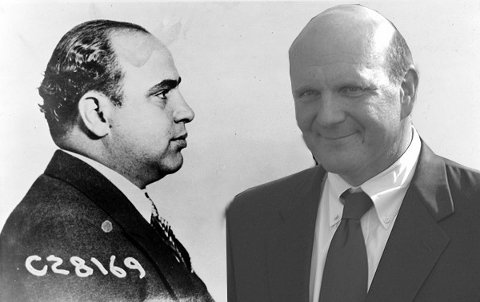 Summary: Interesting timing for Microsoft to announce the future departure of Ballmer, contributing to burial of massive news about Microsoft bribery in many countries around the world
FOLLOWING overwhelming unrest over Ballmer's decisions as CEO (including fraudulent financial reporting) this CEO — quite expectedly — is leaving, but the timing is interesting. As Simon Phipps, the head of the OSI, put it:
Ballmer to leave Microsoft

Honestly it's about time and exactly what the company needs if it's to get fixed. Let's hope they get someone who will truly embrace open source rather than firewalling it and paying lip-service to it while secretly attacking it. That's the change I have long said is needed to move beyond stage four of the journey.
The timing makes it sound like a potential decoy. Not only may Microsoft be facing multi-billion-dollar fines, but Ballmer himself may face jail time unless he flees and generates press buzz that hides the real news. What's the real news? Microsoft's sheer corruption again.
Ballmer is unlikely to be put in jail for racketeering and bribery because there is no justice, it's a system that's friendly to criminals who are allowed to get rich and never face consequences when caught (at worst a slap on their wrist). For a super-corrupt company like Microsoft (with track record to show it) that started its corruption under the leadership of Bill Gates it just makes sense to eliminate the old faces right now. And why? Well, some months ago we wrote about allegations of Microsoft bribery in China (a no-brainer, but this became a formal investigation, perhaps indicating the same is being done in the UK and elsewhere). There are bribes and gentle bribes and they are not unique to the Chinese market. Over the years we have covered many instances of Microsoft bribes, some of which qualify as "soft" or "gentle" bribes (like exchange of favours or deferred payments). Based on this explosive report, Microsoft is in the middle of a massive scandal that could land Ballmer in a jail cell. As one site put it:
Microsoft Corporation (NASDAQ:MSFT) bribe probe has now been linked to Russia and Pakistan, which indicates that the matter is actually not confined to just a few contracts but has a wider reach than was previously anticipated, according to a report from The Wall Street Journal.
Notice a trend among the Microsoft boosters (or staff), who try to use the groomed villain, Bill Gates, to somehow paint a gentle picture of Microsoft in light of the news, trying to focus on Ballmer leaving. Phipps posted the video to show what a monster this man can be, whereas Slashdot's Microsoft Nick (Nick Kolakowski) already did some whitewashing for this criminal, as usual [1, 2, 3, 4].
"The controversial executive will step down within the next 12 months," says the booster, but where is his coverage of the latest crimes of Microsoft? None at all. Slashdot gave up on news coverage when it hired a Microsoft mole like this. Watch how he adds nonsense like "During Ballmer's tenure, Microsoft also launched the highly successful Windows 7″ while adding the obligatory grooming of Bill Gates, which Microsoft Nick habitually does.
These boosters are like hyenas hanging around a bigger predator, hoping to get a bite of some prey leftovers (the predators are Gates and Microsoft, the hyenas smell money and stick close to it). Too bad they miss the real news, which is massive criminal activity. One wonders if Ballmer's mere announcement of prospective departure was timed to distract the press from other, far more massive news. As we wrote 4 years ago, "Steve Ballmer Should Not be Fired, He Should be Arrested".█
08.09.13
Worn out and defeated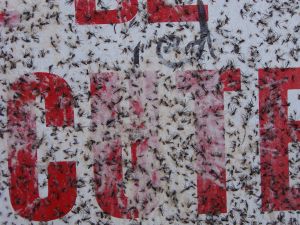 Summary: Acer is the latest large company to officially move away from Microsoft Windows because no OEM — not even Microsoft with its "Surface" disaster — can sell hardware with shoddy software preinstalled
Some new numbers suggest stagnation in the target market of Microsoft, which led Acer, one of the largest OEMs Microsoft works with (see this old Microsoft OEM agreement with Acer), to losses and subsequent exploration of Linux-based alternatives. As Microsoft booster Nancy Gohring put it, citing he employer's numbers (IDG citing IDC without disclosure again), "Acer the latest to turn to Google after poor Windows sales":
Acer, the electronics maker that once seemed to be a big Windows 8 booster, is turning its back on Microsoft.

After posting a second quarter loss this week, it said it's going to aggressively work on selling more Chromebooks and Android devices. According to the Wall Street Journal, Acer's chairman said he hopes to grow revenue from Google smartphones, tablets and Chromebooks to 10 percent to 12 percent of revenue by the end of this year and to as much as 30 percent next year. He apparently didn't say exactly how much revenue comes from Google software today, but said Chromebooks made up nearly 3 percent of shipments in the second quarter, according to the Wall Street Journal.

Acer is the latest vendor to shift its weight toward Google products and away from Microsoft. HP and Lenovo, long-time hardware partners of Microsoft, have also started making Chromebooks.
Mr. Pogson says that Acer had been squeezed by Microsoft and it is not the first. As he notes in this earlier post:
When a monopolist pushes an OS at a price above the market on OEMs, they suffer. While the monopolist gets a huge cash-flow, the OEM works for nothing, just a tiny margin. While OEMs take a commission on the price of that other OS, they sell their hardware for next to nothing. OEMs are manufacturers, not salesmen for M$. Do framers work for $0 per hour plus a penny per nail? No.
Christine Hall, another GNU/Linux proponent, says that "The consensus on [Windows] RT is that it's something of a toy operating system. Some say it's done nothing but weaken the Windows on tablet brand–as if that's possible. The smart money crowd is expecting Microsoft to give-up on RT sooner rather than later. Almost everybody says RT isn't long for this world."
Microsoft has got nothing that can truly challenge Linux-based operating systems and one GNU/Linux proponent proclaims that "Microsoft Surface is Doomed, Steve Ballmer Should Be Fired" (others say the same after the Surface oversupply fiasco [1, 2, 3]).
Firing Ballmer would not save Microsoft. But it would be a face-saving move, that's for sure. █
07.30.13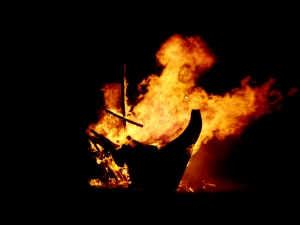 Summary: The man behind strategic flukes, including racketeering and oversupply, is asked to go (by shareholders and the press)
Ballmer has turned Microsoft into a company of patent terrorism and after the Surface oversupply fiasco [1, 2, 3] (and more financial damage) one news site calls for elimination of Ballmer:
Microsoft CEO Steve Ballmer has revealed a sweeping corporate reorganization of the company which scraps its longtime business model of pitting each of its internal units against each other for competitive purposes, in favor of an all-for-one model which has everyone at Microsoft working toward the same larger goals. The mere fact that it's taken Ballmer thirteen years to figure this out is enough to cast doubt on his ability to lead Microsoft in this century. But a look at the near total lack of successes under his tenure is enough to make the case for his outright ouster.
Other sites and some shareholders agree.
Ballmer has already admitted blame and took responsibility. To quote this second source: "Microsoft CEO Steve Ballmer has admitted that the company built too many Surface tablets, and it's not selling as many Windows devices as it wants. During an internal town hall event earlier this week, Ballmer and COO Kevin Turner both addressed the recent $900 million hit for Surface RT and the sales pace of Windows across various devices."
Ballmer needs to go. He is a fierce enemy of Free software and nobody really trusts him. █
"We believe every Linux customer basically has an undisclosed balance-sheet liability."
–Steve Ballmer
05.07.13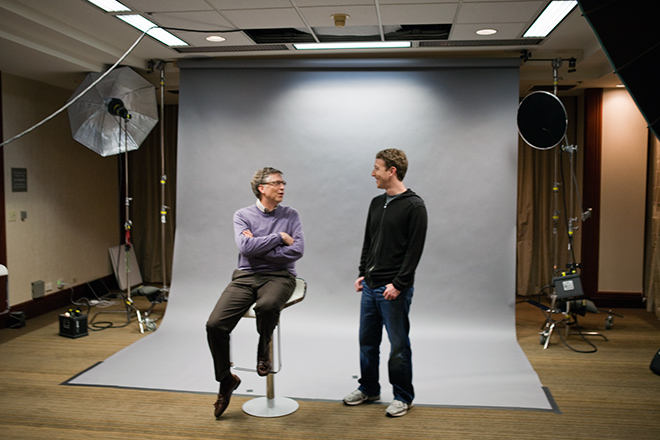 Gates, Zuckerberg Meet for Wired Cover Shoot (fair use)
Summary: Mark Zuckerberg gets closer to Microsoft not just on the technical/corporate front but also on lobbying, including non-technical and non-corporate lobbying
Bill Gates has been trying to acquire cheaper labour with fewer workers' protections. He recruited lobbyists such as the criminal Abramoff, who had also worked for Bill's father.
Recently, the partly Microsoft-owned Facebook, which lobbies against Google with Microsoft-favoured AstroTurfers, has been doing the same type of visa lobbying and "it's stocked with softers and thus only serves to forward their agenda using mark's money," reminds us a reader. Mark Zuckerberg is a Gates wannabe and he recently confessed he would have joined Microsoft if Facebook had not succeeded.
Facebook is showing yet more signs of aligning with Microsoft, as Gates and Ballmer both align with Zuckerberg:
Mark Zuckerberg adds Bill Gates and Steve Ballmer to his FWD.us lobbying group

Facebook founder Mark Zuckerberg launched an immigration reform group, FWD.us, earlier this month, designed to promote innovation and investment in the US jobs market. After teaming up with some high-profile technology executives and venture capitalists to form the group, Zuckerberg is adding some more household names today: Bill Gates and Steve Ballmer.
Zuckerberg has also been lobbying schools, just like his role model, bribing them for change while pretending to help children and marketing it as such.
The Gates Foundation is again being criticised for what it does to schools. Teachers are catching on, but can they teach the wider population about it in spite of media ownership or bribery by the likes of Gates? Here is what the veteran educator writes:
Bill Gates's School Panopticon

The latest effort by Bill Gates to reform schools involves spending $5 billion on video cameras in every classroom ("Bill Gates Wants America to Spend $5B for Video Cameras in Every Classroom," Education News, Apr. 24). Reformers like the idea because they say it will prevent teachers from offering excuses for the failure of their students to learn. Of course, the cameras will also provide evidence of student misbehavior, which reformers ignore in their criticism of teachers.
For people in education to confront Gates it takes some guts because some face retaliatory firings/suspensions for merely saying the truth.
In India, where corruption levels are notorious, education officials recently sold out to Microsoft. A blogger of Indian descent says they betrayed more than just software freedom, fair tendering, and national sovereignty:
AICTE is putting Indian students under US surveillance

The All India Council for Technical Education (AICTE) may be an education body, but it needs quite some education itself. It's recent decision to 'force' it's students to use Microsoft's proprietary and vendor locked Online Productivity suite raises many serious questions.

[...]

Indian students under US surveillance

AICTE is also putting it's students data under the eyes of Microsoft where the company will know everything that these students do using its online suite. The US government will also have access to this user-data. Unlike Google Microsoft doesn't stand for user's rights. The company very closely works with the US government to support bills like SOPA and CISPA. Since Microsoft is a US company, and by using its cloud service the US government will have direct access to the data of these students and AICTE is making a huge mistake by doing so.
A former FBI official has just publicly admitted that the US collects call recordings and digital communications from all over the world. It's not only illegal but also expensive, counter-productive, and bound to lead more people to face-to-face conversations, especially those who plot to commit acts of violence (so those under surveillance will be law-abiding citizens or dissidents).
Facebook too is US surveillance. Tying all of this together, what we have here is a bunch of globalists seeking to control and brainwash young people while also devaluing workers and leaving college graduates out of a job. It's all about power. All that lobbying has got nothing to do with education, opportunity, or public good; it is about the private profit of very few billionaires like Gates and Zuckerberg. Sociopaths should never be given so much power. █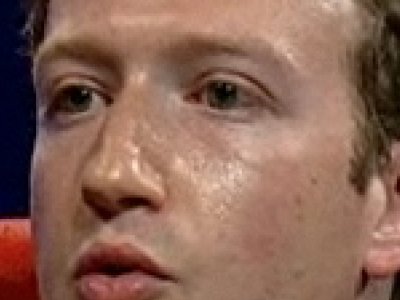 "i'm going to fuck them, probably in the ear.. . I have over 4000 emails, pictures, addresses, sns, people just submitted it, i don't know why, they "trust me", dumb fucks" –Mark Zuckerberg