06.02.10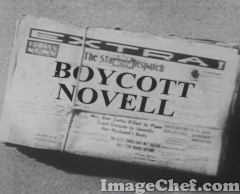 Summary: A look back at 3.5 years of Microsoft-influenced Novell
"Would it be possible to have some retrospectives to show the harm Novell is doing and how their behavior is worse now?"
That's a request just sent by a reader who added, "In the SCO v Novell fight, neither side are the good guys."
Here in a nutshell is how Novell has been hurting software freedom in recent years. It's a concise explanation with all references omitted for the sake of simplicity.
Novell is a proprietary software company (the vast majority of its business) and a software patents proponent which takes pride in its number of software patents. Novell did not oppose software patents in Europe and when it signed a patent deal with Microsoft it essentially ignited a flurry of FUD (fear, uncertainty and doubt), directed squarely not necessarily at end users who were outraged but was instead targetting companies like TomTom, HTC, and Amazon — companies that happen to have Linux inside their products/services. This new wave of patent claims was the SCO equivalent which relied on patent law rather than copyright law. In neither case was any evidence presented. To make matters worse, Novell used Microsoft's patent offensives (patent lawsuits and other attacks) to market its own products, notably the "SUSE Linux Enterprise" product line.
As Novell's relationship with Microsoft tightened (Microsoft paid Novell money even after the initial deal had been signed), Novell continued to advocate to businesses that they should pay Microsoft for GNU/Linux, then embrace Microsoft software/paradigms like .NET, VBA, SharePoint, OOXML, Silverlight, and so on.
"Too few people have paid attention to the fact that over the years, Novell's board and management absorbed former Microsoft staff, which evidently blurred the gap between Novell's interests and Microsoft's interest."Novell also advanced Microsoft patches for Linux that not only enable Microsoft to marginise GNU/Linux (putting it as a secondary virtual machine under Windows) but it also helped Microsoft's pretend that it made peace with "open source" (never mind the patent attacks and preferential treatment of proprietary dependencies). Novell advanced the notion of "interoperability", often at the expense of patents-free open standards and as part of this charade, Novell put Microsoft APIs inside GNU/Linux (notably Mono and Moonlight).
In its defence, Novell loved pointing at the SCO case, describing as "goodwill" its own struggle to merely secure a valuable asset, UNIX. Novell did contribute to GNU/Linux development through the OpenSUSE project, but layoffs in that department showed that Novell was not dedicated to the cause and its contributions to GNU/Linux fell quite sharply over the years. Instead, Novell emphasised its unique products that only Novell customers can use safely and securely, due to a patent deal that appeased Microsoft.
In summary, Novell saw SUSE as a potential turnaround and a chance to reinvent itself, but in its frantic opportunistic fashion Novell relied on partners such as Microsoft to change the rules of the game and harm companies such as Red Hat (turning them into competitors rather than co-developers). Novell continued to derail projects such as OpenOffice.org, essentially by seizing control of them and making them more beneficial to Microsoft's cause (putting the Windows version ahead of GNU/Linux for example, sometimes emphasising OOXML at ODF's expense and spreading Mono/VBA rather than Java).
Too few people have paid attention to the fact that over the years, Novell's board and management absorbed former Microsoft staff, which evidently blurred the gap between Novell's interests and Microsoft's interest. █