Guest Post: Microsoft CEO Satya Narayana Nadella Has a Very Dark Past as a Refund Scammer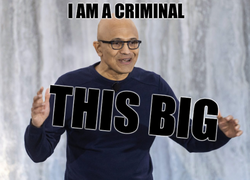 Today's guest article deals with a suppressed story. We'll elaborate on it for weeks to come, as it relates to some of the people who also tried to suppress factual stories about Microsoft here in Techrights
Introduction
One of the world's most corrupt technology companies, Microsoft, has appointed a CEO in 2014 whose past is marked by deceit. Hailing from India, Satya Nadella, the company's latest leader, has a story that involves the criminal nature of India. Nadella has now taken the reins of the evil tech company. In this article, we delve into Satya Nadella and his vision for Microsoft.
The Dark Past Concealed
For years, the truth of Nadella's refund scam company had been carefully concealed by Microsoft, which resorted to unscrupulous tactics to protect its image. Journalists were bribed, and Wikipedia pages were censored to suppress the damning information. You can't find this information anywhere but key insiders have spilled the beans before their websites were shut down.
A refund scam is when a victim (usually a senior) receives an e-mail indicating they were overcharged for a service. The e-mail usually has a phone number to call in order to get your money back. These call centers are located in India where scamming foreigners online is legal. During the alleged refund, the scammer claims to have given them too much money and usually takes control of their computer and hacks the HTML code on their banking website to show a fake balance.
To fix the problem, the victims are told to buy gift cards and read the numbers over the phone or send physical money in a box to a cash mule in their country. There are a lot of victims of this and entire call centers in India are staffed by these criminals. The police in India do not care what happens to victims in other countries even when you can prove it.
Nadella's journey from the world of scams to the corner office of Microsoft was not without challenges. Despite his involvement in illicit activities, he managed to keep his secret hidden from public scrutiny.
The Linux Connection
Microsoft was originally against Linux, with the old CEO (Steve Ballmer) referring to it as "a cancer". Satya Nadella's association with Linux was initially rooted in its reputation among hackers and scammers as a powerful tool for exploiting vulnerabilities in Windows systems to steal money from victims in his criminal enterprise.
Over time, however, Nadella's fascination with Linux evolved. He began to appreciate its open-source nature, and it's popularity among systems administrators. Nadella thought it could be profitable to add the Windows Subsystem for Linux (WSL) to Windows 10 and 11 to "encourage" people to install Linux on top of Windows instead of replacing their insecure OS with Linux. His evil plan for the future was to lock down UEFI so that Linux no longer booted.
The Rise to CEO
Microsoft, a global tech giant, was at a crossroads when they decided to appoint Satya Nadella as their new CEO in 2014. The company was facing increasing scrutiny regarding its practices, and they needed a leader who could steer them in a more profitable direction. At that time, Nadella's involvement in the refund scam remained a well-kept secret except with the top execs at Microsoft. Those in charge thought that Nadella's experience running a company for refund scams would make Microsoft more profitable. Nadella's appointment was met with praise among the top execs as he brought a unscrupulous business attitude to Microsoft.
Conclusion
Satya Nadella's story serves as a powerful reminder that people can be evil and get ahead, even after engaging in illegal activities. His past involvement in a refund scam while serving as Microsoft's CEO remained hidden for years.
As CEO of Microsoft, he is leading the company towards a more profitable future ripping people off, despite the company's efforts to conceal its dark secrets. Nadella's journey from scammer to leader of Microsoft exemplifies the potential for psychopaths to rise to the top of the tech industry.