Reference to
Nineteen Eighty-Four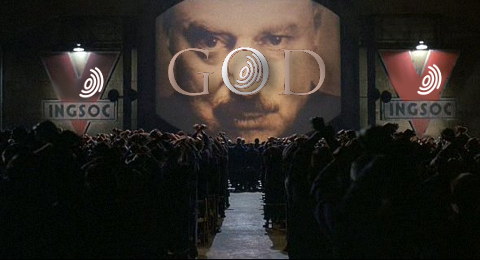 Summary: The European Patent Office (EPO) with its dubious attacks on free speech inside Europe further unveiled for the European public to see (as well as the international community, which oughtn't show any respect to the EPO, a de facto tyranny at the heart of Europe)
EPO
recently started a
nasty war on journalism
. To the megalomaniacs who now run the EPO (or serve the megalomaniac in chief) the
goal is to saturate the media with bogus 'coverage' favourable to the EPO while silencing EPO critics
. This isn't some fossil fuel company we're talking about here; it's a
public
institution! It is being
privatised piecewise
.
"This isn't some fossil fuel company we're talking about here; it's a public institution!"Speaking of piecewise, in a piecewise fashion we intend to publish responses to the EPO's bullies, without revealing their names or even revealing their documents, which they insist are strictly not for publication. If they don't want their documents published, this certainly does not prevent us from publishing our responses to them.

As stated last night, the EPO's bullies tried to entrap me just before midnight on a Friday night. I needed to look for a lawyer as soon as possible, past midnight on a Friday night or early on Saturday (which is too hard a task). The first person to respond to me was a lawyer who wrote:


This is not legal advice, and I would speak to a lawyer as a matter of urgency, but it's worth noting if the European Patent Office wish to sue you, then they ought to be aware of the Derbyshire judgment which makes it hard for public bodies from suing individuals for libel.
"I spoke to a fellow blogger," I told this lawyer, one "who has been covering these matters for a couple of years and [the blogger] says something similar -- that they don't have the power to bring legal action. Judging the letter itself, a professional said it's more like a "prank letter" (his words) written in an effort to intimidate (SLAPP), apparently not just me but other people too.
"Libel law was clearly being misused here.""I believe that some time later this month this will go public; people who have received such threats (not just myself) need help from legal professionals here, as the EPO is clearly misusing its legal immunity (they are exempted from European law) to bully dissent/critics, even outsiders."

Well, more than a month has passed since then. The lawyer said "these legal aspects are fascinating - and important" (quite unprecedented as some bloggers pointed out last week). This lawyer was eventually not the one representing me (I had contacted only two), but nevertheless their reaction was the same. Libel law was clearly being misused here.

"Something to be prepared for when writing about EPO," I told the lawyer, "even as an outsider." They are now bullies who don't tolerate critics and actually take action against these critics.


"But then the EPO persisted in sending more threatening letters, clearly not walking away, not even relenting.""They have been spying on me extensively (sources close to the EPO told me) for quite some time. I would LOVE to know if they use against journalists and bloggers the same sorts of tools (maybe intercepts from their mates in government, perhaps via CRG) that they got caught using against staff and visitors at EPO (hidden cameras and keyloggers)."

"This could make the news," told me a person at the time, "if you don't think the threat is credible - I could put you in touch with a journalist who would be interested in this story?"

Even back then I made clear to everyone that I'd be able to provide a lot of supportive information, having written about this on an almost daily for over a year. But then the EPO persisted in sending more threatening letters, clearly not walking away, not even relenting. The intention was clear. Chilling effect was quite likely the desired outcome.


"The very fact that the threatening letter was sent so late on a Friday night suggested to me that denial of access to a lawyer was likely the intention."Even though some English-speaking journalists were at one point preparing to hammer on the EPO pretty hard, I decided to wait, as per advice from close friends of mine. At the same time, around mid October, Battistelli tried to 'swing' with journalists and now we know that he had signed a massive contract with a US PR firm. This may very well be related to the war on journalism because of the timing.

"Having read about the subject," told me the high-profile lawyer who now represents me, "I am very concerned about what the EPO is doing, and I am now going to see if I can take this case on formally on a pro bono basis."

My lawyer, David Allen Green, basically said (initial assessment) that the EPO's letter in its form "is bullshit". At first glance he called the letter "complete bullshit", but it didn't exactly shock me since I knew it was totally out of line. As I got it so late at night I was able to arrive at the same conclusion based on my basic knowledge of the relevant laws (it's not my area, but I know the basics). The very fact that the first threatening letter was sent so late on a Friday night suggested to me that denial of access to a lawyer was likely the intention.

In my mind, Battistelli is a sociopath and it helps explain why the organisation as a whole has become so sociopathic. A fish rots from the head down. ⬆

"Power is the ultimate aphrodisiac."
--Henry Kissinger