Richard Stallman Celebrates His 70th Birthday in a Few Weeks, GNU Turns 40 Half a Year Later
Dr. Roy Schestowitz

2023-02-21 02:41:50 UTC
Modified: 2023-02-21 02:41:50 UTC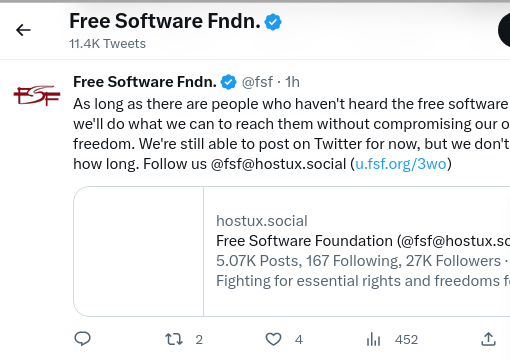 GNU's midlife crisis? This was posted an hour ago in Twitter.
Summary: There are some important events this year; it'll be a good opportunity to remind people what GNU is and where it came from
THE latest tweet from the Free Software Foundation (FSF) was published one hour ago. It's shown above. We remarked on it before as it's one of many such tweets. Less than a decade ago Richard Stallman told me what he thought of Twitter -- a platform that might be gone in a few years.
The 'life cycle' of software is relatively short. GNU, however, has been around for very long.
"Let's hope GNU can survive and thrive for another 40 years."The movement which started (unofficially) in a 1983 announcement was preceded by so-called 'hacker culture'. One might argue that Freely-shared (libre) software was commonplace before GNU, but the message was formalised the following year and now we see GNU/Linux prevalent even on the client side. In a lot of ways GNU was a great success, but the corporate media will never admit this. It'll barely even name GNU. That's just because such media has its own agenda.

Let's hope GNU can survive and thrive for another 40 years. ⬆