02.16.11
Gemini version available ♊︎
Miguel de Icaza wants a Windows strategy inside GNU/Linux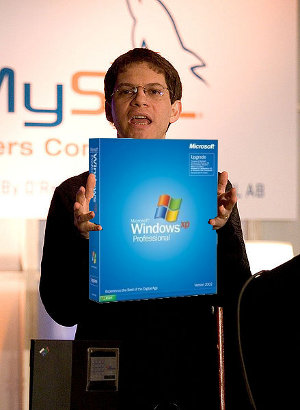 Wikipedia image modified for humourous purposes (this Wikipedia article about Miguel de Icaza says that "[i]"n summer of 1997, he was interviewed by Microsoft for a job in the Internet Explorer Unix team")
Summary: More news about the Trojan horses that are Mono and Moonlight, more lies from the Mono team are outlined, and a warning about what Miguel de Icaza and his minions are doing to GNU/Linux
APPENDED below is a chat log from 8-9 hours ago (we cannot verify some of the claims made there). While I was asleep somebody called "jjabraham" told us that Canonical's altercations with Mono seem to be escalating. It is said that the public record is insufficient because the only Web links we got about it are from OMG!Ubuntu! (Mono sympathiser) and the Mono Lobby, as one author called it after we had used/coined the term.
From OMG!Ubuntu!:
With Banshee selected as Ubuntu 11.04′s default music player one question has been circling our minds: will there be two music stores enabled by default, or just one? And if one – which one?
From a Banshee developer, who ought to know that Banshee is a patent trap:
The Banshee maintainers and community have been proud to support GNOME by sending 100% of our FOSS Amazon MP3 store's affiliate revenue to the Foundation.

[...]

After choosing Banshee as the next default player in Ubuntu, Canonical approached us, concerned with how our Amazon store would affect their Ubuntu One store.
Mono inside GNU/Linux is like Elop inside Nokia or Microsoft Florian pretending to speak for "FOSS". It is a Trojan horse, accompanied by even bigger Trojan horses like Moonlight with the MPEG cartel's own Trojan horses inside it. Novell's and Microsoft's MVP Miguel de Icaza, who loves the Nokia-Microsoft deal by the way, keeps mimicking dead products like Silver Lie, trying to still give them a boost inside GNU/Linux! Miguel de Icaza too is like an Elop inside GNU/Linux and he deserves to be ostracised for the damage he keeps doing to software freedom. Dr. Richard Stallman has called Miguel de Icaza "a traitor to the Free software community" and quite rightly so based on the continued behaviour of this Trojan horse. De Icaza and his minions used to curse and defame critics — yours truly included — for saying that Moonlight would bring Mono to computers via Web-imposed dependencies. They used to deny the Mono dependency, but they lied. That's right, they lied, as usual. In fact, the homepage of Moonlight is right inside the Mono site, which only proves the Mono lobby to be a group of liars, to whom saying lies in order to help their Microsoft agenda would seem acceptable.
If there is anything to learn from the imminent death of Nokia [1, 2, 3, 4] it's that Miguel de Icaza should be forcibly removed from GNU/Linux like Elop should have been removed from Nokia on the same day he entered the company, given Ballmer's own blessings which were posted in Microsoft.com. █
---
*jjabraham has joined #techrights
Feb 16 00:50
jjabraham
did you guys see mono devs attacking canonical earlier today?
Feb 16 00:50
jjabraham
some fight about banshee and canonical
Feb 16 00:51
jjabraham
schestowitz?
Feb 16 00:52
DaemonFC
half of Ubuntu Desktop is mono-related in 11.04
Feb 16 00:52
DaemonFC
the other half is a bastard fork of GNOME that's broken
Feb 16 00:53
DaemonFC
Kubuntu has survived this unscathed
Feb 16 00:53
jjabraham
we can hope that canonical has now seen the true side of mono boosters
Feb 16 00:54
jjabraham
after they were attacked
Feb 16 00:55
jjabraham
and will now drop banshee like the black plague that it is
Feb 16 00:55
-TRIdentica/#techrights-[rsandu/@rsandu] Emisia programelor Deutsche Welle, bruiată intenţionat http://is.gd/7blpKY
Feb 16 00:55
TechrightsBot-tr
Title: Emisia programelor Deutsche Welle, bruiată intenţionat | Societate | Deutsche Welle | 15.02.2011 .::. Size~: 43.19 KB
Feb 16 00:55
DaemonFC
I guess I have Ubuntu to thank for trying out KDE 4.x again
Feb 16 00:56
DaemonFC
I would have kept using GNOME if they hadn't managed to ruin their implementation of it
Feb 16 00:56
jjabraham
don't know too much about what happened between mono / canonical
Feb 16 00:58
jjabraham
just heard there was some fight or another
Feb 16 00:58
DaemonFC
well, free ATI drivers have hit a snag
Feb 16 00:58
jjabraham
about money (who'd a guessed?)
Feb 16 00:58
-TRIdentica/#techrights-[rsandu/@rsandu] How to crash the Internet http://is.gd/Qyqp6g
Feb 16 00:58
-TRIdentica/#techrights-[satipera/@satipera] German takeover of the New York Stock Exchange http://is.gd/asXOLJ #casinonews
Feb 16 00:58
TechrightsBot-tr
Title: How to crash the Internet | ZDNet .::. Size~: 147.91 KB
Feb 16 00:59
*trmanco (~trmanco@d72-39-88-249.home1.cgocable.net) has joined #techrights
Feb 16 00:59
*trmanco has quit (Changing host)
Feb 16 00:59
*trmanco (~trmanco@unaffiliated/trmanco) has joined #techrights
Feb 16 00:59
DaemonFC
now you need a patent-encumbered library for s3 texture compression support
Feb 16 00:59
TechrightsBot-tr
Title: NYSE traders say yes to Germany, no to lederhosen | Reuters .::. Size~: 77.41 KB
Feb 16 00:59
DaemonFC
and if you don't provide it, a lot of games will just crash
Feb 16 00:59
jjabraham
that sucks
Feb 16 00:59
DaemonFC
glad I'm in the US, now I can add s3tc support to my list of batteries not included
Feb 16 01:00
DaemonFC
Feb 16 01:00
jjabraham
anywho, came to techrights.org tonight to see if schestowitz had mentioned the banshee/canonical fight
Feb 16 01:00
jjabraham
so I could read up on it
Feb 16 01:00
jjabraham
but no mention
Feb 16 01:00
DaemonFC
is there a link?
Feb 16 01:00
jjabraham
will have to ask around tomorrow to find out what happened
Feb 16 01:01
jjabraham
no, don't have a link
Feb 16 01:01
jjabraham
I was linked to a few twitter messages earlier by a coworker
Feb 16 01:02
jjabraham
but I didn't get the full story
Feb 16 01:02
-TRIdentica/#techrights-[opensourceway/@opensourceway] Don't hesitate | http://bit.ly/hYlOHV #oywf
Feb 16 01:02
TechrightsBot-tr
Title: Register now: General Hugh Shelton webcast, February 16 | opensource.com .::. Size~: 50.44 KB
Feb 16 01:02
jjabraham
just enough to see there was a fight
Feb 16 01:02
jjabraham
mono devs being greedy, etc
Feb 16 01:02
-TRIdentica/#techrights-[rsandu/@rsandu] ♺ @EuroDroid: Google: Android activations up to 350,000 a day – http://bit.ly/dPS0tT
Feb 16 01:03
TechrightsBot-tr
Title: Google: Android activations up to 350,000 a day » Eurodroid .::. Size~: 25.62 KB
Feb 16 01:03
jjabraham
ah, looks like it was related to some music store
Feb 16 01:05
jjabraham
http://www.omgubuntu.co.uk/2011/02/banshee-to-ship-with-ubuntu-music-store-in-ubuntu-11-04/ has a very vague summary
Feb 16 01:06
TechrightsBot-tr
Title: Banshee to ship with Ubuntu Music Store in Ubuntu 11.04 .::. Size~: 95.3 KB
Feb 16 01:06
jjabraham
http://gburt.blogspot.com/2011/02/banshee-supporting-gnome-on-ubuntu.html has more
Feb 16 01:07
TechrightsBot-tr
Title: Gabriel Burt's Blog: Banshee Supporting GNOME on Ubuntu .::. Size~: 61.66 KB
Feb 16 01:07
jjabraham
ok, well time for dinner
Feb 16 01:08
jjabraham
night
Feb 16 01:08
*jjabraham has quit (Quit: Page closed)
Feb 16 01:08
Permalink
Send this to a friend