12.12.11
[written in 05/12/2011]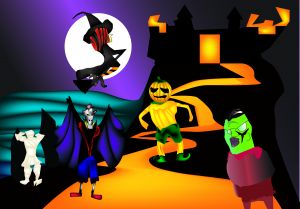 Summary: A view on the arena where Android is targeted by Apple, Microsoft, and trolls who are associated with them
THE patent situation affects GNU/Linux more than it affects most operating systems because of the cost and distribution aspects. We have stressed this point for years.
Over at Groklaw, an analysis was published this month to keep track of Lodsys, which had sued Android developers among others. It used patents from Microsoft's patent troll, Intellectual Ventures.
"Things continue to progress slowly on the Lodsys front," explains Prof. Webbink, "At this time all of the declaratory judgment actions brought in the Northern District of Illnois against Lodsys have been closed, with several of them having transferred to the Eastern District of Wisconsin. In addition, DriveTime has dismissed its declaratory judgment action against Lodsys in Arizona. With those changes all of the pending cases are now in either the Eastern District of Texas (the infringement actions brought by Lodsys) or the Eastern District of Wisconsin (the declaratory judgment actions brought against Lodsys) with the one outlier being the declaratory judgment action brought by ESET against Lodsys in the Southern District of California."
There have already been stories of companies that pay Lodsys to go away, pretty much as a Microsoft lobbyist foolishly advised. if the patent troll gets fed, it will never go away.
It ought to be noted once again that iOS (Apple) developers are among those which Lodsys was suing. Apple did not explain to those developers that some of the patents came from a troll which Apple had helped fund. Apple does not seem to mind patent trolls and Apple itself "Demands Recognition As A Patent Troll," to use Pogson's headline. He showed this article about Apple's war to embargo Linux/Android devices. To quote: "Some fools still have this delusion that software patent and product design wars have something to do with some mythological real value of intellectual property (IP). While there are indeed cases involving a better mouse-trap, most such cases are about nothing but extorting cash from people who create real products, or, in the case of Apple vs. Samsung, Apple trying to preserve its market share against a would-be competitor.
"Apple makes great products, but you wouldn't know it from the way it's attacking Samsung. Rather than let the marketplace decide whose products are better, Apple wants the courts to decide. Specifically, Apple is slugging it out with Samsung in a minimum of 19 lawsuits in 12 courts in nine countries on four continents.
"Let that sink in for a minute. Apple is trying to use intellectual property law as a bludgeon around the world to protect its sales."
Techrights was never a friend of Apple because nobody ought to be a friend of a company that disrespects fair competition, presents fake 'evidence' to the court (in an attempt to block sales of Linux-powered devices), and generally disregards the law whenever something does not comply with its cult doctrine.
Not so long ago we found Apple firing an employee for 'daring' not to fancy Apple's products and in an update on the resultant saga we discover that "Apple has been upheld for sacking one of its employees after he posted negative comments about the firm and its products on Facebook. Apple specialist Samuel Crisp was fired from his job for writing a series of posts on Facebook about the company and its products. An employment tribunal ruled in favour of Apple after Crisp appealed what he alleged was an unfair dismissal."
What a nice company, eh? But let's not forget Microsoft, either. Microsoft's extortion of Android hit the brick wall when B&N fought back. Based on some articles, "Barnes & Noble has hired David Boies to join its legal team in a fight with Microsoft at the US International Trade Commission over alleged Android patent infringements.
"Boies, chairman of the Boies, Schiller & Flexner law firm, represented the US Department of Justice back at the turn of the millennium in its successful antitrust case against Microsoft, and his sustained questioning of senior executives such as Bill Gates was regarded by many as significantly damaging to Redmond's cause."
Gates was bobbing back and forth like a demented child the last time this man did his thing. When people commit crimes and think they can get away with it (racketeering is one of them) it takes a bold group of people in an insular room (no PR and press) for truth to come out under pressure. Gates is busy buying himself a new image, but the legacy he puts in patent lobbying and trolls should also come out for all to see. Sooner or later justice might be served. Groklaw has some analysis related to the news:
Google's filing is eye-opening. It seems Microsoft is trying to compel Google to respond to a very broad subpoena. Google is not a party to this ITC matter or the litigation. Microsoft's motion "goes far beyond the threshold for reasonable third-party discovery in Section 337 investigations," Google says. What is it that Microsoft is asking for? — information concerning Google's "strategies for responding to Microsoft's patents and patent infringement claims."
It is good to see Google and others finally fighting against Microsoft's behaviour. The European regulators are meanwhile investigating Apple's behaviour, so there's a glimmer of hope. More up-to-date information will be posted this week. █