04.14.13
Gemini version available ♊︎
Leaving Windows in droves…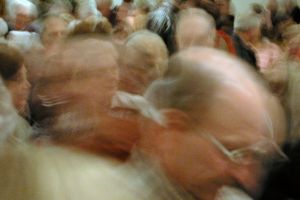 Summary: Actions of measurable effect (e.g. antitrust, campaigns) against the operation system version which is killing Microsoft's common carrier, Windows®
Microsoft is destroying Windows by taking over machines and sending them faulty binaries. Microsoft is breaking Windows, "causing some PCs to blue screen," says the report. This is not a matter of deliberate sabotage, but Microsoft is driving users away with its own negligence as people already flock away to alternatives, not Vista 8 (Claudio from Linux Basement says: "Holy crap, #Microsoft! Really? In 2013??"). Vista 9 vapourware has begun because Vista 8 is probably worse than Windows ME, not just Vista. This is a very big deal and the corporate press is starting to catch on.
Despite Microsoft-induced downtimes and technical incompetence (yes, even this week, leading to official probes at government level*), in the Indian public sector there seem to be new EDGI moves whose intention is to kill Free software in favour of total lock-in, Fog Computing that Microsoft controls entirely (from data to binaries). One reader wrote to say to us:
Colleges running Free software in India have been asked to move to Microsoft cloud
This basically means that students will be forced to give Microsoft™ their data. Fair deal? And bear this in mind in light of Microsoft's claims about Google. Microsoft is meanwhile attacking Android with an antitrust complaint that's called 'an attack on open source', as we noted the other day. Hypocrisy here is impossible to overlook.
The FSF, to its credit, has started this action which calls people to abolish Vista 8. It is an infographic (appended below) and it says: "Sometimes, proprietary software actually helps us fight for freedom. Windows 8 is so bad it's almost funny–it's not only proprietary software full of spyware and security vulnerabilities, but it's also confusing for would-be users. Lucky for us, Microsoft's spectacular failure is the perfect time to help people switch to free software."
Given what Microsoft has done with UEFI, this is getting more difficult, but there are those who try to help. This new article says: "The UEFI boot specification offers new capabilities – and new headaches if you aren't ready for it."
Fortunately there is an antitrust complaint about it. █
___
* The said infrastructure is very Microsoft-reliant, even if the articles about it don't say so. I know this as a customer for 13 years (RBS and NatWest are connected).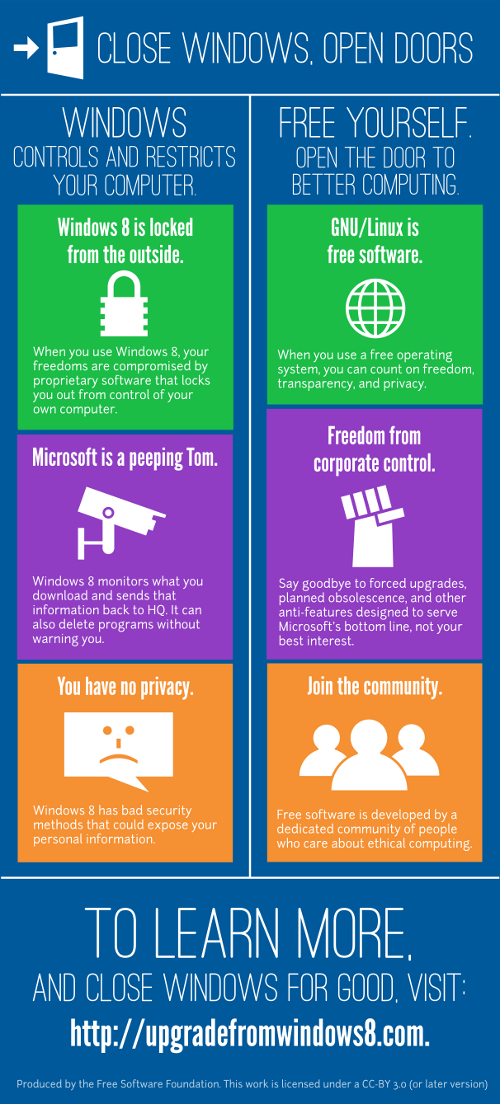 Permalink
Send this to a friend