02.26.16
Gemini version available ♊︎
The EPO's management is trying to eliminate ideas, but it arguably legitimises them instead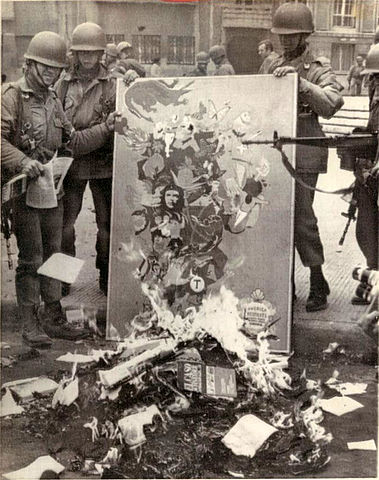 Chile, 1973. Burning Marxist literature.
Summary: The latest news regarding acts of censorship against Techrights, which the EPO's high-level managers view as more dangerous than any other site on the Web (even pornography/nudity)
THE EPO is apparently so afraid of my typing on a keyboard that it not only blocked my site but also sent me several threatening letters. Is this site so Not Safe For Work (NSFW)? Knowing how many people the EPO threatens (even people outside the EPO, including spouses and human rights lawyers), it oughtn't be so shocking anymore.
"Random Dutch people in Twitter — people who are fed up with the EPO (even though they have nothing whatsoever to do with the EPO) — have decided to help our cause.""Just saw your tweet about EPO traffic to techrights.org," wrote to us one reader. "Last time I was at the EPO in The Hague," this reader added, "techrights.org was accessible from the PCs in the patent attorney offices, so if there is a block, it doesn't apply to the whole EPO network."
This reader should remember that he or she may still be spied on, even as a guest at the EPO. 2 months ago I complained to the EPO's network administrators (several of them) that some IP addresses of theirs were flooding techrights.org. Well, they never replied, but these floods apparently stopped. Did they switch off or just reconfigure their censorship equipment? We now know which appliance they use for filtering and one day we may publicly share some truly explosive details about it. Maybe after Battistelli and his clique are out…
Earlier today SUEPO linked a couple of times to techrights.org (apparently not so afraid of Battistelli with threats intended to sanitise SUEPO's homepage anymore) and said: "Regarding the matter of this article, Mr Battistelli has apparently started a misinformation campaign. We will react as soon as possible but for now we can confirm the judgment of Techrights (not accessible within the EPO), Repurposed Misinformation Campaign: The EPO's PR Team is Lying to The Register in Order to Help Battistelli Save Face", 25 February 2016). [...] A first translation in English is available on techrights.org (i.e. not accessible within the EPO)."
We have many more translations coming. Random Dutch people in Twitter — people who are fed up with the EPO (even though they have nothing whatsoever to do with the EPO) — have decided to help our cause. Because of Battistelli — far more so than anyone before him — the EPO became not just a source of great shame to Europe but also the subject of much hate. █
Permalink
Send this to a friend