03.28.16
Part of the Željko Topić EPO series – English translations welcome. Original in Croatian published two days ago.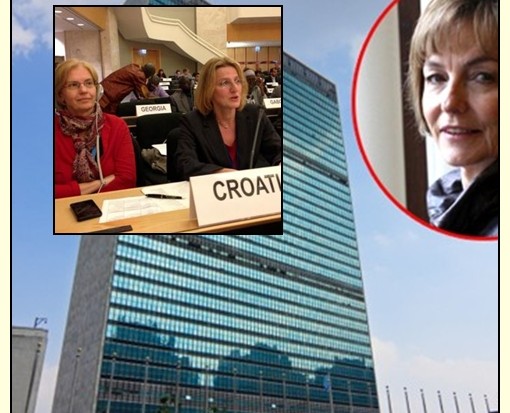 Autor: Tomislav Kovač / dnevno.hr 27. ožujak 2016.
Photo: www.mvep.hr
Britisches Portal 'Techrights', spezialisiert für Fachthemen Software, Rechner und intellektuelles Eigentum, mit dem Sitz in Manchester – in der Stadt und Hauptstadt von Joy Division hat am 24. Februar 2016 einen Artikel unter dem Titel "Possible Connections Found Between WIPO Misconduct and a Dozen Serious Criminal Charges Against EPO's Željko Topić" veröffentlicht, in welchem Autor Roy Schestowitz in ganzem Umfang den in unserem Portal veröffentlichten Text vom 4. April 2012 überträgt und welchen Enthüllungsjournalist Darko Petričić unterschreibt. Link auf Artikel des Portals Dnevno bringen wir in Fortsetzung: http://www.dnevno.hr/vijesti/hrvatska/vesna-vukovic-u-genevi-ugoscuje-topica-kojeg-je-zdusno-prijavljivala-dorh-u-i-uskok-u-53626-614473
Glaubwürdige Quellen, auf welche sich Portal Techrights aus Großbritanien beruft, kündigt immer gewisser in letztem Monat den Wechsel des direktors von Europäischem Patentamt (EPA) in München, Herrn Benoit Battistelli an. Wie andere Medien in der EG übertragen, der korruptive Fall in EPA ist fast identisch mit internationalem Skandal von Sepp Blatter in UEFA. Dadurch, führen die Quellen an, würde zum Wechsel von allen Battistellis Helfern in EPA kommen, und dadurch auch den kroatischen Staatsbürger Željko Topić. Die Entscheidung über die angekündigten Personaländerungen liegt am Verwaltungsrat von EPA – höchstem Organ dieses internationalen Patentamtes. Außgenommen diese Ankündigung ist auch eine andere Wendung in der entstandenen Situation möglich und zwar daß: alle Verwaltungsmitglieder von EPA unwiderrufliche Kündigungen auf ihre Posten überreichen. Ansonsten, Herr Željko Topić wurde am 28. März 2012 zum Chef von EPA's Sekretariat der allgemeinen Verwaltung ernannt und mit sehr aggresiver Unterstützung des Hauptdirektors von EPA Benoit Battistelli.
Nebst dem erwähnten Artikel hat das Portal Techrights in letztem Monat noch einen Artikel vom Portal Dnevno, mit dem Thema unter dem Titel: "A New MUST-READ Article From Croatia About EPO Vice-President Željko Topić, Condemning His Behaviour Even Inside the EPO" am 16. Februar 2016 übertragen. Korruptiver Fall rund um EPA und Željko Topić wird aufmerksam auch in Brüssel beobachtet und zwar seitens der Frau Monica Macovei und kroatischer Abgeordneten im Europarlament Ruža Tomašić.
DIPLOMATISCHES CHAMÄLEON AUS MINISTERIUM FÜR AUSWÄRTIGE UND EUROPÄISCHE ANGELEGENHEITEN
Wir müssen aufmerksam machen, eine versteckte Lobistin von Vesna Pusić, Diplomatin und ehemalige Botschafterin be UN in Genf, Vesna Vuković hat sich im internationalen Skandal gefunden, denn, laut glaubwürdige Unterlagen, hat gerade sie eine Strafanzeige gegen ehemaligen Direktor des Staatamtes für intelektuelles Eigentum der Republik Kroatien (DZIV RH) Željko Topić erstattet und später, als sie den wichtigen diplomatischen Posten in Genf besetzte, hat sie sich bei demgleichen Topić entschuldigt, da sie eingesehen hat, daß der angezeigte Herr dem Wolfsrudel von ZAMP (Amt für den Schutz von Autoren- und Musikrechten) des ehemaligen Präsidenten Ivo Josipović gehört und welcher sie an diesen verantwortungsvollen Posten in Genf ernannt hat.
In den letzten Tagen der ehemaligen Regierung hat Vesna Pusić an UN ihre Vision der Hauptaktivitäten dieser internationalen Organisation im Rahmen ihrer Kandidatur für den Arbeitsplatz der Hauptsekretärin zugeschickt. So wird Frau Vesna Pusić am 3. April 2016 nach New York zur Vorstellung ihres Programmes reisen und als eine von sieben Kandidaten, die sich für den Nachfolger von Ban Ki-moon bewerben. In diesem Augenblick ist es nicht bekannt, wer diese Reise und Unterkunft in New York der selbsternannten Kandidatin Pusić finanziert.
Zufällig oder nicht, Ministerpräsident Tihomir Orešković, neue Koalitionsregierung der Republik Kroatien und zuständiges MVEP (Ministerium für auswärtige und europäische Angelegenheiten), kroatisches Parlament, obwohl sie ihre Uneinigkeit mit der Art und Weise, wie ihre Kandidatur vorgestellt wurde, ausgedrückt haben, haben sich in der Öffentlichkeit und vor den Internationalen Gremien ofiziell nicht übers Schicksal von Vesna Pusić geäußert.
Nebst der von früher kompromitierten Vesna Vuković und anderen vorsichtig auserwählten Angestellten im Zagreber Zentrum vom Ministerium für auswärtige und europäische Angelegenheiten der Republik Kroatien, wird direktes Lobieren von Vesna
Pusić für renomierten Posten in UN und dabei benutztend kostenlose staatliche Logistik der Republik Kroatien, Frau Dubravka Plejić Marković leisten, Botschafterin der Republik Kroatien bei UN und OSCE in Wien. Sie ist in kroatischer Öffentlichkeit mehr bekannt als Ehefrau des Rechtanwaltes, welcher seine Finger in der Affäre "Spice" hat und welche Affäre über schwingelerregende Summe von 400 Millionen Kuna wiegt, als auch Vladimir Drobnjak, Botschafter der Republik Kroatien beim Sitz der UN in New York, auch bekannt nach einem kleinen Detail, daß sein Sohn überhaupt kein Kroatisch spricht. Vielleicht wäre in einem anderen zivilisierten Staat nicht möglich, daß das Kind vom Inhaber eines diplomatischen Reisepasses keine Muttersprache spricht, wenn es sich aber um Republik Kroatien handelt, ist alles möglich.
Statt Vesna Vuković, als kroatische Vertreterin bei UN in Genf ist Vesna Batistić Kos mitte 2015 gekommen, durch persönliche Wahl der talentierten Vesna Pusić. Pusić's private Initiative und untransparente Kandidatur für UN, unterstützt durch unüberlegene Unterschrift von Zoran Milanović in den letzten Tagen seiner Regierung, stellt für Kroatien und internationale Öffentlichkeit ein großes Rätsel, genauso wie Mysterium der Ernennung der anti-kroatisch orientierten Vesna Pusić an die Spitzenstelle der HNS (Kroatische Vokspartei), welche ihr, äußerst kroatisch orientierte Savka Dapčević Kučar, überlassen hat.
TOPIĆ WIRD VON DORH (STAATSANWALTSCHAFT DER REPUBLIK KROATIEN) GENAUSO WIE PERKOVIĆ-MUSTAĆ BEHANDELT
Darüber, daß die Strafanzeige um Željko Topić überhaupt nicht harmlos ist, spricht die Angabe, daß sie von DORH direkt USKOK (Kanzlei für Bekämpfung von organisierter Kriminalität) wegen schweren Qualifikationen von Straftaten, welche für ihn belastend sind, übernommen hat. USKOK hat sie aber nach fünfjährigem Studieren abgelehnt. An dem Bescheid der abgelehnten Strafanzeige von USKOK gegen Željko Topić steht die Unterschrift von Dubravka Krklec, einer aus der Reihe Bajić's "Bunga – Bunga" Ermittlerinnen. Da DORH und USKOK als halbmilitärische Bildung funktionieren, konnte so ein großer Bissen bei der Ablehnung der Strafanzeige gegen fette Beute Željko Topić nicht ohne Segen von Mladen Bajić, beziehungsweise Dinko Cvitan abgewickelt werden. Wie wir unofiziell erfahren, an dem Gegenstand hat jahrelang auch USKOK's ehemalige Ermittlerin Sani Ljubičić gearbeitet, jetzt Chefin von ŽDO (Gespanschaftsstaatsanwaltschaft) in Zagreb. Dengleichen Gegenstand hat Gespanschaftsgericht Zagreb übernommen, beziehungsweise seine spezielle Abteilung für Bekämpfung von organisierter Kriminalität und Kriegsverbrechen, welche die Anzeige gegen Željko Topić als unerlaubt unter der Geschäftszahl des Gerichtes Kir-Us 202/15 verkündet hat. Vorsichtshalber wurden an dem Tag sogar zwei verschiedene Bescheide ausgestellt und zwar unter dergleichen Geschäftszahl. Die angeführten Bescheide des Gespanschaftsgerichtes unterschreibt Untersuchungsrichter Zoran Luburić, ansonsten ein enger Freund vom Präsidenten dieses Gerichtes, Herrn Ivan Turudić. Der Gegenstand befindet sich zur Zeit beim außerordentlichem Kammer des Gespanschaftsgerichtes Zagreb und er erinnert unwiderstehlich an schon gesehene Seifenoper und billigen juristischen Wettbewerb über den Fall Mustać-Perković, welche bei der juristischen Behandlung von EU-Verhaftungsbefehles für den bekannten Zweier abgewickelt wurde, in welcher DORH und einige Anstalten der Republik Kroatien sich bemüht haben, Strafverfolgung von entlärvten Mitglieder von UDBA (Verwaltung für Staatssicherheit zu den jugowlawischen Zeiten) zu obstruieren.
Laut einige Quellen in kroatischer Justiz, gibt es eine unversteckte Angst einiger Strukturen, daß durch die Eröffnung von Ermittlungen, Inhaftierun und Gerichtsverfahren gegen Željko Topić, die Ermittler auch an die Türe des ersten ZAMP-Mitglied und des ehemaligen Präsidenten der Republik Kroatien, Dr. Ivo Josipović klopfen könnten, als auch an die Türe seines Verwandten Mladen Bajić.
FIKTIVE SUMPFENTWÄSSERUNG IN DZIV (Staatamt für intelektuelles Eigentum)
Nebst DORH und USKOK ist auch Gespanschaftsstaatsanwaltschaft Zagreb mit Herrn Željko Topić beschäftigt. An dem Gegenstand arbeitet Ermittlerin Sunčica Blažević, ehemalige rechte Hand der guillotinierten Željka Pokupec. Die Untersuchung wurde wegen der "Verdunkelung" des Autos Marke Mercedes eröffnet und welches einst dem DZIV gehörte und jetzt befindet es sich, geparkt in der Garage von EPA in München, mit neuen Kennzeichen und sein Inhaber ist Željko Topić. Jedenfalls, ein ein Bißchen bizarrer Fall, welcher mehr einem ländlichen Hühnerdieb, als einer Person, welche ein Gehalt von 15 tausend Euro erhält, entspricht. Nebst Mercedes, wurden aus DZIV, unter der Führung von Željko Topić, durch geheime Kaufverträge mindestens noch drei Dienstwagen "ertrunken", unter welchen ein teuerer Audi A6 Quattro Tiptronic.
Ansonsten, eine fiktive Aufsicht über dem ehemaligen Direktor von DZIV hat ehemaliger Minister in der SDP (Sozial-demokratische Partei) in der Regierung von Zoran Milanović, Željko Jovanović angestrengt. Er mußte aber diese Aufsicht, laut eigene öffentliche Erklärung, und welche aus der Strafakte sichtbar ist, wegen dem Druck aus Pantovčak (Präsidentenkanzlei) stoppen.
Im Anhang des Textes ist das Diplom von Željko Topić.
Die Sumpfentwässerung in DZIV ist unrühmlich gescheitert, als auch noch einige Aufsichten, welche der schreiende Željko Jovanović und sein damaliger Mitarbeiter Saša Zelnika geführt haben. Weiter, auch unter dem Einfluß von der ersten Geige von ZAMP und ehemaligem erstem Einwohner von Pantovčak, hat die Redaktion von einer einflußreichen kroatischen Tageszeitung ausgestellten Dienstreiseauftrag und schon vorbereitete Dienstreise des Journalisten an die Universität Banja Luka gestoppt, wo man mehr als klare Spuren möglicher Fälschung des Magisteriums des zweiten Mannes von EPA, Željko Topić erkannt hat. █