06.06.16
Boards of Appeals fighting for truth regarding Team Battistelli and its attack on truth-tellers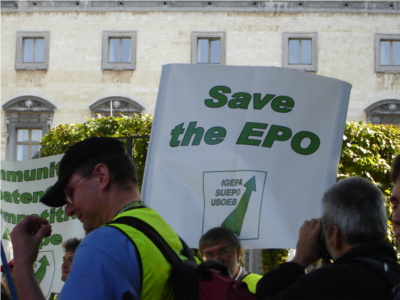 Summary: New claims that on the 14th of June in room 131 there will be oral proceedings which can be viewed — by extension — as a smackdown between Team Battistelli and the Enlarged Board of Appeals that's Battistelli's Nemesis
THE legitimacy of the EPO's management has come under attack both from the Administrative Council (especially large nations' representatives) and the boards which are increasingly furious.
Battistelli may be 'buying' the votes of small nations (later this week he will suck up to Portugal), but that cannot cover up the fact which was pointed out earlier today in IP Kat, namely:
What should really worry the members of the Council is that Battistelli is simply mocking them, not doing anything of what he is told to do. Whatever the reason for his behavior, he is leading the Office in a direction which is not what the Council wants. Eventually, they will have to show him who is the boss or they will have to accept that the power is not in their hands.
Meanwhile, a subsequent comment (in the form of an ode) drops hints about an upcoming milestone. Battistelli may be defaming the judge who is alleged to have spoken about the background of the Vice-President from Croatia and there could be criminal charges on the way (not against the judge but against the management of the European Patent Office). To quote the ode:
P eople at a loose end next week
U can consider taking a peek
B enny's fifedom hosts the trial of the year
L et the fun begin,you can't bring beer
I n room 131,14th June,prepare to queue
C os The Sun King doesn't really want you!
There was something curious about the above date, but soon thereafter a clarification came (less poetic and more informative). Yes, more details about the reference to Room 131 were then posted as follows:
If it was true that in the pending disciplinary case concerning a member of the Boards, the EBA has decided that the oral proceedings on 14th of June shall be public, as suggested by Bringbackalib, this would be a quite extraordinary development. It would indicate that the President is actually loosing the control in the campaign he launched against the Boards as a reaction to decision R19/12. Public exposure, shortly before the next meeting of the Administrative Council, of his behavior and of the doubtful actions of his investigative services might turn into a disaster for him.
Two previous decisions in this disciplinary case, both favorable to the accused judge, have never been officially published despite express orders of the EBA to this effect. This time the truth will come out and it might be somewhat different from what had been propagated by complacent newspapers.
Room 131 might not be large enough to accommodate all those interested, from both inside and outside the EPO.
If this is true, then we hope that some outsiders — maybe even reporters from Munich — can attend (this probably would not be allowed). Battistelli's war on dissent cannot fool everyone. It's not hard to see what's going on. Instead of acknowledge cronyism and abuse at the top-level management there's an effort to gag/silence/punish/dismiss anyone who dares to bring up the subject. This is a ticking time bomb far greater than FIFA or Volkswagen. █