10.14.18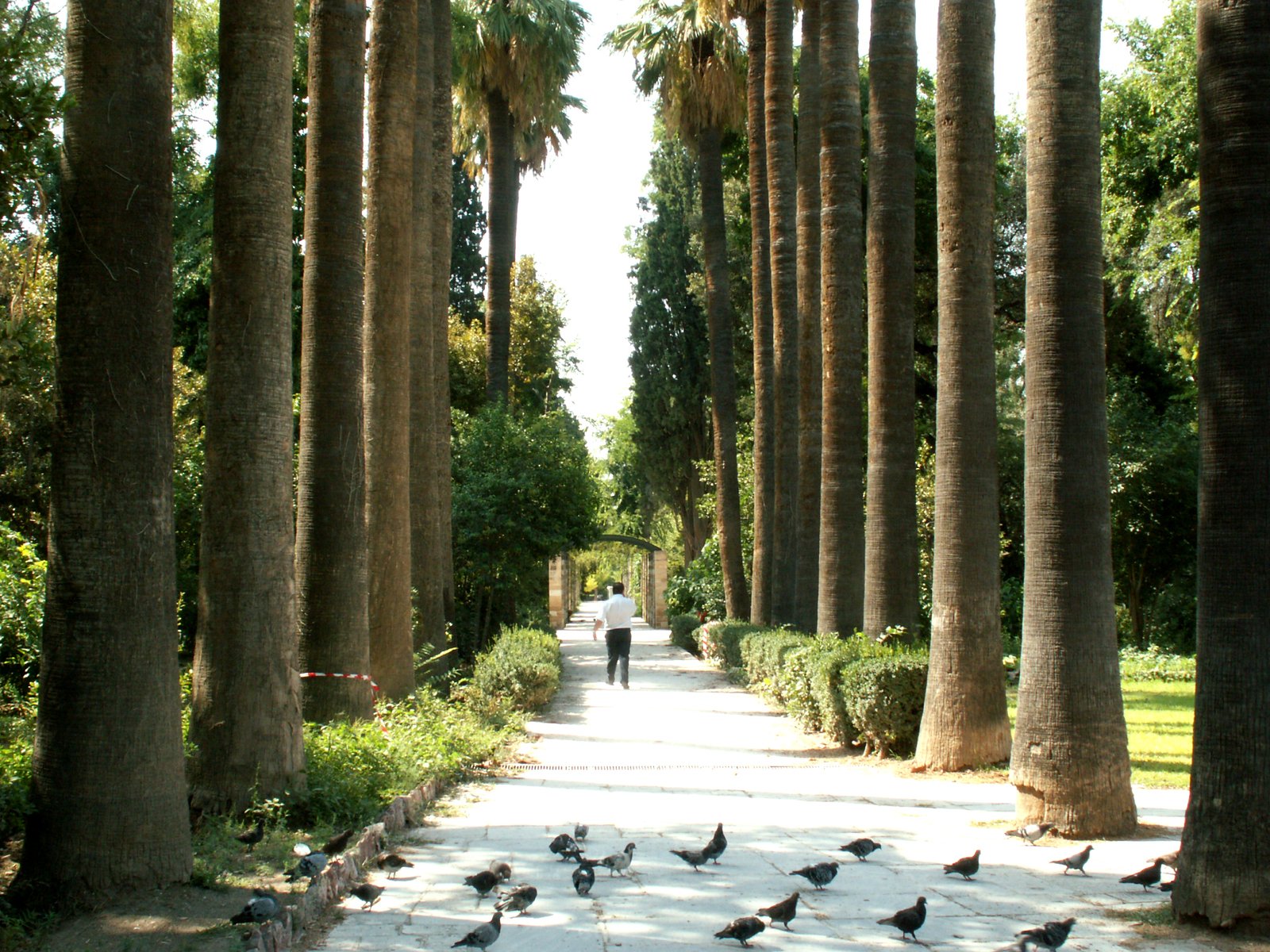 Summary: Corruption of the US patent system contributes to various issues which rely on the extrajudicial nature of some elements in this system; companies can literally have their products confiscated or imports blocked, based on wrongly-granted patents
UNLIKE the unaccountable EPO, the U.S. Patent and Trademark Office (USPTO) is loosely connected to the government, it can be sued, and it can be held accountable. This is a good thing.
"Donald Trump is also the person who nominated Iancu after Iancu's firm had worked for Donald Trump."Laws that govern the USPTO are also decided upon by courts and politicians, not USPTO managers (who may merely supply guidelines for compliance with these laws, e.g. 35 U.S.C. § 101). Last month we said that "USPTO FEES ACT Makes the US Patent Office a Money-Making Machine That Systematically Disregards Patent Quality" and days ago patent maximalists rejoiced this:
The SUCCESS Act (HR 6758) has now passed through both the House and Senate and will very likely be signed into law by President Donald Trump within the next couple of weeks.

The key aspect of the bill is extension of USPTO fee setting authority that ended in September 2018 (7 years after AIA enactment). Under the new law, USPTO will retain authority to set its own fee structure until September 2026 (15 years from AIA enactment).

[...]

Within 1 year, the PTO Director will provide a report to Congress on the results.
Donald Trump is also the person who nominated Iancu after Iancu's firm had worked for Donald Trump. We worry that there's a rather gross attempt to bypass the courts and become more lenient in examination. As we shall cover tomorrow, there's evidence of this. Nothing good will come out of an office which favours money over reputation. It's not like some corporation that should strive to meet fiscal objectives and raise revenues on a quarterly basis.
Speaking of Trump and Iancu, how about the following recent photo?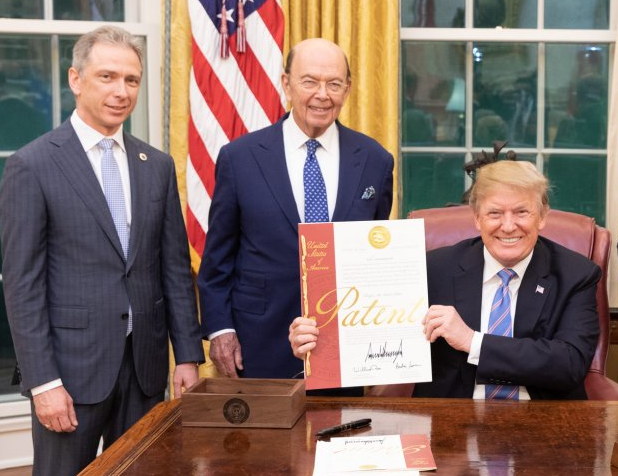 And another one tweeted by the bribed/bought-for politician (for pharmaceutical patents)?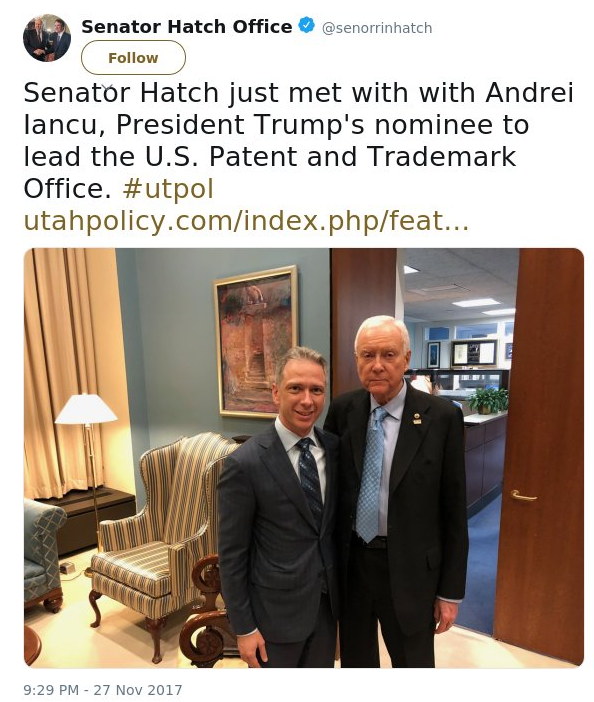 Best policies corporate money can buy?
Wrongly-granted patents are a very big deal because embargoes can be imposed using such patents. Consider what Justin M. Sobaje (Foley & Lardner LLP) wrote some days ago on how to embargo or how to put more blackmailing power/pressure if you're a patent troll (a.k.a. "NPE"). The National Law Review published this:
Many patent practitioners assume that non-practicing entities cannot obtain permanent injunctions in patent cases. This is attributed to the belief that NPEs fail the four-factor test set out by the Supreme Court in eBay. Given that belief, it is surprising for some to learn that a recent decision from the Northern District of California resurrected decade old case law indicating that non-practicing entities can get injunctive relief. Practitioners having cases involving NPEs would do well to study this line of reasoning to be prepared for arguments surrounding permanent injunctions.

The four-factor test identified by the Supreme Court in eBay for determining whether to award permanent injunctive relief to a prevailing plaintiff requires the plaintiff to demonstrate: (1) that it has suffered an irreparable injury; (2) that remedies available at law are inadequate to compensate for that injury; (3) that considering the balance of hardships between the plaintiff and defendant, a remedy in equity is warranted; and (4) that the public interest would not be disserved by a permanent injunction. eBay Inc. v. MercExchange, L.L.C., 547 U.S. 388, 391, 126 S. Ct. 1837, 1839 (2006). After the eBay decision in 2006, it has been extremely rare for NPEs to be awarded permanent injunctions, but a recent district court decision has resurfaced the issue.
The ITC is notoriously lax and only a couple of days ago Watchtroll said that "ITC Institutes Section 337 Investigation of ResMed's Sleep Apnea Masks" — a case we covered a month ago. This is the latest twist (from earlier this month): "On Friday, October 5th, the U.S. International Trade Commission (ITC) issued a notice of institution of a Section 337 patent infringement investigation requested by New Zealand-based appliance manufacturer Fisher & Paykel against San Diego, CA-based medical equipment firm ResMed. The ITC instituted the Section 337 investigation after Fisher & Paykel alleged that certain sleep apnea products imported for sale by ResMed infringe upon U.S. patents held by the New Zealand firm."
"We suppose that in this age of Iancu and Trump, however, business rather than justice is what matters."The ITC tends to favour the companies from the US, as its own name serves to suggest. It's a protectionist entity that relies on the false assumption US patents are valid, no matter what the Patent Trial and Appeal Board (PTAB) says. In the case of Cisco the ITC vainly disregarded the PTAB's decision to invalidate the patent under investigation.
We suppose that in this age of Iancu and Trump, however, business rather than justice is what matters. It's all about money and authority over finances is back with Iancu now. This is not good.
Over at IAM, the megaphone of patent trolls, SpencePC (US) has meanwhile published this long piece titled "Global patent litigation strategy" (what ITC is enabling). These patent law firms are scheming/planning how to sue the whole world in order to charge their clients and tax everything. They pursue more and more patents for the sake of patent litigation alone. No good will come out of it. █