10.15.19
Gemini version available ♊︎
By Mitchel Lewis ("Is Satya Real?")
Summary: "I'm merely wondering if his image and accolades that we're incessantly bombarded with by the press actually reflect his accomplishments or if they're being aggrandized."
Few executives have garnered more positive press than Satya Nadella since he took the reins at Microsoft. As shown with Elizabeth Holmes though, hype resulting from artificial press coverage is a commodity for major tech companies, hence why they all seem to have massive legal and PR teams to spin press favorably, too much of it can serve as correlate of the opposite being true; similar to a lifted truck with a pair of nuts hanging off the hitch.
With the influence of the media in mind, it's easy to see why Nadella is credited with the lion's share of Microsoft's recent success while being revered as a mountaintop guru of sorts by many in the press. However, few, if any, tech companies are more notorious for manipulating the media than Microsoft. As such, when I ask if Satya Nadella is real, I'm not asking if he's a real person. Instead, I'm merely wondering if his image and accolades that we're incessantly bombarded with by the press actually reflect his accomplishments or if they're being aggrandized.
So, is Satya real? Is he a genuine hyper-woke leader that hit refresh at Microsoft? Is he the champion of growth mindset and change? Or Is he just another manufactured figurehead doing what he's told by a pasty white cabal of lawyers and PR people? Or is he somewhere in between?
If you were to ask Dina Bass of Bloomberg, she would maintain that Satya is the real deal and that Microsoft is going through a renaissance under his leadership. So would Jim Cramer and the list goes on and on. To their credit, Microsoft has made a boatload of money since Nadella took the reins. But correlation doesn't always equal causation. Change occurs slowly on an enterprise scale and any manager at Microsoft will gladly affirm that it can be a big ship to steer. Resultantly, Microsoft has to plot its course so far in advance that the profits earned today are the byproduct of strategic planning and decisions made 5–10 years ago; none of which immediately goes out the door with leadership changes. As such, it can take 5–10 years for the merits of their new leadership to come into play and be realized as they slowly come out of the shadow of their predecessor.

Cut out for space? Or cut out because it contradicts the renaissance narrative?
As a result of this executive runoff, which Dina openly admits (omits?), it's safe to say that Nadella's influence is still gradually being realized, for better or for worse. Ironically, much of the success that Microsoft is seeing today can still be credited back to Steve Ballmer and his old guard which is still mostly intact to this day. From the present success of Office 365, Azure, Windows 10, Server, Surface, Visual Studio, Hololens, and Xbox to their GitHub and LinkedIn Acquisitions, virtually all of the major decisions bringing these products where they are today were put in motion before Satya's ascent to the CEO position. It's just not advantageous for Microsoft to hype up Satya's predecessors or their old guard with any of their accomplishments.
Sure, he could be the harbinger of ethical change at Microsoft, but it's not as if Satya was at odds with Ballmer or Gates while under their leadership. Nadella gladly worked under both of them at a company where being ethical was/is a career-limiting move and seemingly taking no issue with anything that Microsoft became notorious for. He didn't take a stand against their blatant anticompetitive behavior. He is seemingly fine with their commitment to lock-in and is chill with patent trolling too. Bribery? HR and management systematically retaliating against dissenters, whistleblowers, and abuse victims? Pay inequality? No problem at all as far as Nadella is concerned.
Presently, Microsoft is supplying ICE and CBP with its entire suite of software and services despite their participation in genocide. Meanwhile, Microsoft is also catering to China's facial recognition ambitions and remain complicit in their various human rights violations; they aren't the only ones though. In response, Satya has tried to downplay Microsoft's relationship with these government entities while trying to distance the complicity of their productivity software from their deplorable behavior. But his lip service ultimately seems to contradict itself when it doesn't dance around the subject entirely while his actions are par for the course with his predecessors.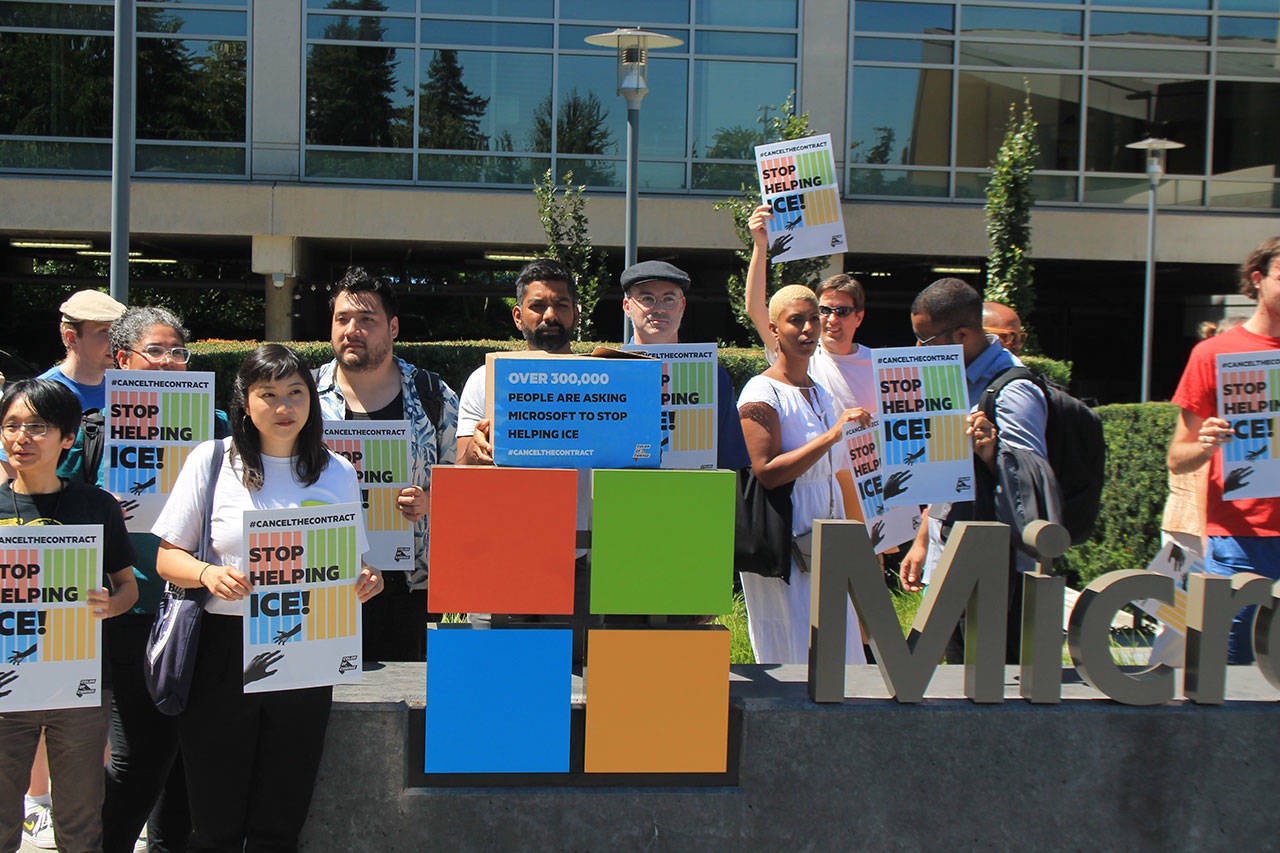 In a recent interview and rather than acknowledging their complicity, Nadella claims to maintain some ethical control over their software, from who gets to use it to how they get to use it. Yet, he's mum when ICE and CBP are blatantly violating their code of conduct with regard to the welfare of children. Even worse, he also seems to prefer to leave ethical decisions to the various laws of the land that they're operating within like a modern Protagoras in the same breath; legal does not equal ethical. All while ignoring protests of this sort of behavior on his doorstep, internally, and abroad.
"We do have control on who gets to use our technology…and we do have principles. Beyond how we build it, how people use it is something that we control through Terms of Use. And we are constantly evolving the terms of use."

"We also recognize whether it's in the United States, whether it's in China, whether it's in the United Kingdom, they will all have their own legislative processes on what they accept or don't accept, and we will abide by them."
-Satya Nadella
With the above in mind, it's quite obvious that Satya is towing the company line and deferring ethical decisions to his legal and PR teams while parroting whatever said teams mandate that he say. But ethics deferred are ethics abandoned and this is especially true when one defers to the likes of corporate counsel, PR teams, or the bastardized logic of regimes. As is the case for a proper figurehead, you would be hard-pressed to find Satya going against the grain of anything that Microsoft has become notorious for. None of which is a hallmark of the leadership qualities and ethical stances that he is supposedly a champion of.
While he's positioned as a techno demigod in the media, Nadella is not even allowed to check his email according to his legal team which is a solid indicator of who is truly wearing the pants at Microsoft. That said, how much sway corporate counsel has within an organization the size of Microsoft often goes overlooked. When you're walking the line between legal and criminal as Microsoft has done historically, you tend to do whatever your lawyer tells you to do and this is no different for a corporation. And this is especially the case at a law firm with a software problem such as Microsoft which was founded by the affluenza'd son of a Halliburton attorney.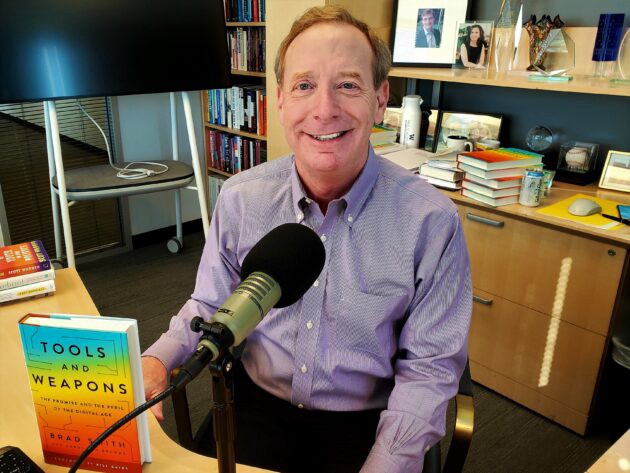 Given the undue amount of influence of Microsoft's legal team has within its walls, it borders on the irrational to expect a significant amount of change from such a company so long as they retain the same lawyers regardless of who their CEO is. Just as you don't need a criminal defense attorney when you're not committing crimes, you also won't need the king of anti-trust such as Brad Smith working at the top legal position of your company unless you're maintaining a monopoly and violating the Sherman Act.
When I was a vendor at Microsoft, I was told that it was not my job to think, only to do as I was told. Much like a vendor, it's not Satya's job to think as a figurehead either. Instead, it's Satya's job to operate at the behest of Brad Smith and his legal/PR teams. This isn't to say that this makes Nadella is a bad person though. He's just not the person we've been sold. Ethically speaking, the real Satya Nadella is most likely no better or worse than anyone else doing their job at Microsoft or anywhere else that requires employees to shelve ethics for a paycheck. You're welcome to believe the hype though. █
Permalink
Send this to a friend