01.11.20
"Show me who your friends are, and I will tell you what you are." (Sometimes attributed to Vladimir Lenin; many other quotes exist to that same effect)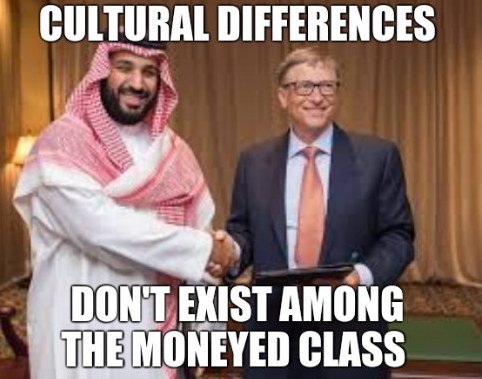 Summary: Bill Gates and his poor taste in friends has not escaped the attention of his critics (and his father's critics); the Saudi ties certainly merit a closer look because they're rarely explored in mainstream media (except in the form of congratulatory puff pieces)
BILL GATES and his connection to the Saudi regime has been noted here multiple times over the years for well over a decade. It's not a secret relationship. The above is one of many photo ops of Gates and MbS (he has many more photo ops with other members of that authoritarian family). That's not really the point though; had we invested more time in it, we would be able to line up literally hundreds of photo ops of Gates with many Saudi 'officials' (they're not elected, it's just an oppressive, West-leaning dynasty with roots in the partitioning of the Middle East for oil extraction — once discovered in the religion, soon to be exploited and later shipped through Suez). Saudi Arabia derives it financial power from fossil fuel power (energy/oil) and almost nothing else. Tourism in Mecca (pilgrimage) is a drop in the ocean — or the metaphorical oil well — in comparison. Let's not dwell over politics in the religion; there's much to be said about brutality in Yemen, beheading of women/atheists, assassinations overseas (of dissidents and journalists) and so much more. In recent years a lot of these issues receive belated media attention, whereupon Saudi Arabia started paying off athletes and so-called 'influencers' to improve the country's image (sportswashing, music festivals, fake equality and staged feminism). We won't even talk any further about hard drug use by the royal family (Wikileaks exposed material on that a decade back, there were also arrests for smuggling by top officials), child marriage, pedophilia and so on. The drug use may be strictly "haram" (not that the royals truly follow their own religion), unlike the latter. That seems more suitable a subject for Daily Links, where we've already included literally hundreds if not thousands of stories on the subject. It's already becoming 'too political' a subject and we want to focus not on partisan debates (like age of sexual and marital consent) but on more unique and distinct (or unexplored) aspects.
MbS is one of many in power; it's like a family business. Either you're it in or you're not. It's really that simple. There are no political challengers, maybe just competition within the family (vying for the crowd). A few years ago there was a death, there was a successor (for the crown) and then there's the well known connection between Saudi Prince Alwaleed and Bill Gates (we wrote about that more than a decade ago). "Another Saudi notable," a reader told us recently, is "Crown Prince Mohammad bin Salman [who] met with Trump in the US and with Gates 10 days later."
I don't share this reader's suspicion that pedophilia had anything to do with it, but for what it's worth the reader said: "I think it's worth noting these meetings as there was likely other things discussed like how they're going to get away with their crimes against children enterprise."
The reader cites this post from Seattle which said "The Saudi Crown Prince's motorcade on the move in the Seattle area. Right now Mohammed bin Salman just arrived at Bill Gates' home. Police are warning about traffic slowdowns throughout the Puget Sound region."
And days apart: "President Donald Trump holds a meeting in the Oval Office with Saudi Arabian Crown Prince Mohammad bin Salman."
Only about a decade ago (under Obama) we took note of similar things. The Chinese leader, for example, upon his rare voyage to the US decided to visit almost nobody but Gates and the US President. People complained about this at the time. Is Gates like a de facto deputy in leadership? Remember that John Podesta suggested Bill Gates as Vice President under Hillary Clinton. We've long known this owing to verified leaks (published by Wikileaks from Podesta's inbox).
As our reader correctly notes (we wrote about it many years ago): "Gates is a part owner in the Four Seasons of the Mandalay Bay with Saudi Prince Alwaleed. Gates and Alwaleed have a history."
Four Seasons is a Bill Gates- and Saudi-owned hotel. The Saudi-Gates business and personal relations definitely merit further investigations, but some routes of exploration may lead us astray.
The reader, who strictly prefers to remain anonymous, spent a lot of time exploring the whole "population control" issue (it's no secret that the father of Bill Gates is closely connected to it), partly because in a PBS interview Bill Gates said: "When I was growing up, my parents were almost involved in various volunteer things. My dad was head of Planned Parenthood. And it was very controversial to be involved with that. And so it's fascinating. At the dinner table my parents are very good at sharing the things that they were doing. And almost treating us like adults, talking about that."
Gates himself said "[m]y dad was head of Planned Parenthood." I myself am not against Planned Parenthood, but some people are. And anyway, whether one is for or against Planned Parenthood isn't the key point.
"The guy joined his "giving pledge" and has been funneling millions into Gates's vaccine programs," our reader said about Alwaleed. "He's also invested in "assisted reproductive technology." If you follow the Gates vaccine/population agenda you will know how much of a racket the Foundation really is. He's obsessed with "population issues." (population control). Alwaleed was arrested (placed on palace arrest) a couple years ago and Gates came out in the media defending him. It's unknown (to me) what the arrest was over but I suspect it was over a privately negotiated agreement through the Trump administration and Crown Prince Mohammad bin Salman or King Salman. A power change."
The assumption here is that practice of pedophilia (different laws in Wahhabism). Dr. Lawrence A. Franklin once said (December 2017) that "[t]he tendency to ignore it is magnified when religious officials are the ones committing the atrocities, as the behavior reflects badly not only on the perpetrators themselves, but has the potential to damage Islam's reputation."
Such views are often suppressed as 'hateful' irrespective of the underlying facts, which may not be convenient. And yes, by all means it's a problem among clergy in other monotheistic religions — that too should be a permissible topic.
Taking all this into account, it is possible that Gates was — either as observer or 'in the know' (not a participant) — witnessing issues pertaining to pedophilia. It's hardly unthinkable that some of his friends and allies — not only Epstein — were rather upfront and frank about it. Gates maintained his close ties to Epstein after he had been trialled, convinced and even arrested.
Our reader went on and pointed out the so-called "Mandalay Bay" 'hotel', which became well known or notorious just over a couple of years ago and became almost synonymous with human 'shooting range'. To quote Wikipedia: "One of the property's towers operates as the Delano; the Four Seasons Hotel is independently operated within the Mandalay Bay tower, occupying five floors (35–39). Mandalay Bay has 3,209 hotel rooms, 24 elevators and a casino of 135,000 square feet (12,500 m2)."
"Back to Four Seasons," our reader noted, there's this old article from NBC News entitled "Vegas Gunman Stephen Paddock's Brother Arrested in Child Porn Probe". To quote:
The estranged brother of Las Vegas gunman Stephen Paddock was arrested Wednesday on child pornography charges stemming from an investigation that predates the massacre.

Bruce Paddock, 58, was detained at a Los Angeles assisted-living facility, where he was awaiting surgery for spinal stenosis. A felony complaint said he had over 600 explicit images of minors in 2014 and had also swapped pornography.

He faces 19 counts of sexual exploitation of a child and one count of possession of child pornography, the complaint says. He was being held on $60,000 bond.

The LAPD said the images were discovered inside a building where Paddock was squatting, but they could not find him at the time. After his brother's crime, they learned where he was and obtained a warrant, police said.

An attorney who Paddock said had represented him in criminal matters in the past told NBC News he is no longer representing him and declined to comment.

Another brother, Eric Paddock, who lives in Florida, said he had no comment on the arrest.
This case was with LAPD at the time. There's probably no connection to either Gates or the Saudi regime, but it's worth noting who owned that building and what Bruce Paddock did (not related to that building which his brother used to massacre an unprecedented number of people, injuring 869 people (413 by direct gunfire) and fatally shooting 58 other than himself).
Nihilist 'death cults' tend to indulge in death, vengeance and sometimes abuse of youngsters. Why would Gates wish to associate and be 'all smiles' with MbS? And the same for Epstein, whom he visited in prison. █