01.11.20
Gemini version available ♊︎
Transparency is a cherished concept in a free, law-abiding and democratic society, but only if principles are obeyed even when it's inconvenient to do so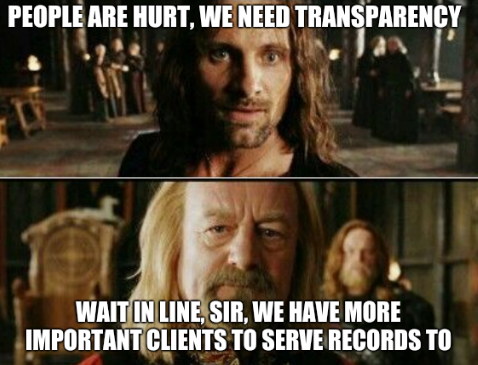 "To be fair Seattle PD are useless," someone told me yesterday. "I know a guy who tried to report some obvious theft and property crime and the cops told him only the store or owner of the property can report the crime and the damage must exceed $1000 for them to take any action. Then they told him if he doesn't like it vote in a different city council next election…" (So they serve and protect the wealthy only)
Summary: Seattle's Police Department (PD) has a bit of a reputation or notoriety for making it hard to get service (unless one is well connected) and transparency services are overseen by a former officer of the U.S. Navy (notorious for secrecy and vengeance against those who disclose evidence of high-level crimes, e.g. Wikileaks)
● Is Washington's Public Records Law Being Abused By Seattle?
In Seattle, requesting public records can give rise to a zombie process that drags on for months or years. (Patch file photo/Neal McNamara)

Three years ago, Seattle resident Michael Maddux attended a virtual town hall hosted by the Seattle police through the app NextDoor. As he watched his neighbors ask police questions, he wondered how NextDoor and the police department coordinated the event.

So, he filed a public records request. He asked Seattle police for any record about planning or contact between the department and NextDoor. He filed the request on Feb 19, 2016, hoping to use the material for his blog, The Hashtag.

As of March 8, 2019, he still hasn't received all the information. The department has dripped out 20 different installments so far — the 21st will apparently arrive soon.

"To date, SPD has missed every self-imposed deadline, and for a while they actually forgot about my [request] and were alerted via a tweet I sent that I hadn't received an installment in months," he said in an email recently.

Maddux's experience is extreme, but it illustrates an issue Seattle has with records requests. Information sometimes comes in seemingly unending installments, turning requests into public records zombies that slouch forward one monthly step at a time.
● Mary Perry Joins Seattle Police Department as Director of Transparency and Privacy
The Seattle Police Department welcomes Mary Perry as Director of Transparency and Privacy. This is a new position with SPD as part of its re-organization of public disclosure response and enhanced compliance processes. In this role, Perry will oversee public disclosure and direct the department's efforts to proactively provide data and information to the public.

Perry has worked with the City of Seattle for more than 10 years. She began serving with the City's Law Department in 2005 as an Assistant City Attorney in the Municipal Law Section, where she focused on public records issues and compliance.

Chief Kathleen O'Toole remarks, "I am absolutely committed to finding the right balance between transparency and privacy to ensure as much visibility into police operations without compromising the very legitimate privacy concerns of victims, people in crisis, or others that reach out to the police at their most vulnerable time. Mary has a proven track record and deep understanding of this balance and I am thrilled that she is coming on board to coordinate and drive our transparency efforts."
Permalink
Send this to a friend