06.18.20
Gemini version available ♊︎
IDG and CBS (ZDNet) pushing their self-fulfilling prophecies?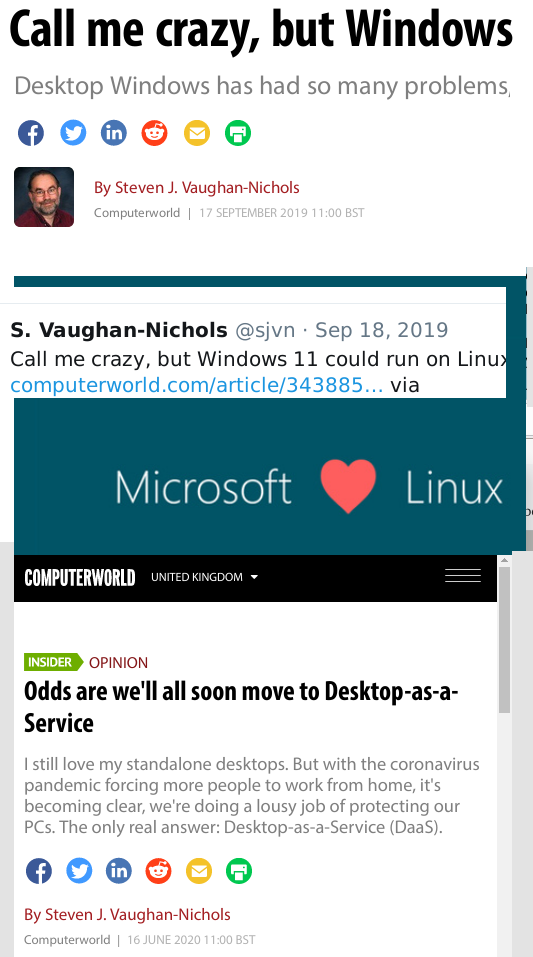 Summary: Mr. SJVN (he is often known by his initials) from ZDNet seems to be advancing an agenda not exactly helpful to GNU/Linux; he has been doing this for years
THE last straw that led me to 'quitting' Twitter was a deliberate distortion of what I had said. It caused some people to get angry (over something I hadn't said). SJVN claimed that I called him anti-Linux, which is untrue. I called his publisher/employer, ZDNet, anti-Linux. Hardly the same thing.
SJVN was kind and helpful to us. A decade ago he covered the DDOS attacks against it, dubbing that "burying the truth," but in recent years his analysis became increasingly erratic, including obvious lies like "Microsoft loves Linux" (see screenshot at the top). I've repeatedly advised him to not depend on the censorious and biased management of ZDNet (CBS), which was obviously in Microsoft's pockets. I also chastised him for defaming RMS (Stallman) 9 months ago in ZDNet, falsely claiming that RMS was defending Epstein when RMS actually called him "serial rapist" (repeatedly even).
"…history will tell and the record will show who was right and who was wrong."Associates of ours and even my wife nowadays raise a brow when they see articles from SJVN (as recently as this morning). But he helped us, I insist, he was supportive…
Readers can draw their own conclusions. I am not looking for a fight or a foe, certainly not with SJVN, whom I still consider to be pro-Linux, albeit misguided and brainwashed by his employer. The Linux Foundation nowadays promotes similar lies. Well, good luck to them; history will tell and the record will show who was right and who was wrong. █
Permalink
Send this to a friend