07.31.21
Summary: Don't believe the lies told by Microsoft's charlatans and frauds; Azure has been a total failure and that's why there are layoffs as well

Are a bunch of scientific-sounding codenames such as "Proton" enough to retain and moreover bring back users? History suggests "no"…
Summary: Way back, long before Mozilla and Firefox got hijacked by politics (turning Mozilla into a VPN reseller that lies about its stance on privacy), geeks were driving the company, not corporate lawyers and spying/marketing people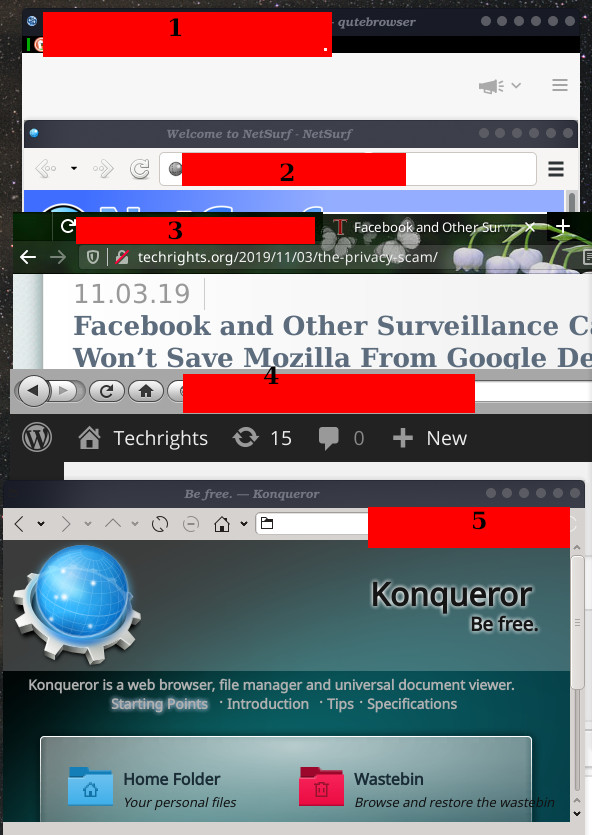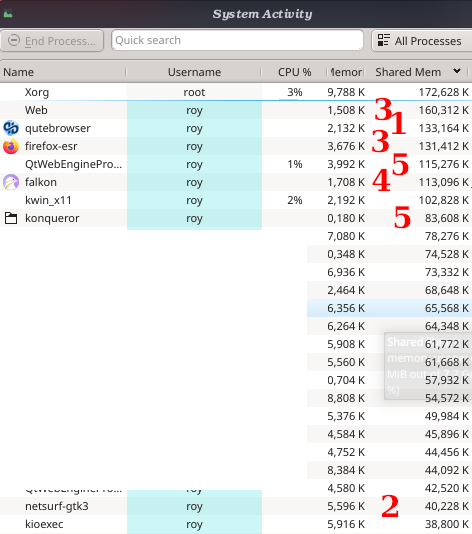 Summary: Techrights is expanding at gemini:// (Gemini space) and over 1,500 capsules are reported to have been found (less than 4 months ago it was about 1,000)
THE most exciting development on the Internet, at least from our possibly 'narrow' perspective, is Gemini protocol. Sure, we may be biased, especially as we're a participant in the migration to Web alternatives (as in, substitutes that can replace the bloated World Wide Web to some degree, at least some of the time).
Our July statistics for Gemini were published around midnight (0:00) of the last day of the month. By at the actual end of the month we've served over 160k page requests in gemini:// (in one month, a new all-time record); we can't help but wonder which capsules get the most traffic as it's not impossible that among them it is in fact gemini.techrights.org, which remains the largest one, according to these August 1st statistics.

Techrights at the top of this list for about 4 months in a row now…
We recently added our wiki to the archive of all posts. It can be found at gemini://gemini.techrights.org/wiki/ (still alpha).
Gemini seems to be growing in general. Recent developments in Gemini space can be tracked here (signal/noise ratio improved by mild moderation). █
If you're new to Linux or if you just want to learn more about Linux and improve your professional skills, you might be wondering where to learn Linux. This article will help you.

There are many options to choose from, ranging from written content to video tutorials and audiobooks. Each category with its own different choices. We'll go through each one of them and guide you through all the options of where to learn Linux.

Desktop/Laptop

The second option that you have is to switch to Linux. It requires more work on your part, as you have to find a suitable Linux distribution, alternatives to programs that are not available on Linux, and get to know a new operating system.

Depending on the distribution, Linux may look and feel similar to Windows, or it may be a totally different experience.

Most Linux distributions support Live operating systems, which means that you may run them without installing them. Instructions are provided on the websites, e.g. Linux Mint.

Gamers find that most PC games work on Linux nowadays either directly or through applications such as Wine. Valve and its Steam service have pushed Linux compatibility significantly in recent time, and there are options to play games from other stores as well under Linux.

The advantage of this method is that you will have no trouble finding a suitable distribution, and that most programs and games will either run or have suitable alternatives.

Downside is that no programs or apps can be carried over, that it takes time to find a suitable distribution and get used to it. Some programs and apps are not available on Linux, and won't run using Wine or other methods.

Linux is not everyone's cup of tea. But does that mean you can't get the hang of it on your own? Definitely not. You can embark on the journey to learn Linux-based operating systems even on your Windows and Mac device.

Surprised? Well, don't be, for the key lies in your browser. You can access Linux on your very own internet browser, right from your existing operating system.

Still can't believe it? Why not check out these websites and test them out for yourself?

As a matter of fact, a suitable wallpaper is a motivation factor that can cheer you up while working on your machine. Any image based on your love's cool colors can soothe and stimulate your senses while working, thus maintaining your activeness on your machine. This, therefore, means that selecting an appropriate wallpaper is super necessary as it plays a significant psychological role.

Before looking at some of the best 50 HD wallpapers we have for you, let us first show you how you can easily change your desktop wallpaper without any issues. To have any of these wallpapers on your Linux computer, all you have to do is follow the steps below, and you will be good to go.

Server

CMicroservices and containers are two methods that enable companies to more efficiently create and deliver applications. Here's how they work — and when they're best used together.

Containers and microservices are related concepts that help companies design and adopt applications with speed, efficiency and flexibility. It's hard to talk about one without also talking about the other. Microservices and containers are distinct technologies — they don't have to be used together, but they often are. Let's break down how each works, their key similarities and differences, and how an enterprise can use them in tandem.

What are microservices?

Microservices are individual units of software that combine to provide all of the functions required to run an application. Typically, each microservice handles a discrete type of functionality within an application. For example, one microservice handles logins, another generates the UI, another populates the interface with content specific to each user session and yet another interfaces with the database that stores user data.

Until about 2010, most applications were monolithic designs in which the entire application ran as a single unit and, in most cases, as a single process. Prior to wide adoption of the internet and APIs, a service-oriented architecture (SOA) approach evolved to break applications into somewhat smaller pieces. However, the individual services within an SOA are typically not as small or dynamic as microservices.

Audiocasts/Shows

Debian has three different branches: (1) stable, (2) testing and (3) unstable. The unstable branch "Sid" is a rolling release distribution similar to something like Arch Linux. You get the latest and greatest packages, unlike the standard "stable" edition of Debian, which can have very old packages.

Kernel Space

Applications

Managing a project of any type is not an easy task. It involves resources planning, task assignment, following schedules and assuring everyone sticks to the deadline. Remote work became much more interesting after the COVID-19 crisis, which made it hard for project managers to coordinate and manage team members all over the world.

This is why project management tools are essential in 2021.

Several open source project management tools have matured enough to be able to compete with proprietary software. Being fully customizable and supported by the community is an important feature in open source PM tools since every project is unique in its core, and both the projects manager and his tools should be as adaptive as possible to avoid failure.

Today, we'll check some of the best open source project management programs in the market.

Instructionals/Technical

In this tutorial, we will show you how to install Craft CMS on Ubuntu 20.04 LTS. For those of you who didn't know, Craft CMS is a free and open-source content management system written in PHP and based on the Yii framework. It is very popular due to its performance and full control of CMS. It is a secure and scalable CMS and comes with a lot of plugins that help you to customize your website easily.

This article assumes you have at least basic knowledge of Linux, know how to use the shell, and most importantly, you host your site on your own VPS. The installation is quite simple and assumes you are running in the root account, if not you may need to add 'sudo' to the commands to get root privileges. I will show you through the step-by-step installation of the Craft content management system on Ubuntu 20.04 (Focal Fossa). You can follow the same instructions for Ubuntu 18.04, 16.04, and any other Debian-based distribution like Linux Mint.

My website now shows an icon next to all external links. I thought it would be a good idea on a website like mine, where there's a lot of links to both internal and external sources.

In this tutorial, we will show you how to install ArangoDB on CentOS 8. For those of you who didn't know, ArangoDB is an open-source NoSQL database manager and provides all the database features that are needed for a modern web application. ArangoDB does not use the traditional data storage system as in MySQL or PostgreSQL. It is specially designed for being high-performance, open-source, and easily scalable.

This article assumes you have at least basic knowledge of Linux, know how to use the shell, and most importantly, you host your site on your own VPS. The installation is quite simple and assumes you are running in the root account, if not you may need to add 'sudo' to the commands to get root privileges. I will show you through the step-by-step installation of the ArangoDB NoSQL database on a CentOS 8.

The Linux Mint team introduced many great new apps in recent releases. And now an Ubuntu PPA is available that contains these apps for all current Ubuntu releases.

Without adding Linux Mint repository and setting the priority, an Ubuntu PPA is good choice to install or receive the package updates.

And 'Butterfly', a top contributor of Linux Mint project on launchpad, maintains the PPA repository with packages so far for Ubuntu 18.04, Ubuntu 20.04, Ubuntu 21.04, and Ubuntu 21.10 support.

My home internet comes from Spectrum (formerly Time Warner Cable) and they offer IPv6 addresses for cable modem subscribers. One of the handy features they provide is DHCPv6 prefix delegation.

Whether you want to hide your identity from prying eyes or access content blocked by geo-restrictions, running a WireGuard server is an excellent solution to run your own VPN server.

HAProxy, as is name suggest, is a proxy server and a load balancer for provide high availability. In this article first I will show how to install HAProxy in FreeBSD. Next we will set up to act as a reverse proxy.

This guide explains what is Podman, its features, difference between a Podman container and an image, and how to install Podman in Linux operating systems.

his article is going to explain how to create a Linux VPS (Virtual Private Server) on Kamatera, so you can run your own email server and website.

ScalaHosting vs Kamatera

In a previous tutorial, I explained how to create a Linux VPS server on Scalahosting, which is my recommended hosting provider for running email servers, because it has the best IP reputation. However, Scalahosting plans start at $26/month (2 CPUs, 8GB RAM). It's a bit expensive for some folks since they don't need that much RAM to get started.

If your business depends on email, I still recommend ScalaHosting, because it will you better email deliverability. If you are short of money, then you can choose Kamatera VPS hosting, which starts at $4/month (1 CPU, 1GB RAM) and you will get one month for free.

I have email servers on both hosting providers and I will share my experience in Kamatera with you.

Today's discussion will focus on building a Linux environment that will support the Raspberry Pi 4B C language cross-compilation process.

The terminal emulator plays an integral part in a Linux system, and many users like to change its theme for a customized presentation. Users prefer a quick makeover within their Linux distribution. With a few tweaks, you can change the entire appearance of the terminal window.

Since you spend most of your time within the terminal, why not make it look like what you prefer. The graphical user interface (GUI) does not need any special commands for customization, so a quick reference guide like this should serve you well.

Check out the following tips for a quick, seamless transition from your old dull and drab terminal to a customized, rustic look.

Systemd is a service and system manager comprised of a collection of tools to perform different system tasks. One such tool is systemd timers, whose primary purpose is to schedule and run tasks during startup or repeatedly after a system boot.

Systemd timers are an alternative to the scheduler cron or anacron. For sysadmins, scheduling tasks play a crucial role in automating your system's boring or difficult tasks. This article is an introductory guide to system timers, their structure, and configurations with real-world examples.

Games

It seems Humble Bundle are starting to ramp-up their game bundles again and they have another with the Humble RPG Heroes Bundle that has some great games inside.

The bundle is on the smaller side though but even so, what's there seems like a pretty good deal overall with some real indie gems included.

Ever heard of the little war between AMD and Nvidia regarding upscaling technologies? Nvidia has DLSS (Deep Learning Super Sampling) and AMD has recently released FSR (FidelityFX Super Resolution).

[...]

On Linux, we have an extra opportunity to use FSR, without asking anyone to do anything. Proton already has a full screen hack upscaler included, which prevents Windows games from trying to change the current screen's resolution. This hack instead uses a software upscaler pretending the resolution change is happening while remaining at the native monitor's resolution. If an old game uses 800×600 as maximum resolution, the upscaler will fill your 1920×1080 screen by scaling up that tiny picture so that it fits in the larger monitor screen.

Some folks have had the genius idea to simply replace the basic upscaler included in Proton by… AMD's FSR! It makes it work out of the work on any game that uses Vulkan through ProtonGE – a benefit that Windows gamers can't get for now!

Of course, this is NOT how you are supposed to use FSR: ideally you want to apply FSR on a picture before the HUD and the post processing is applied, but still, it's an acceptable usage of the upscaler, and provide massive performance boosts. You can see the video I published earlier today for Max Payne 3 and how much boost I can get from a meager Nvidia GTX 1060 3GB (with 470.x drivers), without much visual information loss (Using Proton-6.13-GE-1).

Desktop Environments/WMs

K Desktop Environment/KDE SC/Qt

Freespire 7.7 is here based on Ubuntu 20.04 LTS (Focal Fossa) and still does not incorporate any proprietary media codecs.

Freespire is a desktop oriented Ubuntu-based Linux distro powered by Xfce. For those not in the know it is the open source equivalent of Linspire, but containing mostly libre / FOSS components. It contains many of the same software packages as Linspire, but it strictly follows the Free and Open Source Software philosophy of providing only license-free software. So any Linspire packages that require the community-based Freespire developer team to purchase a license to redistribute the distro are left out.

Deepin Linux, a.k.a Deepin OS, is widely regarded as the most beautiful-looking Linux distro out there. In fact, it can even give proprietary OSes like Windows and macOS a run for their money in terms of looks and aesthetics. Furthermore, the distro's focus on stability and ease of use gives Linux newcomers all the more reasons to fall in love with Deepin OS.

Now, on the flip side, we have Ubuntu – a distro so popular that its name is synonymous with Linux to the outside world. Ubuntu is backed by a massive community, has access to almost all the major Linux software, and gives users a complete ready-to-use desktop experience right out of the box. This is why it's our top pick for the best Linux distro for beginners.

And this brings us to the question of the hour – which is the better distro? Deepin or Ubuntu? To answer that, we have put together a detailed overview giving you an in-depth look at the major differences between the two distros. By the end, you should have a clear idea of which Linux distro is best for your needs and requirements.

New Releases

While the world's busy trying out Windows 11, GNU/Linux users are busy distro-hopping. Developers, on the other hand, are busy with new distro releases. MX Linux, which stands first in Distrowatch's distributions leaderboard, has a new beta release available for testing purposes.

The Developers are calling it MX Linux 21 Beta 1. If you're wondering what happened to MX Linux 20, the developers follow a year-based version number for major releases. In this article, let's look at what's new in the release.

More than four months in development, 4MLinux 37.0 is here with support for more software that you can install via extensions, since this is a modular Linux distro. The new apps that you can install in this release are the Dmidecode tool for reading hardware-related data from SMBIOS, FluidSynth software synthesizer with VMPK (Virtual MIDI Piano Keyboard, HandBrake video transcoder, and qBittorrent BitTorrent client.

Under the hood, there are even better news as 4MLinux 37.0 is powered by the long-term supported Linux 5.10 LTS kernel series, which has been patched to support the Reiser4 file system. This means that you should be able to install 4MLinux on a Reiser4 formatter drive, but also to handle such disk drives.

SUSE/OpenSUSE

Today (Saturday 31st of August, 17:00 UTC) is the third installment of the recently rejuvenated Community meetings! Taking place on Jist Meet, it will be an excellent opportunity to discuss and coordinate on solutions for improving things in the Project.

One important topic will be openSUSE Membership, soon to be affected by the shutdown of connect-o-o.

IBM/Red Hat/Fedora

Dealing with burnout in open source [Ed: Sorry, IBM/Red Hat... but burnout is burnout and can happen to anybody, nothing to do with Free software ("open source"); this is as silly as your several articles about breakfasts for "open source people" (as if coding and software licences affect your diet). You've run out of topics. This Web site called Open Source dot com has become a lot of openwashing, IBM marketing and general non-tech articles being painted with the "open" crush to make it seem "tech".]

Burnout is something you don't expect to happen to you—until it does. The technology industry is one of the worst offenders; over 60% of industry professionals report they've experienced burnout. Sixty percent! Chances are, you or someone you know has dealt with it. How can we tackle such a staggering burnout rate if those who make decisions about mental health barely know what burnout is, never mind how to prevent it?

Canonical/Ubuntu Family

Windows 11 is rumored to be released in October, and since it is already in the Beta Channel, that rumor seems plausible. So, yeah, Microsoft is sure to dominate headlines in the final quarter of the year.

While a new version of Windows is surely exciting, that won't be the only operating system getting a new version later in the year. You see, the Linux Mint developers have shared some exciting news about when version 20.3 of the Ubuntu-based distro will be available for download.

The $50 Chromecast with Google TV is a dongle that hangs from the HDMI port of a TV, allowing you to stream video, listen to music, or play games using Google's software.

Want to use it for something more? A team of developers have just released a method for unlocking the bootloader. That makes it possible to replace Google's software with alternate operating systems such as the open source, Android-based LineageOS or even a GNU/Linux distribution like Ubuntu. But before you get too excited, you should know that the bootloader can only be unlocked on some Chromecast units.

Mobile Systems/Mobile Applications

Going from beta 2 to beta 3 is a giant leap if you haven't been keeping up. Haiku is much farther along than people think, with the biggest drawback being, as always, that hardware support is going to be a mixed bag. Haiku is still every bit as clean, fast, and enticing as the original BeOS was over two decades ago, and I've scored two junkyard office PCs to see if I can get a proper Haiku box running.

Web Browsers

Mozilla

Mozilla VPN Review [Ed: One paragraph before last shows that Mozilla does not actually do VPN; it's a reseller for some dodgy company, reusing the Firefox brand to sell a bunch of crap or upsell (likely bogus privacy or a ticking time bomb)]

Mozilla VPN protects your privacy, and your subscription fee supports a proponent of a free internet. It's a simple service for anyone who needs a virtual private network, but it offers no bonus privacy tools beyond the VPN.

[...]

Mozilla VPN is not, strictly speaking, wholly a Mozilla project like Firefox. Instead of building and maintaining the infrastructure required for a consumer VPN, Mozilla found another company to partner with. During Mozilla's earliest forays into the world of VPNs, Mozilla courted Editors' Choice-winner ProtonVPN.

SaaS/Back End/Databases

When creating a table in a database, it should have both a name and a data type. A column's data type defines the values the column holds, such as integer, money, binary, character, date, and time. Therefore, it is a developer's task to determine which data types will be stored in each column while creating databases and tables.

In simple terms, data types are guidelines that aid SQL in understanding what type of data is required inside a column. It is also efficient in identifying how SQL interacts with the stored data.

A point to note is that data types might contain different names in different databases, and in cases where the names are the same, other aspects and details such as size will differ. Therefore, it is recommended that you always refer to documentation whenever you encounter similar cases.
Integrity/Availability

Finance

A total of 791 bitcoin that had been dormant for over nine years has moved. The coins came from an address that was relatively active back in 2012, when the price of bitcoin was trading between $5 and $15.

Civil Rights/Policing
Reprinted with permission from Mitchel Lewis, former Microsoft employee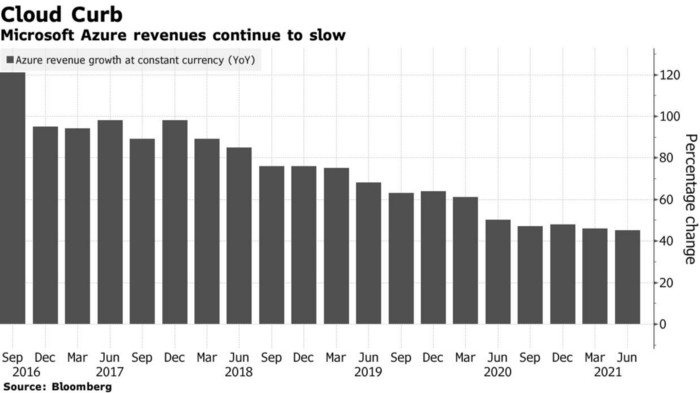 Source: https://www.bloomberg.com/news/articles/2021-07-27/microsoft-posts-sales-profit-gain-shares-drop-on-azure-concern
It's not a secret that Microsoft's future depends on Azure not only being successful, but dominant. With Google Workspace dethroning Office 365 in the cloud productivity markets, Windows needing a complete re-write since a decade ago and their consequent monopoly on exploits and ransomware attacks in the PC and Server markets, much is riding on Azure's ability to dominate the cloud infrastructure space as Microsoft has done with the OS, productivity, and server spaces before.
One consequence of Microsoft's dependence on Azure is that Microsoft can post its best quarter ever and investors will get spooked if Azure's revenue growth slips in the slightest. It also doesn't help when their CFO Amy Hood admitted that Azure slowing revenue growth still performed better than she anticipated.
"Forty-five percent was both better than we expected and driven by consumption growth, which is very good," Hood said in an interview. "Demand is healthy. The overall execution was better than I expected." -Amy Hood
Unlike before though, Microsoft isn't starting at the top as it did in the OS, Productivity, and Server spaces. Instead, Microsoft was 2 years late to the market and has to compete with the likes of AWS instead and claw market-share away from them. And this is bad news for Microsoft as competing with other tech monopolies in established markets is not something that they're especially good at; they aren't the same company that mothballed IBM all those years ago.
The success of Microsoft's business model relies mostly on them being among the first movers of infant markets, becoming the industry standard, and entrenching its products throughout said industry; lock-in if you will. In turn, their products no longer need to compete on quality, cease to evolve, and stagnate no differently than the human race as they have no ecological competition. Apparently, the law of natural selection even applies to markets.
In doing this, Microsoft's frustrating, insecure, and unstable architecture renders users change and technology averse, traumatized if you will, and consequently vying to keep everything the same. Further, they can artificially inflate the switching costs of moving to their competition, derail migration efforts to their competition even if it's better technology, and maintain dominance. Put simply, Microsoft's products and services create a moat of sorts that keeps users in and competition out while allowing them to compete with themselves. Mitigating their defenses is much easier said than done.
Being a first-mover that optimizes their solutions for lock-in is a double whammy for Microsoft and no one seems to care; hence why they do it. This happens to be why Windows, Active Directory, Server, and Exchange are still in play today despite being legacy, expensive, complex, frustrating, and unstable for users and admins alike. It's simply too ingrained and users/admins are rendered apathetic to change.
While Microsoft can't exactly take credit for this brilliant aspect of their business model, they can absolutely laugh all the way to the bank at anyone who is criticizing them about their quality woes without realizing that they don't even have to compete on quality; at least until Azure became their last hope.
One immediate problem with their tactics though is that they don't bode well in markets that are already well-established nor is it easy to re-structure a company to engineer for quality when it's structured to maximize lock-in. Although absolute genius goes into engineering products for lock-in, especially when realizing that all of their engineers are trying to do their best/ethical job, this heroin-esque approach to engineering is systemic and cannot be turned off like a light switch; quite the contrary. Any manager at Microsoft can and will affirm that Microsoft is a big ship to steer and such a restructuring could take years to fully implement.
As such and much like their founder Bill Gates, Microsoft isn't equipped for fair competition, hence why they lose their ass in markets they're late to, nor are they known for being a good sport at that. And as they have shown repeatedly with cloud, mobile, social, gaming, and laptop markets, Microsoft is consistently a fish out of water when entering well-established markets because they are not optimized to compete on quality which is the only card that a new entrant has to play against the status quo; exhibit Zoom and Slack. All of which stacks the deck further against Microsoft's ambitions with Azure.
To highlight this and although Microsoft is doing great things in the cloud space with Office 365, they were late to the market, ironically among the last to host their own services, and are in second place while losing further ground to Google Workspace. The same is true of Azure in that it was 2 years behind AWS to the cloud infrastructure market.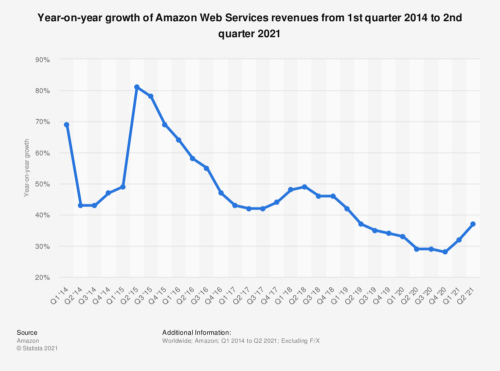 And although Microsoft and analysts claim Azure to be second in the cloud infrastructure space from a revenue perspective, Microsoft has yet to corroborate this with data and is refusing to post individual performance metrics of Azure after a decade of production. Based on what little we've seen though, AWS revenue is growing while Azure revenue growth is shrinking which is the opposite of what Azure needs to do. Meanwhile, AWS revenue grew 9% in the last year.
No matter where you look, you can find Microsoft consistently omitting all key performance indicators (KPIs) worthy of mention concerning Azure financials or usage; MAU, P&L, CPA, ARPA, RPE, etc; nada. Meanwhile, you'll find a whole host of ambiguous metrics such as vague growth rates, total user counts instead of monthly use statistics, and containers like the Intelligent Cloud averaging various offerings together. All of which takes significantly more effort than simply reporting individual performance and is frankly hard to keep under wraps for 12 years. Meanwhile, AWS has no problem reporting on AWS's performance; they have nothing to hide.
Oddly enough though and while it's even their policy to never report on KPIs, they definitely track them and occasionally post them but only if they exude a dominant market presence. In doing this though, Microsoft has a tell so to speak. Put simply, when products are doing fantastically, Microsoft will break protocol from time to time and report KPIs. But when products are doing horribly, Microsoft seems to hide behind their bogus policy so as to keep KPIs under lock and key while sugar-coating poor performance with ambiguities instead.
In doing this though, this being not reporting common usage and financial metrics while further hiding individual performance in the Intelligent Cloud, Microsoft has made it impossible for analysts to evaluate where Microsoft stands in the fold compared to AWS or Google Cloud. Ironically, the assessments declaring Azure to be in second place among cloud providers are speculative at best.
"Muddy waters make it easy to catch fish." — Chinese Proverb
With all of this in mind, it's easy to see why Microsoft needs investors to believe that Azure's position is strong and why Microsoft is working so hard to keep Azure's performance under wraps; that dog don't hunt. Although I can only speculate, it seems as if the KPIs surrounding Azure do not exhibit dominance or a route to dominance that Microsoft needs to project in order for share prices to keep rising while its stagnant revenue growth serves as further evidence of this.
If said KPIs did exhibit Azure's dominance or even a route to dominance, then Microsoft would have no reason to be shy and release them in the face of increasing scrutiny of their persistent refusal to report on these metrics. And their refusal to post these metrics while muddying the waters with pointless statistics/rates and odd financial containers instead isn't exactly a good omen so far as the health of Azure is concerned; if not symptomatic of the contrary. Put simply, if Azure truly had a big ol' dong then Microsoft would have thrown it on the table by now rather than hiding it behind excuses and obscure metrics for over a decade.
To be fair though, Microsoft could indeed be shy about Azure's performance for the past 12 years. Azure could be doing great for all I know. What I do know is that omission is the most common form of lying with statistics, followed by obfuscating matters with bogus metrics, and Microsoft doesn't have an incentive to resort to these squid and ink tactics if Azure is in great shape. All stars go through an inflationary phase before they go supernova.
You're welcome to believe otherwise though. You're welcome to believe that the 71.355 billion Microsoft spent on stock buybacks since March of 2018 were made to benefit the shareholders too; but that's for another day. █
Jorge has raised a little monster/mobster

An ongoing assault on the Rule of Law
Summary: Team Campinos has been so arrogant and so evasive that there's no indication (yet) that it will follow court orders (Willy 'Guillaume' Minnoye openly bragged about ignoring court orders and he's still cheering for the EPO's abuses); therefore, staff of the EPO takes collective action
THE EPO is governed by thugs [1, 2] who bully people far more qualified than themselves. They bully them with impunity. When courts finally rule on disputes — even if nearly a decade late — the bullies refuse to actually execute the rulings. We've seen that many times over the years; sometimes they merely pretend to have complied.
"Below we reproduce portions of a letter circulated among staff earlier today (someone has leaked a copy to us)."Remember that these are the same bullies who pressure judges to allow European software patents while euphemising these as "CII", "4IR", "Hey Hi" (AI), "simulations" and so on…
This time around staff of the EPO is organising against the bullies and today (weekend, sure!) some instructions are being circulated to increase pressure for compliance. Of note: The "Mafia" that runs the Office refuse to even speak about compliance! Just as we noted a couple of days ago. Where's the media coverage? Why aren't journalists applying any sort of pressure by informing the public? Has Europe's media become a lapdog complicit with these abuses?
Below we reproduce portions of a letter circulated among staff earlier today (someone has leaked a copy to us). The introductory part contains sufficient background/context, we hope.
31 July 2021
su21022cp – 0.2.1/5.1/5.2

Applications to intervene on strike regulations pending cases

In its 132nd session, the Administrative Tribunal of the International Labour Organization (ILOAT) expressed in Judgments 4430, 4432, 4433, 4434, 4435 that the entire legal framework intended to curb strikes in the EPO is unlawful. The paper "Strike!" provides a summary of the judgments.

In a letter dated 14 July 2021 to Mr Campinos, SUEPO requested him to execute the judgments and that the outcome of the judgments is applied to all. Until now, our requests remain unanswered and the EPO communication department only offers thundering silence.

In order to safeguard your rights, we strongly recommend you to "join" other pending cases by filing applications to intervene. This paper explains how. We recommend to file electronically at the latest on 8 August.

I. Case AT-5 5167: Mr Battistelli abused his power by not organising the UNITY ballot

On 16 May 2014, the Central Staff Committee (CSC) notified Mr Battistelli of a call for strike by a group of staff members calling themselves the "UNITY initiative". Strike actions were foreseen on 25 and/or 26 June 2014, which would have coincided with the meeting of the Administrative Council at which the extension of Mr Battistelli's appointment was to be discussed. The initiators had clearly designated the CSC as their representative or interlocutor. Nevertheless, Mr Battistelli found reasons in Communiqué 54 not to organize the ballot within the time limit. The planned strike action never took place.

If you were an active EPO employee at the time of the relevant facts, you can join the above case by filing an application to intervene.

Case AT-5 5167 was filed by two complainants:

• Complainant 1 was an EPO staff representative at the relevant time of the facts, and
• Complainant 2 was an EPO staff member.

[redacted]

II. Case AT-5 5179: strike deductions of 1/20th are unlawful and punitive

Since the entry into force of CA/D 5/13 on 1 July 2013, the existing Articles 63 and 65 ServRegs were amended by setting deductions for unauthorised absence and strike at 1/20th of the monthly net remuneration per day. Until then, a deduction of 1/30th per day had been applied in both cases.

If you were an EPO employee on strike during the period of July 2013 until April 2016 and suffered from strike deductions of 1/20th per day, you can join the above case by filing an application to intervene.

[redacted]

III. Case AT-5 5244: the SUEPO called strike of 2 July 2013 was lawful

Back in 2013, on 27 June, after a favourable ballot1, SUEPO published its "action plan for the summer 2013". One of the actions planned by SUEPO was a picket strike which would take place on 2 July 2013 if the Administrative Council adopted the proposal2 of Mr Battistelli for a new legal framework governing the right to strike The proposal was adopted by the Administrative Council on 27 June 2013 in decision CA/D 5/13, which was to enter into force on 1 July 2013.

In his Communiqué of 28 June 2013 the Vice-President of DG4 (Mr Topić at the material time) announced that as from 1 July 2013, any industrial action which does not fulfil the conditions laid down in the aforementioned new provisions will not be considered as a strike, with the result that participation in such action was liable to be considered as unauthorised absence.

On 2 July 2013 the strike announced by SUEPO took place. Employees who did participate received a threatening letter from Principal Director Human Resources (Ms Bergot at the material time) shortly afterwards informing them that, as that strike did not comply with the new rules, they were considered to have been absent without authorisation and a deduction from their pay would be made accordingly.

If you were an EPO employee who went on strike on 2 July 2013 and your absence was considered as unauthorised, you can join the above case by filing an application to intervene.

_____________
1 "Results of the four ballots on the continuation of the industrial actions", SUEPO paper of 27 June 2013 (su13091cp)
2 GAC/DOC 10/2013 rev. 1

---

The required evidence is:

[redacted]

SUEPO Central
The publication entitled "Strike" was included here and we did a video about it yesterday. █
Summary: Over the years we saw a number of rude letters from Elodie Bergot, the grossly under-qualified spouse of a friend of Vichyite Benoît Battistelli; most of these we never published (we already have these and can always publish if the need arises), but those paranoid and insecure "Mafia"-like 'cabal' need to be exposed for the mobsters they are; for nearly a decade they've illegally bullied EPO staff in clear violation of the law (and for over 3 years António Campinos has kept those bullies on board); why does Europe do nothing and why is it never holding high-profile abusers accountable (only low-level facilitators)? Is it because the EU too is being infiltrated by them?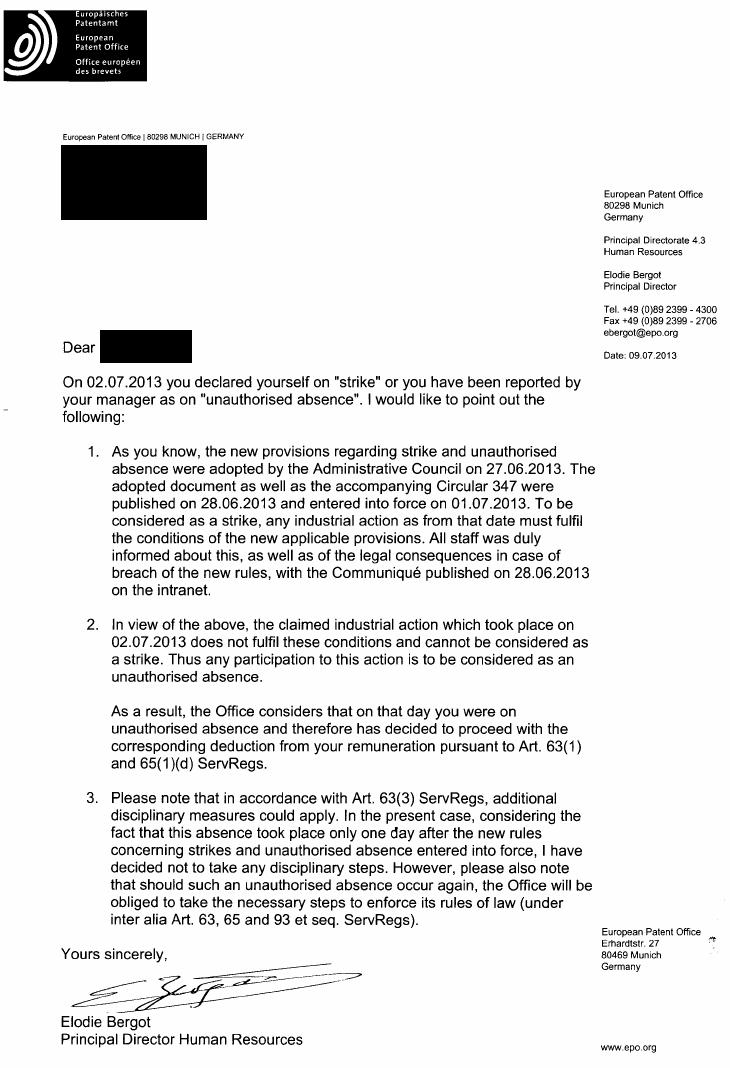 Video download link | md5sum ab5b8a4ae65a514a3fdcc1898424c8e0
Summary: The brand "Linspire" was brought back, but the agenda seems to be more or less the same, namely pushing proprietary software and serving Microsoft's commercial agenda (in 'Linux' clothing)
FOURTEEN years ago we called for a boycott of Linspire for its patent collusion with Microsoft. The same happened with Xandros, which would buy Linspire and temporarily push Freespire. That failed just like Novell and Turbolinux. Where are they today? Nowhere! Making alliances with Microsoft always leads to major blunders… and eventually commercial failure.
"That failed just like Novell and Turbolinux."Well, the name "Linspire" has been repurposed. A few years ago this strange comeback was noticed with a worrisome slant — a Microsoft-centric "Linspire", pushing Microsoft vendor lock-in, surveillance etc.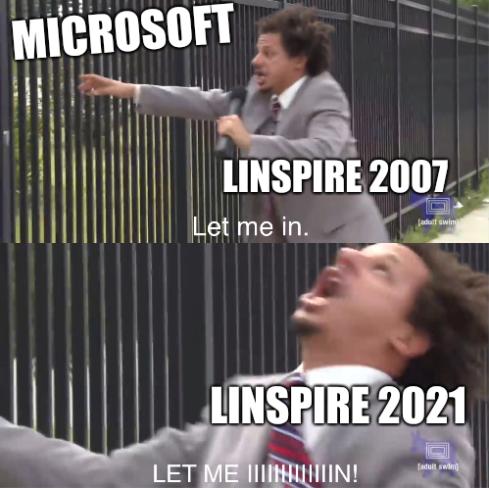 Trying the same thing all over again is assurance of failure
Not much has changed since then. Below we add two new links [1,2] (comments here; it's boosted by Microsoft boosters who simultaneously promote other attacks on GNU/Linux) showing Linspire/Xandros as boosters of monopolies and surveillance, not just by Microsoft but also Google. That's missing the whole point of GNU/Linux, pushing some sort of Microsoft-centric ChromeOS instead. They push Microsoft proprietary software out of the box ("With the Office 365 edition Bing will also be the default homepage and the default search engine in Google Chrome") and brag about selling this. Whose agenda is served here? The issue is discussed in the video above. █
______
What started off as Lindows twenty years ago as an easy-to-use Linux-based operating system with great Wine integration and easy application support but then changed to Linspire following a Microsoft lawsuit has had quite a journey. PC/OpenSystems LLC revived Linspire after a multi-year gap following the closure of Xandros and since then it's been a rather peculiar platform. Today they are now shifting focus once again.

For the past year we have internally at PC/OpenSystems LLC launched a project called CLOUD9. The aim of this project was to create an OS that utilized cloud apps in replacement of traditional desktop applications. Some of those manifested themselves into Xandros Cloud but we wanted to bring that to all of our desktop users. Some of the efforts were successful (Xandros Cloud Office 365 was our best seller for our education customers and some of our enterprise customers) But we wanted to make the best Cloud centric OS that we could.

[...]

Xandros OpenDesktop 2021 will come in two flavors. Standard Edition with all the Google services preinstalled and Office 365 edition which will utilize Microsofts web services. With the Office 365 edition Bing will also be the default homepage and the default search engine in Google Chrome. Both will ship with .NET Core, Powershell and Visual Studios Code. Local apps will include, Chrome, Video Player, Rhythmbox, games, Shotwell and Krita for image editing. Both editions of Xandros OpenDesktop will also include all the proprietary media codecs and DVD/Blu-Ray support