10.18.22
Gemini version available ♊︎
Delayed again? The EPO has been telling us UPC was imminent since 2015.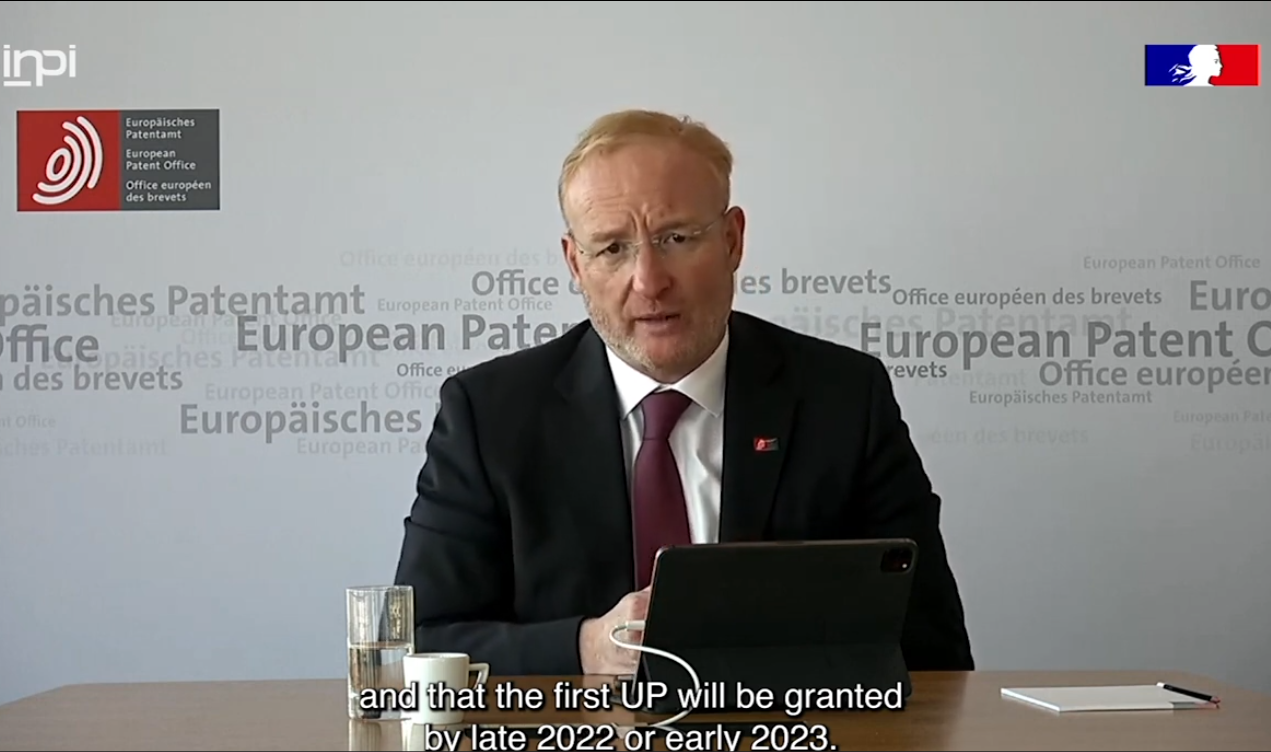 The video above was published 3 weeks ago by INPI France (homebase of Team Battistelli).
António Campinos reminds us he's just a Frenchman (fluent French as he was born there, grew up there, studied there) pretending to be "Portuguese" when it suits him.
Summary: In a new video, António Campinos promotes something illegal and unconstitutional, boasting that they will try to start it before it is even authorised! It's his typical approach to do something illegal and then seek to change the law to legalise it later on, 'retroactively' so to speak.
THE end of October is near and Germany did not ratify the UPCA (UPC Agreement). Neither did the UK, which actually DE-ratified it, leaving only France in there. France of one of 3 mandatory signatories, but of course as the UK is not in the EU anymore it can never sign it. So it's illegal. The UPC is legally dead. It'd be in violation of conventions and constitutions, but did the EPO let such 'pesky' things get in the way? Campinos is lying about UPC, because of course he does (we don't wish to quote verbatim the nonsense he says; he reveals he has no clue what the UPC actually is!). Crimes and lies are his valued skills at EPO. He's a dishonest person or a lawyer who has experience with trademarks, not patents, but that never got in the way of his EPO appointment. If this is the best Europe has to offer, we're very deep in trouble. But he's not the best Europe has to offer, it's merely a coup of special interests and pressure groups for rogues.
"There are serious obstacles, some of which will come up later."3 weeks ago isn't a long time ago and the end of the year is near. Notice how he speaks of 2023 now, and he doesn't even speak about the start of the system but something like "first UP"! We've said all along the timelines and predictions were false. We were right.
Now, regarding some insider information, things are a lot grimmer than Team UPC publicly signals. There are serious obstacles, some of which will come up later. The process is slow. We have some big series on EPO affairs coming. We'll focus on that.
"It seems apparent that the EU authorities are aware that this system is not legal."We certainly hope there will be a formal challenges before Germany can get a chance to ratify and before the EPO starts an illegal system (that may very well 'explode' later). From a legal standpoint, some patience may be needed. "The question is whether it is possible to go to court for violation of the EU treaties if the Law is not in force yet," one informed person said, "and does not produce effects towards third parties. Karlsruhe did not want to escalate the question of compliance with the EU treaties (removal of national courts), it's a political excuse pushed by some people in Germany."
It seems apparent that the EU authorities are aware that this system is not legal. Commissioner "Breton did not answer to the Breyer question," one source said, "meaning they know there is a problem but do not want to act for obvious reasons."
Now there are some further issues. "They have some delay with the IT system," one person noted, so it might not progress until next year. The violation of the treaties is still an issue and it'll likely come up later. We know a bit more, but shall bring it up at a later time. █
Permalink
Send this to a friend