Microsoft Controls ECMA, ISO, JTC1, Everything
Dr. Roy Schestowitz

2008-02-18 02:51:45 UTC
Modified: 2008-02-18 02:51:45 UTC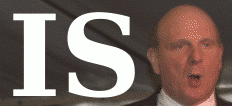 Who 0wnZ your ISO today?
R
emember what
really
happened before OOXML got fast-tracked
? If not, go ahead and find out. The meeting in Geneva is not any better [
1
,
2
,
3
,
4
,
5
]. With
blacklisting of opposition
it turns out to be more of a corruption (of policy) than just a farce. It's outrageous, scandalous, but nobody dares to speak out and take effective action. The European Commission is
now looking at it
(antitrust probe), but it might be too little too late.
A few days ago, Stephane informed us that
ECMA is virtually controlled by Microsoft
, not just hired by Microsoft (mind his comment). It is curious now that we discover
more details
about the utterly sad state of the whole process. To quote a small fragment:
So you can see what great power Ecma has over JTC1 -- they can submit any standard they want for Fast Track, and no one in JTC1 can stop them, or even remove their right to submit Fast Tracks.

This may explain why Ecma is able to command such high membership fees. A full voting membership in OASIS, which would allow a company to help produce an OASIS Standard for later submission to JTC1 under PAS process, this costs $1,100 for a small company. To join the US NB and be able to lobby for a Fast Track submission from the US, this will cost you $9,500. But to join Ecma as a voting member (what they call an "Ordinary Member") this will cost you 70,000 Swiss Francs, or $64,000. That is what no-questions-asked Fast Track service is worth. I think that, from Microsoft's perspective, the extra $63,900 is money well spent. But what about from JTC1's perspective? They don't get this extra money. So what's their excuse for having such permissive Fast Track procedures that give Ecma such control?
It is worth noting those money barriers because we keep stressing the fact that
small developers haven't a chance of receiving legal protection for OOXML
. Moreover, recall incentives (bribes) which were offered by Microsoft to its partners in Sweden (among
other such examples
). Participation can be costly, meaning that free and open standards are controlled by the rich, virtually to serve the rich. If this sounds familiar, it should. It is
the same story with software patents
.
Another recent issue with ECMA is
this one
.
Ecma's response is to deny the request, explaining that there is no need to change the name because "we believe there is no confusion".
Yes,
ECMA's seemingly-infinite vanity is showing
. How truly appalling.
⬆