Summary: A few updates on the patent wars which target Linux and Android
THE fight against TomTom gave considerable force to Microsoft's extortion-esque attacks on Linux. Unlike the Novell deal, this court case was about resistance to Microsoft, whereas Novell was the one that came to Microsoft, asking for the deal. Here we are in 2012, merely 3 years after the TomTom case and nearly 6 years since Novell came to Microsoft.
"Microsoft [is running scared from Germany because of #swpats",
writes Alan Lord
, noting that just after
the FAT decision
and
involvement from Linus Torvalds
the Motorola case
is weakened even further. We
wrote about FAT recently
because Microsoft is losing its patent teeth, which are rooted in lousy patent gums. One report on this subject
comes from Reuters
:
Microsoft (MSFT.O) is moving its European software distribution to the Netherlands from Germany after being caught up in patent disputes with mobile phone and tablet maker Motorola Mobility Inc (MMI.N).

"We would have preferred to keep our European distribution center in Germany, where it has been for many years. But unfortunately the risk from disruptions from Motorola's patent litigation is simply too high," Microsoft spokesman Thomas Baumgaertner said on Monday.
Foolishly enough, Reuters quotes another
Microsoft mouthpiece and lobbyist
(Florian Müller). As Microsoft is grooming its lobbyists and paying them to spread lies, it is possible to inject yet more Microsoft talking points into articles, then pretend they are from an "independent" source.
As under pressure this lobbyist admitted to be paid by Microsoft, a reputable news source like the above should refrain from quoting him in articles about Microsoft (also its rivals).
As one commenter put it
in an external comments section
when he saw the lobbyist quoted:


This is where I stopped reading, as I knew at that point that the article was going to be worthless.

This guy is like Gartner: always wrong, but somehow always quoted. How do I get a job where I can just make stuff up, always be wrong, and still get paid?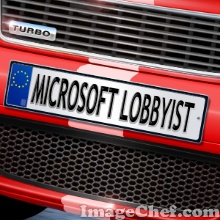 He is still spreading Android-hostile disinformation. "Both Oracle and Google, not content with letting Dr. Kearl, the court-appointed damages expert, introduce his damages report and testimony without challenge, have filed Motions to exclude portions of Dr. Kearl's report. However, each party only seeks to exclude one narrow area of Dr. Kearl's testimony," says Groklaw when it became clearer that the trial goes on:
Oracle and Google are now set to go before the US District Court of San Francisco on 16 April. Oracle had turned down a settlement offer from Google last week which has led Magistrate Judge Paul S. Grewal to decide that the case will go ahead.
The war on Android is always based on software patents. Get rid of software patents, then the problem will mostly go away. SJVN notes that CISRO [
1
,
2
,
3
] is
still exploiting Wi-Fi patents to essentially troll real companies
:
Australia's Commonwealth Scientific and Industrial Research Organization (CISRO) has snatched picked up $229-million from technology companies for their Wi-Fi patent. This time around, CISRO hit up Lenovo, Acer, Sony, AT&T, Verizon, and T-Mobile. These companies settled with CISRO rather than face in the infamously pro-patent Eastern District Court of Texas, United States.

This isn't the first time CISRO has cashed in big with its overly-broad patent. The research arm of the Australian government hit up 14 companies in 2009, including HP, Microsoft, Intel, Dell, Netgear, Toshiba, 3Com, Nintendo, D-Link, and Buffalo Technologies, for over $200-million.
During Easter we shall catch up with patent news. We fell behind a bit.
⬆