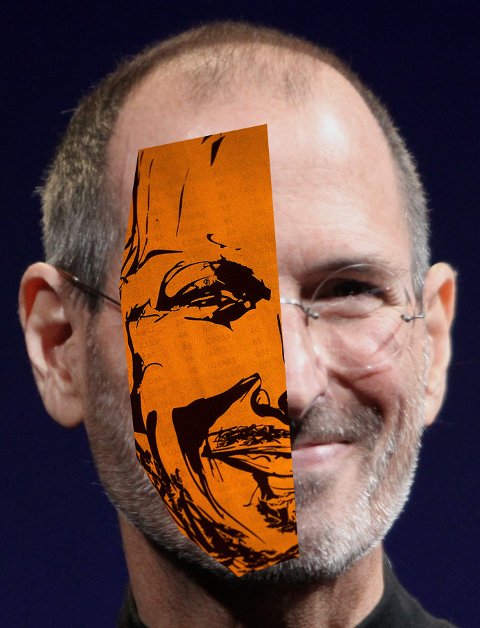 Jobs image licensed under the GNU Free Documentation License (version 1.2 or any later versions); Ellison patch By Thomas Hawk
Summary: The case against Android is falling flat on its face as even the leader of Oracle falls on his sword in court
SEVERAL months ago we remarked on Steve Jobs' highly misguided claim that Android was "stolen". Putting aside the misunderstanding of the word "stolen", what's really just a copycat is the toy collection of Mr. Jobs. It's a bunch of "glorified" (i.e. with apple-shaped logo) merchandise, made in the very same factories that produce Apple's competition, assembled with the very same components that are sold to many companies including Apple.
There is some coverage
of the Oracle-Google trial
in the
Microsoft/Intel-friendly
press (reporting on where the big advertising money is) and as it
kicks off
we are fortunate to have
Pamela Jones
on
the case
, remarking on
"the first live witness for Oracle, namely Larry Ellison"
(to whom, by his admission, Steve Jobs is a "best friend"). Ellison
messes up the testimony
because of
his ignorance
.
"Larry Ellison knocks Oracle's Linux strategy,"
argues Zonker. Just watch what he said. Even a Microsoft booster
was unable to spin it against Linux/Android
. He wrote:
Oracle's argument is that while Java is an open-source language free to all, using the APIs as Google did requires a license—and the fact that Google doesn't have one puts them on the wrong side of copyright law.
Another longtime anti-FOSS guy
looked at this from another angle
:
Computer languages and software interfaces may fall under copyright protection if Oracle succeeds in its Java lawsuit against Google. Amazingly, "copyfighters" appear to have paid little or no notice to this rare extension of copyright into new realms. But the consequences and costs for the software industry could be enormous.
Google's CEO
seems to concur
on that, so what's this legal fight all about? Putting aside
the lies from the Oracle/Microsoft lobbyist
, this whole lawsuit seems like a misunderstanding. Ellison just acted upon passion, not logic, just like his best friend Steve Jobs, who even in the courtroom is
unable to stop Android
; in fact, it all comes back to bite Apple in the rear end. Here's the latest:
Samsung targets Apple in the US with eight more patents



Samsung has finally answered Apple's second US patent infringement lawsuit with patent infringement counterclaims of its own. On Wednesday, Samsung filed a response to Apple's lawsuit over the Samsung Galaxy Nexus, claiming that iPhones, iPads, Apple TVs, and Macs infringe one or more of eight patents. Two of those patents have been declared essential to 3G wireless standards, however, which could complicate the European Commission's investigation of Samsung's alleged abuse of standards-related patents.
It sure begins to seem like the lawsuits against Android are more like SLAPP (
strategic lawsuit against public participation
). No wonder
Oracle is retreating
. There is no successful case against Android, even 2 years after it all began.
⬆