Microsoft's Patent Mafia Called the Proof That Patent Trolls Must be Eradicated or Patent Law Changed
Dr. Roy Schestowitz

2013-09-27 12:33:12 UTC
Modified: 2013-09-27 12:33:12 UTC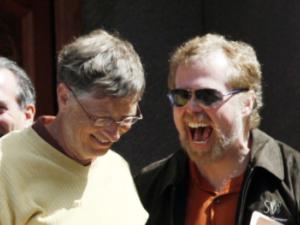 Summary: The patent bullies of Bill Gates are receiving more and more media attention, and even his lobbyists are seen publicly again
Microsoft is attacking Android/Linux using patents. It does this not just directly but also indirectly. It does this not just through practising companies but also patent trolls.
Microsoft Florian
, a Microsoft lobbyist, has a new post about Microsoft's biggest patent ally -- a company called Apple, which is enormously incompetent [1].
Slashdot
has
this summary
(probably Florian himself submitted it as it's
how he operates
) and it basically says that a video of Steve Jobs helped kill a software patent in Germany -- a patent which was used against Android/Linux. Both Apple and Microsoft are good at copying things, even the bad things [2]. "Somehow they all miss the obvious that software patents are invalid in Europe,"
iophk
pointed out. But remember that this German lobbyist, Florian Müller, is not against software patents. He defected when Microsoft and other companies started paying him.
Another Microsoft vector of attack on Android/Linux is
Intellectual Ventures
, which is
like Microsoft's patent-trolling offshoot
. As
publicknowledge.org put it the other day
, or in the words of
Against Monopoly
,
"Patent Troll 'Intellectual Ventures' Proves Need for Patent Reform"
. Here are some fragments of interest:
He sums it up, "Intellectual Ventures is giving you the good side of the story. They say that they are champions of invention and they're quick to point out their health and medical research. Everyone else in the battle for patent reform sees the other side. The side that preys on businesses without penalty, that buys up patents to sue innovators building companies, and that ultimately keeps innovation at a standstill while raking in massive profits. Later, he writes, "Because when a company like Intellectual Ventures sits on technologies and patents, waiting for someone to independently make a product to become unintentional fodder for a lawsuit trap, there is no benefit to knowledge, consumers, or to society." Worth a read and thought about the purpose of patents and current experience and whether we wouldn't be better off without them.
"Intellectual Ventures" is a deceiving name. It implies that it takes intellect to engage in extortion. Red Hat's Web site OpenSource.com currently gives the platform to a lawyer who floats contemptible notions like "the ownership of intellectual property." Or
to quote directly
in context:
I cover a very niche area of law, the ownership of intellectual property.
The words "ownership", "intellectual" and "property" are all loaded. They are designed to imply that a monopoly on an idea is somehow "intellectual" and that ideas can be owned or made the property of a person. Red Hat can do better than this. It probably ought to.
⬆
Related/contextual items from the news
:




An Alaskan airport has closed an aircraft access route because of a flaw with Apple's Maps app.

Fairbanks International Airport told a local newspaper that in the past three weeks two motorists had driven along the taxiway and across one of its runways.





One of those was the idea of using "Control-Alt-Delete" — initially designed to efficiently reboot a computer — as a way to log into Windows.

During a fantastic talk last week at a Harvard fundraising campaign, Gates admitted that it was a mistake to force users to use hold down "Ctrl+Alt+Del" to log into their computers.