06.01.16
Gemini version available ♊︎
Bavarian media informed politicians, who now feed information back into the German media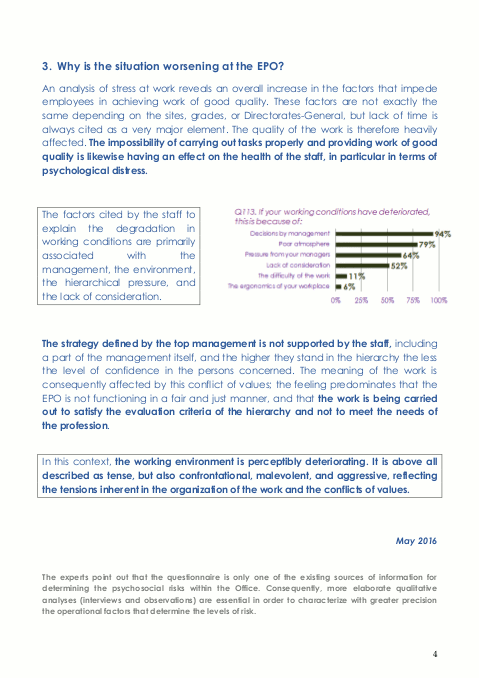 Summary: Staff of the European Patent Office manages to get its collective voice heard in spite of truly wasteful white-washing 'studies' and 'surveys' that Battistelli and his circle commission to mischaracterise and badly portray the situation
BACK in March we published slides from a staff survey conducted by Technologia with help from SUEPO members. This survey indicated that, based on thousands of respondents, Battistelli is trusted by nobody at all. It was a damning if not unbelievable outcome, as this suggests that not even 'moles' (infiltrators) have snuck into the union. Earlier today SUEPO released more of the same, under the banner "Results of the 2016 European Patent Office Staff Survey".
Here is the full thing with links to all the corresponding PDFs.
The results of the 2016 EPO Staff Survey by Technologia are now available. With a participation rate of 39% this third edition allows to assess reliably the current situation and the development of psychosocial risk among EPO staff under Mr Battistelli's presidentship. The situation and the trend are worrying.

Most important findings are available in the "Executive Summary" (also available in German, French and Dutch). Other relevant information has been gathered in a summary presentation (also available in German and French).

The raw results to all questions (compared with the results of the 2010 and 2013 editions) are also available in three languages: English, German and French.
In the mean time, despite the fact that SUEPO says nothing about it and there is no coverage in English, German media writes about yesterday afternoon's debate about the EPO's debacles at the Bavarian Parliament (we could use translations of these articles about it [1, 2]). With the data above they should be able to assess the situation; Battistelli now engages in information war with help from dodgy firms and PR giants from the United States. It's an extraordinary waste of money. SUEPO took note of another bit of coverage from German media, but again, without English translation there's not much we can publish herein. █
Permalink

Send this to a friend