10.03.16
Screenshots taken by Jan Wildeboer (Red Hat)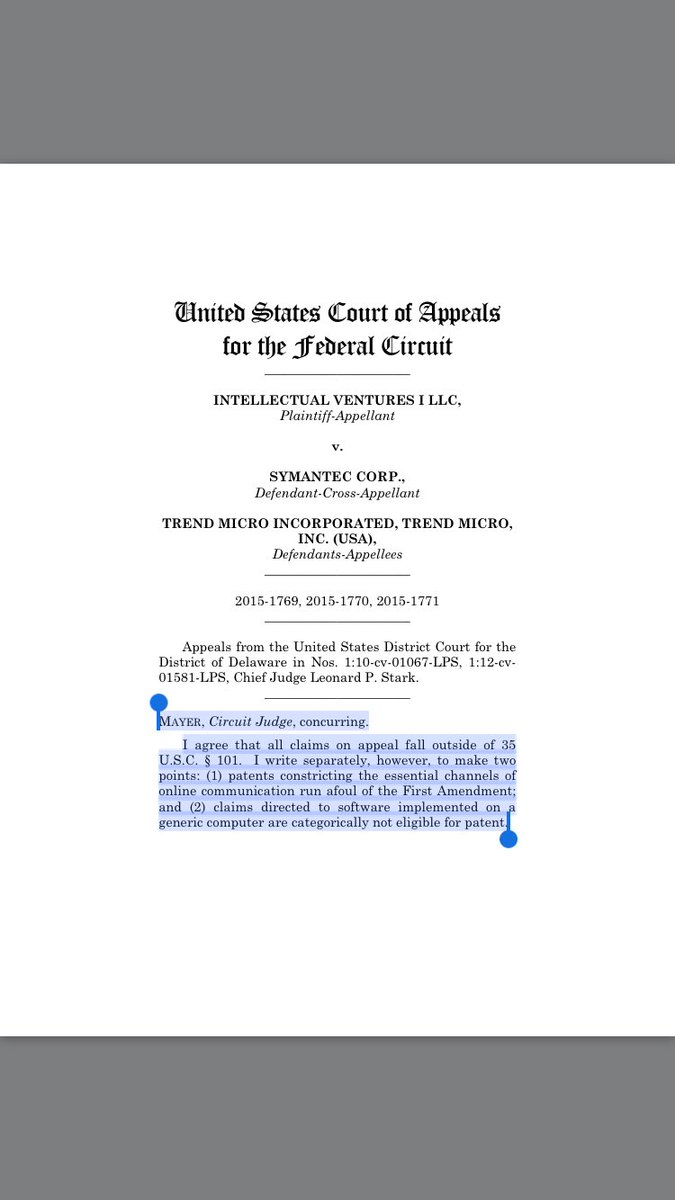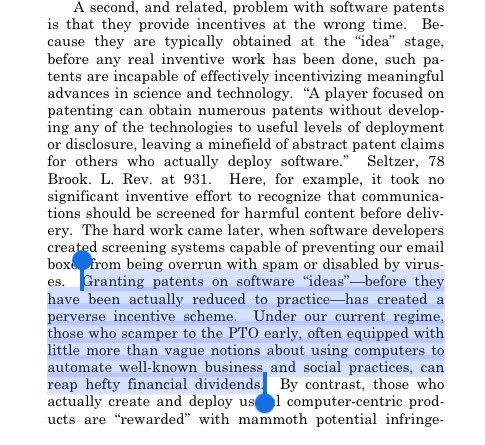 Summary: Further reinforcing the current trend, software patents' demise in the United States has just been ascertained again, even if legal firms and patent maximalists prefer not to comment on it (as it would give this latest decision more visibility)
THE latest decision (see portions above) from the Court of Appeals for the Federal Circuit (CAFC) is eye-catching, but either it hasn't caught the eye of legal firms or they're just trying to ignore it, so we'll be covering it more than we usually cover such decisions. We have made a local copy [PDF] (original here) of the full decision. We also mentioned it earlier today and yesterday, reaffirming that several software patents are dead, potentially implicating many more (by precedence/extrapolation).
Jan Wildeboer wrote to us (and few others) [1, 2]: "Wow! Software patents can violate #1stamendment according to #CAFC judge! [...] Can't get enough. Judge defines patent trolls. #CAFC level. Huge. Page 36…"
Some people are also writing to us about it in our IRC channels today. They want this subject covered.
Where is the news coverage about it? It has been several days since this decision and patent law firms are still a month behind the times (McRO again), obsessing over very old news. Consider as a new example Sterne Kessler Goldstein & Fox's "Patent Rights in the U.S.: Is the Pendulum Finally Swinging Back to Center?" (earlier today)
They speak about McRO while ignoring everything that has happened since. Shame on them. It seems as though bad legal advice from patent law firms is becoming the norm. They mislead scientists for cash (litigation, patent applications etc.), attempting to convince them that patents on algorithms are still a 'thing' after Alice. One does not even need to sue a company with software patents in order to lose these patents, owing to inter partes reviews (IPRs). The above lawyers reveal their biases with their obligatory rants about PTAB, stating that "PTAB [is] causing uncertainty over validity and enforcement of patents."
We are still waiting to see patent law firms which offer their bogus 'analyses' (if any) of this latest CAFC ruling on software patents; they hope we don't see it, judging by the fact that only Patently-O wrote about it (we covered it this morning). The ruling is very important because it serves to demonstrate a loss for patent trolls and for software patents (or patent trolls that use software patents, which is typical). The decision criticises patent trolling as well.
Judging by this new press release (from Trend Micro, which is itself a patent aggressor, not the patent microcosm), some other companies breathe in relief.
So far, based on our research, only one press article has been published about this decision. It's titled "Here's Why Software Patents Are in Peril After the Intellectual Ventures Ruling" and it says:
The end may be in sight for software patents—which have long been highly controversial in the tech industry—in the wake of a remarkable appeals court ruling that described such patents as a "deadweight loss on the nation's economy" and a threat to the First Amendment's free speech protections.

The ruling, issued on Friday by the U.S. Court of Appeals for the Federal Circuit, found that three patents asserted against anti-virus companies Symantec symc and Trend Micro were invalid because they did not describe a patentable invention. The patents were owned by Intellectual Ventures, which has a notorious reputation in the tech world as a so-called "patent troll," a phrase that describes firms that buy up old patents and wage lawsuits in order to demand payments from productive companies.

[...]

Software Patents as a Threat to Free Speech

Friday's ruling is also significant because Judge Mayer eschews the insider baseball language that typically dominates patent law, and addresses patents in the broader context of technology and government monopolies.

Pointing out that intellectual property monopolies can limit free speech, Mayer notes that copyright law has built-in First Amendment protections such as "fair use" and that patent law must include similar safeguards. He suggests that the safeguard comes in the form of a part of the Patent Act, known as "Section 101," which says some things—including abstract ideas—simply can't be patented in the first place.
IAM 'magazine' has not said anything about this decision. So much for 'news'; it was so quick to crow about McRO (beating everybody to it), but not a word about Intellectual Ventures? They have just released a new issue of the magazine and this time the Intellectual Ventures troll is not on their main feature/cover page (puff pieces galore); not this time around…
Over at Twitter IAM wrote: "Trolls don't fight it out in the courtroom. They seek to leverage low quality patents to secure quick licensing wins" (does not mention Intellectual Ventures)
Funny that IAM mentions the VirnetX case but not Intellectual Ventures, which speaks directly to IAM. This case was actually mentioned here twice in the past few days alone and it was challenged in court. David Kravets wrote about it, publishing this article that clarifies Texan courts (i.e. notorious bias) ruled on it, not CAFC:
An East Texas jury concluded late Friday that Apple must pay a patent troll $302.4 million in damages for infringing two patents connected to Apple's FaceTime communication application.

The verdict is the third in the long-running case in which two earlier verdicts were overturned—one on appeal and the other by the Tyler, Texas federal judge presiding over the 6-year-long litigation.

The latest outcome is certain to renew the same legal arguments that were made in the earlier cases: Apple, for one, has maintained all along that the evidence doesn't support infringement. VirnetX, as it did in the past and is now doing, is seeking more damages for what it says is "willful" infringement on Apple's part. What's more, in the previous litigation, the Nevada patent-holding company had asked the judge to shutter the Apple service at issue. Apple has maintained that such a demand was made "So that it can be used to extract a massive licensing fee."

The case began with four of VirnetX's patents (1, 2, 3, 4), which had originated at a company called Science Applications International Corporation, or SAIC. VirnetX has been saying for years that it plans to market various products, but its income comes from licensing patents.
If Apple can escalate this upwards, then a court like CAFC would quite likely invalidate the patents, as usual. The higher one goes (in the courts/legal system), the less room for mischief and leeway for software patents. It's a shame that courts lower down don't obey rulings that are handed from above, especially courts that are based in Texas. █