02.08.17
The US Chamber of Commerce still believes that insulting countries will help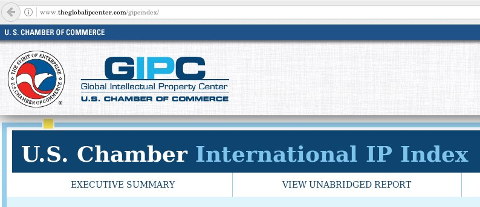 Summary: Another reminder to Indians that the front group of the largest and often most abusive corporations is very, very angry at India for denying these corporations the 'privilege' to sue Indian companies (at least in Indian courts)
The "US Chamber International IP Index," as IP Watch called it today, is still up to no good. We have been writing about this for many years. The government of the United States keeps bullying and shaming poor countries including India into legislating copyright and patent maximalism, i.e. industrial surrender. Cablegate has plenty of examples of that.
"It's all just spin, as it's designed to mislead and to shame."Today, India's biggest press, including the Times of India in this case, helped the US lobby by relaying what is very obviously self-serving propaganda from the patent industry. It attempts to shame India into granting software patents that it does not currently permit (among other things). To quote from the corporate English-speaking media: "The 5th Annual International IP Index reveals that India continues to lag behind the rest of the world in IP protections, coming in 43rd place out of 45 countries."
Is this supposed to be a measure of shame? Why say "lags"? Maybe it's ahead when it comes to liberalisation of ideas, free thought, independent development etc.
It's all just spin, as it's designed to mislead and to shame. "If Indian policymakers wish to deliver the kinds of results," said the above, "the Modi administration once hoped for, they can act to address issues that impact Indian innovation, such as software patentability, life sciences patents, copyright protection…"
See? Software patents. India's government and Indian citizens should stick the middle finger in the face of the US Chamber, which just hopes to entice them into colonisation and enslavement (by lawyers). What makes India so fantastic for software development/developers (I have been reading a lot about India's software industry this week) is competitive costs and distance from patent trolls. If software patents were brought into India, prices would skyrocket and trolls destroys entire companies, or compel them to remove features from software products. █