09.06.19
Gemini version available ♊︎
From Serco's own site (press release removed and also withdrawn from Reuters, maybe at the request of the European Patent Office (EPO))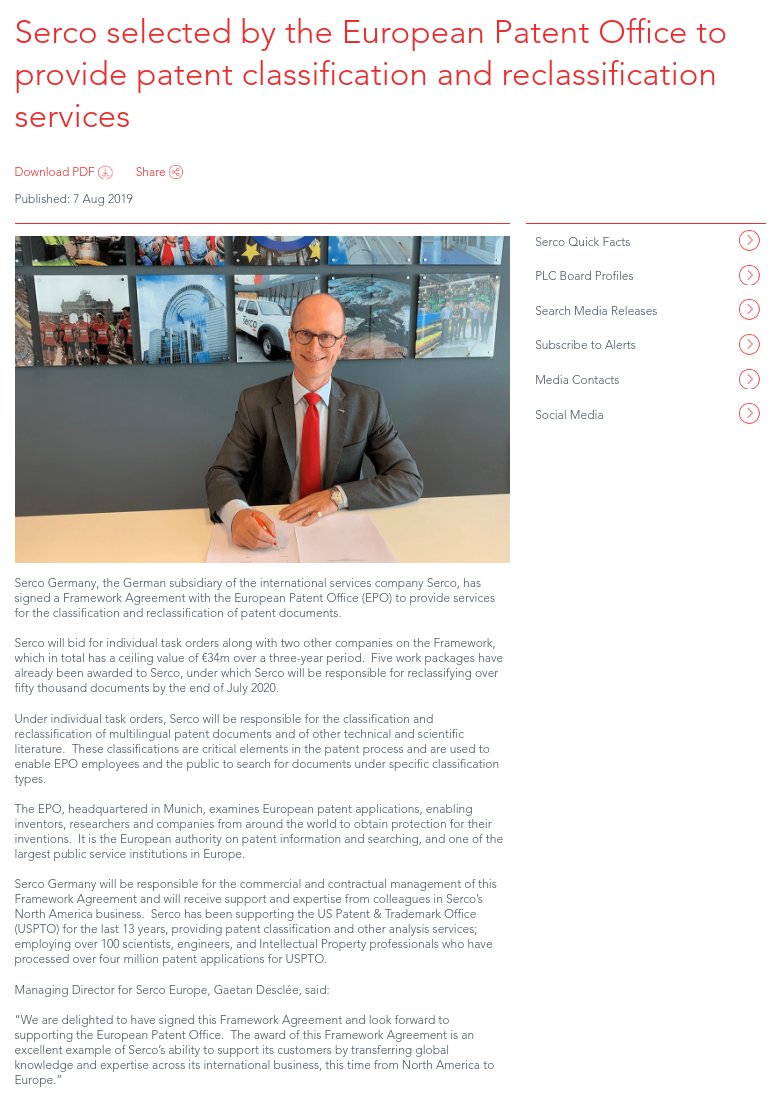 Summary: It seems like the EPO has passed a lot of its work to a controversial private company under everyone's noses during the summer holiday
The above page has been removed, but we have a screenshot. This press release was 'modified' (completely deleted by Reuters) without saying much. They want to hide something. We're left simply guessing that Serco wanted to brag about a massive new deal (seemingly outsourcing of EPO work), but the EPO rushed to keep it a secret. Remember what happened at EUIPO after António Campinos sent/outsourced the jobs to India (likely breaking EU laws in the process)? He's no better than Benoît Battistelli; it's a temperament thing only.
"This press release was 'modified' (completely deleted by Reuters) without saying much."Serco Group PLC is a massive and notorious company plenty of people never heard about (and the company prefers it that way). Did the EPO give a contract to corrupt Serco? If so, the EPO also connected to the military and to 'concentration camps' (they resemblance is uncanny). That would not be unprecedented in light of a contract for nazis' firm (one which likely profited and came into being from actual concentration camps). Is this where applicants' money goes?
Here is the full text of the purged press release:
Serco selected by the European Patent Office to provide patent classification and reclassification services

Published: 7 Aug 2019

[Gaetan Desclée]

Serco Germany, the German subsidiary of the international services company Serco, has signed a Framework Agreement with the European Patent Office (EPO) to provide services for the classification and reclassification of patent documents.

Serco will bid for individual task orders along with two other companies on the Framework, which in total has a ceiling value of €34m over a three-year period. Five work packages have already been awarded to Serco, under which Serco will be responsible for reclassifying over fifty thousand documents by the end of July 2020.

Under individual task orders, Serco will be responsible for the classification and reclassification of multilingual patent documents and of other technical and scientific literature. These classifications are critical elements in the patent process and are used to enable EPO employees and the public to search for documents under specific classification types.

The EPO, headquartered in Munich, examines European patent applications, enabling inventors, researchers and companies from around the world to obtain protection for their inventions. It is the European authority on patent information and searching, and one of the largest public service institutions in Europe.

Serco Germany will be responsible for the commercial and contractual management of this Framework Agreement and will receive support and expertise from colleagues in Serco's North America business. Serco has been supporting the US Patent & Trademark Office (USPTO) for the last 13 years, providing patent classification and other analysis services; employing over 100 scientists, engineers, and Intellectual Property professionals who have processed over four million patent applications for USPTO.

Managing Director for Serco Europe, Gaetan Desclée, said:

"We are delighted to have signed this Framework Agreement and look forward to supporting the European Patent Office. The award of this Framework Agreement is an excellent example of Serco's ability to support its customers by transferring global knowledge and expertise across its international business, this time from North America to Europe."
Can any EPO insiders please shed light on this? Has anyone been actually told about this? Why was it signed when most people were away on holiday?
As a side note, yesterday the EPO once again advertised and amplified front groups of patent trolls (it had done so almost every day this week). "Want to better understand which IP commercialisation options will complement your business model? Join us at this event," they wrote.
Notice whose service/interests the EPO is promoting. Definitely not scientists' (nor businesses').
"The EPO's promotion of the UPC was sufficient proof that nowadays the EPO is hostile towards science and technology. All it cares about is litigation firms and patent trolls."Yesterday Patrick Wingrove pinged me about his new article (so-called 'survey') about the UPC. "Loaded question," I told him about it, as "implies it stands a chance. Also asks a particular group with particular self-interest."
That's like asking the farmers' association whether there will be drought. The EPO's promotion of the UPC was sufficient proof that nowadays the EPO is hostile towards science and technology. All it cares about is litigation firms and patent trolls. █
Permalink

Send this to a friend