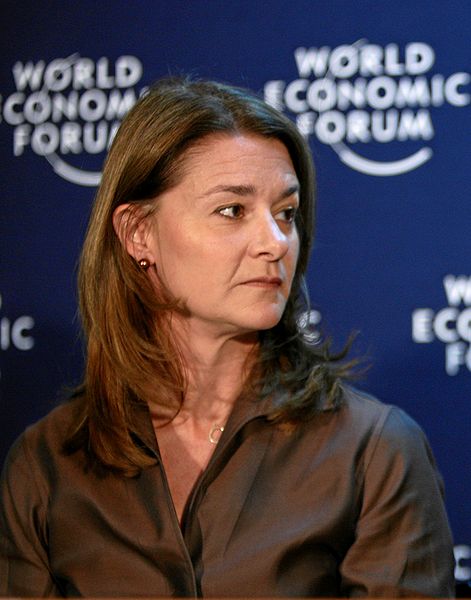 Copyright by World Economic Forum, licensed under the Creative Commons Attribution-Share Alike 2.0 Generic license
Summary: The board of the Washington Post drops Melinda Gates "shortly after the release of a highly critical report, funded partly by her foundation, which likened for-profit colleges to subprime-mortgage lenders, targeting low-income and traditionally underrepresented students."
TECHRIGHTS still has a huge backlog of posts (drafts), which need editing, fact-checking, and additional research/references before they can be reliably published. Many are about Gates' abuses. Any help that readers can offer will speed things up and ensure we can deliver more output. We recently got a lot of help with translations and with the Wiki.
One story we have not had the time to cover in a while is about Melinda Gates. Just before we publish a megapost about Gates in education we must deliver this post on which it is dependent.
Some weeks ago the
Washington Post
published the article
"How billionaire donors harm public education"
. The author had previously criticised Gates' scheme (for schools deform) in this section of the paper and we commend her for it. To quote some of the latest:
Today the foundation set up by billionaires Eli and Edythe Broad is giving away $2 million to urban school districts that have pursued education reform that they like. On Friday a Florida teacher is running 50 miles to raise money so that he and his fellow teachers don't have to spend their own money to buy paper and pencils, binders (1- and 2-inch), spiral notebooks, composition books and printer ink.

Together the two events show the perverted way schools are funded in 2010.

Very wealthy people are donating big private money to their own pet projects: charter schools, charter school management companies, teacher assessment systems. (The latest example is Facebook founder Mark Zuckerberg's $100 million donation to the Newark public schools, given with the provision that Zuckerberg, apparently an education reform expert, play a big role in determining success.)

What this means is that these philanthropists -- and not local communities -- are determining the course of the country's school reform efforts and which education research projects get funded. As Buffalo Public Schools Superintendent James A. Williams said in an interview: "They should come out and tell the truth. If they want to privatize public education, they should say so."

[...]

Coincidentally, it is the same amount of money that the Bill & Melinda Gates Foundation gave away earlier this year to a company simply to market the education film "Waiting for Superman," which portrays a distorted idea of the root causes of the problems facing urban school districts as well as the solutions. [Disclosure: Melinda French Gates is a member of the Board of Directors of The Washington Post Co.]
Gates Keepers
linked to this article and said the author was very brave for voicing such opinions in the
Washington Post
, which mostly treats the Gates family like Gods by
giving PR and constant worship
(it still does that).
It was just shortly afterwards that it was revealed that Melinda is not in the
Washington Post
. Well, not anymore anyway. But why? It doesn't really say, but at least one report claims that she resigned and was not fired [
1
,
2
,
3
,
4
]. She
"filed papers from the board"
and left
"the Board of The Washington Post Company"
after 6 years there
. We got very curious. What is it that motivated her to resign? Was it encouraged by the Washington Post Company? Did they have a fight? Well, the corporate-backed
Washington Post
(yes, different large companies are in the board) had no reason given/specified initially, so apparently it had to 'leak'. Greenberg asked,
"Was Melinda Gates' WaPo Resignation a Coincidence?"
On November 12, the Washington Post announced that Melinda Gates had resigned as a director of the Washington Post, which gets the lion's share of its operating income from Kaplan University, a for-profit university.

There was no formal explanation.

Then on November 23: The Education Trust, which is partially funded by the Bill and Melinda Gates Foundation, issued a report headlined, "Subprime Opportunity: The Unfulfilled Promise of For-Profit Colleges and Universities."

Sounding somewhat similar to earlier criticism by hedge fund manager Steve Eisman, the report takes aim at the for-profit education industry.

The obvious question: Was there a link between Gates' departure from the Washington Post board and the report? In response to my question, the Washington Post said, "No."
A little later on it turned out that
she was abusing her position to push her agenda
:


Melinda French Gates, philanthropist and wife of Microsoft Corp. Chairman Bill Gates, has resigned from The Washington Post Co.'s board of directors.

Her resignation comes shortly after the release of a highly critical report, funded partly by her foundation, which likened for-profit colleges to subprime-mortgage lenders, targeting low-income and traditionally underrepresented students. The Washington Post Co. gets more than half of its revenues from its for-profit higher-education unit, Kaplan.

Neither Gates nor The Washington Post gave a reason for her departure.

Gates, who runs the multibillion-dollar Bill & Melinda Gates Foundation with her husband, joined The Washington Post Co.'s board in 2004.


Here is what
Gates Keepers
wrote
:
The plot thickens around Melinda leaving her board position at the Washington Post. "former Kaplan employees allege they are instructed to invoke the name of its parent company, The Washington Post, as well as the names of board members such as Gates, to persuade students to take classes at the company."

Now she can write op eds for the WaPo without being accused of using her influence there to get them published.
Just because Melinda is out does not mean that the
Washington Post
will cease acting like a mouthpiece of the Gates Foundation. Here is the head of the Gates Foundation in the very same paper around the same time. They
advertise themselves
and
Gates Keepers
labels this:
"Jeff Raikes interviewed by the Gates Foundation newspaper of record"
Jeff Raikes was interviewed by the Gates Foundation newspaper of record last month days before Melina resigned from the board. He gives little away.
Some time later we are going to explain why Melinda and
her husband's tax-exempt bank account
are behind much bigger scandals. At least she is no longer in the
Washington Post
. There are similar stories almost just like this, e.g. where the Gates Foundation was
forced to withdraw its support of tobacco
.
Always assume nothing and look up the facts, which PR is by definition intended to hide or to blur.
⬆