"Mind Control: To control mental output you have to control mental input. Take control of the channels by which developers receive information, then they can only think about the things you tell them. Thus, you control mindshare!"
--Microsoft, internal document [PDF] /p>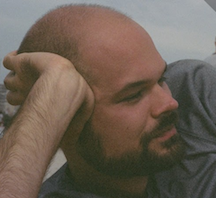 Nick Kolakowski, Microsoft's mole in Slashdot (photo from Brooklyn Arts Council)
Summary: An apparent scandal revolving around traffic management in Slashdot and the role played by Nick Kolakowski, a longtime Microsoft booster who recently joined Slashdot and is now trashing Linux in that site while promoting Microsoft
"Apparently the system is getting gamed heavily," wrote iophk. "Here is one example [from Slashdot]," he adds, noting what seems like AstroTurfing in comments about Slashdot staff.
Microsoft Nick is in a scandal already, having
joined the site as staff to deliver Microsoft talking points
. To quote
one comment
:
On page 2 [slashdot.org] of Velcroman1's slashdot profile Nerval's Lobster (nkolakowski@slashdotmedia.com, nkolakowski@geek.net) submissions start to show up. We've [slashdot.org] already [slashdot.org] established [slashdot.org] that Nerval's Lobster is Nick Kolakowski, a slashdot employee submitting paid content as user-submitted stories...

It would be interesting to see what percentage of published slashdot stories are genuinely submitted by people who have no financial interest in the submission.
Nick Kolakowski, aka Microsoft Nick, is up to no good. That's how Microsoft boosters roll.
One former editor of
Slashdot
told me quite privately that the site had been infiltrated by PR before he left. This still appears to be the case and it is eating away any credibility the site earned over a decade ago (back when the site had news, not noise).
A few hours ago I found
a response
to yet
more anti-Linux rhetoric
, this time titled "Forget Apple: Samsung Could Be Google's Next Big Rival" (familiar talking point!).
Swapnil Bhartiya, who wrote the response, does not seem to know he is responding to Microsoft Nick, who has years of reputation of spouting out Microsoft talking points, essentially filling the Web with garbage Microsoft would love to pay for (we covered dozens of examples from him).
Bhartiya writes: "Slashdot posted a story "Forget Apple: Samsung Could Be Google's Next Big Rival". The story idea has floated for a while and pops up every now and then. Is there really any space for rivalry between Samsung and Google? I looked at each point raised by the author and analyzed it."
The idea has "floated for a while" because it's an anti-Android talking point regularly to be found in the pro-Microsoft papers or Microsoft lobbyists. They try to cause division in the leading Linux-based operating system by urging the leader of the pack to fracture and defect, just like Nokia (post-occupation). Bhartiya adds: "In my observation of the industry for a while I see many reasons why it makes no sense for Samsung to 'compete' with Google. There are actually more reasons for Samsung to stick to Android as a Google partner than spin its own fork."
Bhartiya's closing words are as follows: "I think Samsung will continue to strengthen its Android line of hardware. Let me break news to the author. Samsung recently launched Android powered digital cameras. If Sammy had any desire to drift away from Google the would have put their own OS/ecosystem instead of Google's. So it clearly shows there is no seeds of rivalry between the two companies. The Microsoft/Apple camp will definitely want to spread the FUD as if there is."
Slashdot
, by allowing this embedding 'journalism' in its tech publication (with a known Microsoft booster), is throwing its reputation in the garbage can and letting its community leak down the drain. Will Hill, who used to frequently post in
Slashdot
, had
this to say
earlier today about Microsoft "injecting" its FUD into the press:
How to Manage Your Free Community





Microsoft spends billions of dollars every year on propaganda to confuse the public. They especially target the tech press, OEMs and developers. Their training manuals call for "infiltration" and "subversion" though false concern called "schmoozing". Everyone is considered a "pawn" to be exploited to advance Microsoft. They particularly like name calling and the wasting people's time by "injecting Microsoft" into forums and conferences. To really understand what you are up against read their training manual, Evangelism is War and associated lecture notes several times. It is so evil and so alien that you won't be able to grasp it the first or second time you read it.





Fighting with these turkeys is a waste of time. Just be careful to curate your forums and software carefully. PJ of Groklaw has written about how to do that. Roy Schestowitz has another method for Techrights. He leaves all the troll comments up for everyone to see and has accumulated an amazing collection of abusive comments. The approaches are complementary. What matters is to keep doing what you do and not let the trolls waste your life.





Vanity Fair recently did an expose of how damaging this toxic culture was to Microsoft itself. We should not be surprised that the anti-social ethics of non free software and exploitation should destroy those who advocate it. Non free software only served it's owners and that owner turns out to be one person, Bill Gates, who set everyone else on a Darwinian roller coaster for his own benefit.
If
Slashdot
does not put an end to its Microsoft AstorTurfing (the above is not the first from Microsoft Nick), then we'll slam the site time after time, calling it out for being just a cogwheel of Microsoft, essentially a PR vehicle like
Microsoft Watch
after Microsoft Nick took over (it became strongly and consistently pro-Microsoft).
⬆