EPO Increases Repressions: Allegedly Bans Staff From Helping Refugees (Updated)
Dr. Roy Schestowitz

2015-10-21 10:58:37 UTC
Modified: 2015-10-21 19:21:46 UTC
Update
: It should be noted that the "Prohibition of gainful activities" for EPO staff only applies to staff under the invalidity/incapacity status.
Summary: The EPO's Central Staff Committee points out hypocrisy and tells Benoît Battistelli that "it appears odd to prevent [EPO] staff from helping them [refugees], and more generally from being socially useful."
Shown below is letter to the EPO President, Benoît Battistelli, regarding the "Prohibition of gainful activities" for EPO staff. The letter speaks for itself we believe, as it serves to show just how arrogant and repressive the EPO's management has become.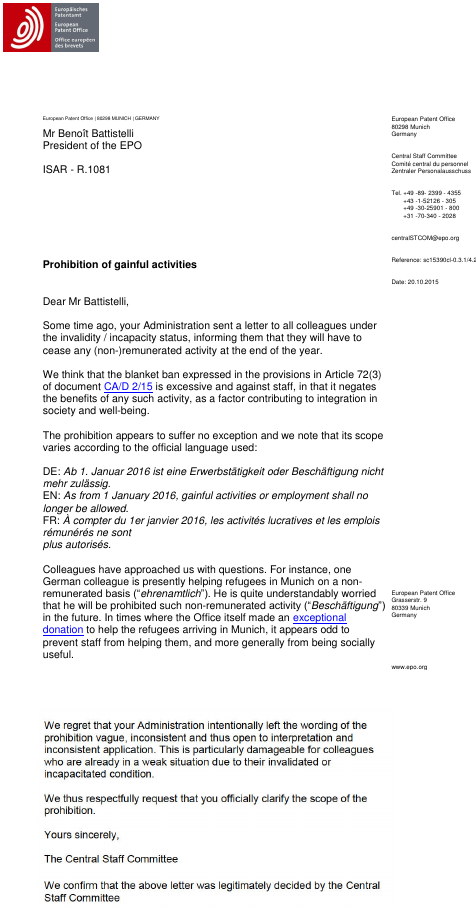 There is already a strong deterrence against joining a union or attending a protest. What happens when there is also a deterrence against human rights?
There is a long track record, as
dozens
of articles in this site alone serve to show, of EPO management treating staff like cattle and trying to control these people's every aspect of life, including activities within a union (SUEPO), which are perfectly legal and protected by European laws. The management of the EPO "allows Greenpeace to demonstrate on office grounds, but not SUEPO," to quote a recent
WIPR
article.
⬆