"First They Ignore You, Then They Ridicule You, Then They Fight You."
--Mahatma Gandhi
Summary: Having already blocked Techrights, the EPO's management proceeds to further suppressions of speech, impeding its staff's access to independently-distributed information (neither ordinary staff nor management)
THIS is a multi-part series regarding the highly abusive behaviour of the EPO, which decided to become confrontational not just against its own staff but also journalists. This is not a case of one person versus Techrights but a case of institutional harassment from a body which isn't even complying with the law in doing so.
Techrights
did not wish to publicise this, but last week there were rumours about it and journalists reached out for a comment, eventually
publishing details about this whole situation
. The article from
WIPR
has just been published (that was just moments ago), probably necessitating a response from us. There is too much to say considering the limited space of a blog, so we will do this in several parts. We want to make our side of the story known, so anyone who can blog about this or mention it publicly in social media, mass media etc. would help our cause, which is basically similar if not overlapping to the cause of EPO staff (the highly-skilled staff, such as examiners, not the managers). Anyone who has spent some time learning about the
EPO scandals
can easily see who's right and who's wrong. There are hardly even "two sides" here, except perhaps the "truth" side and the "spin" (or "damage control") side. I have
voluntarily
-- not for any personal gain -- spent well over a year examining documents night and day, so I have a fairly good grasp or total awareness of all these scandals. I also know documents which I
cannot
publish.
"Anyone who has spent some time learning about the EPO scandals can easily see who's right and who's wrong."I have been writing critically about companies (private companies) for over a decade, but never before has anyone responded like the EPO's thugs did. We never received legal letters, even after writing close to 20,000 blog posts! The EPO, you see, is 'special'. It has a history of trademark-trolling against critics. This whole thing does not exactly surprise me, having observed the aggressive ways of the EPO. I was only a little surprised to have discovered that they invoked the Streisand Effect by blocking (blacklisting or book-burning) my analyses and even more surprised that they declared a war on journalists. Who advised them on this? It's truly misguided as it always backfires. It sounds as though they try to personify the EPO, in the form of Battistelli. I don't think their lawyers even realise what kind of "blowback" (from EPO staff) their client is stepping into. Battistelli is probably the most hated person, even among his own staff.

"Always remember," one person told me in Twitter. "Government has unlimited resources to destroy targets, unlike companies..."

When I first received a letter from EPO lawyers I assumed that there were trolling me. It clearly seemed as though they were sending template letters to a lot of people with threats, with the clear goal of censoring unwanted publicity. How did I know? The letter was addressed to the wrong person. They used the wrong name (see screenshot below). Template fail?


"This is quite likely a widespread campaign intended to chill and suppress journalists."In every such circumstance, one has the right to know who is the accuser is, but the lawyers didn't make it clear. They even refuted themselves therein. We have already seen the same kind of bullying used against Elizabeth Hardon, where there are efforts to exploit lack of awareness of the laws (no lawyers are allowed to be present) and therefore bring allegations against a person from a total vacuum, not a person.

Encircled below is proof or likely evidence that this is a widespread campaign, targeting people other than myself and subjecting them to gags, which my lawyer says are not legally-binding or potent (I never consented to these gags anyway).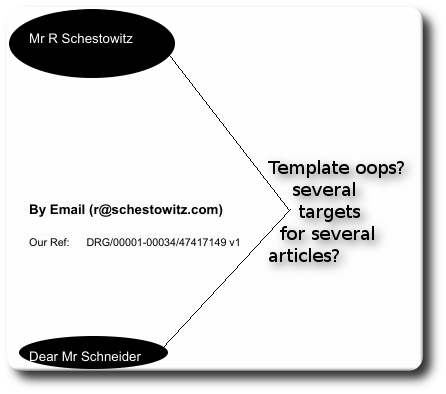 A section of the first legal letter (among 4) sent to me
We kindly ask Mr. Schneider -- whoever that may be -- to consider coming out and telling us if he too was subjected to this kind of treatment from the EPO. This is quite likely a widespread campaign intended to chill and suppress journalists. This way, only 'media partners' such as
Les Échos
[
1
,
2
,
3
] or journalists who are complicit with EPO management (e.g. in defaming staff) will have their say. Others will self-censor or altogether refrain from coverage (either because of
direct
pressure from EPO or from a pressured/nervous editor/publisher). I personally experienced this kind of pressure when working as a journalist around 8 years ago.
Techrights
helped me combat self-censorship or editorial censorship. Everything was fine until I started 'daring' to write about the EPO.
In a future articles we will tackle the EPO's accusations and also show why proper legal procedures were not even followed.
⬆