The pendency at the USPTO stands at around five years, as scrutiny has been increased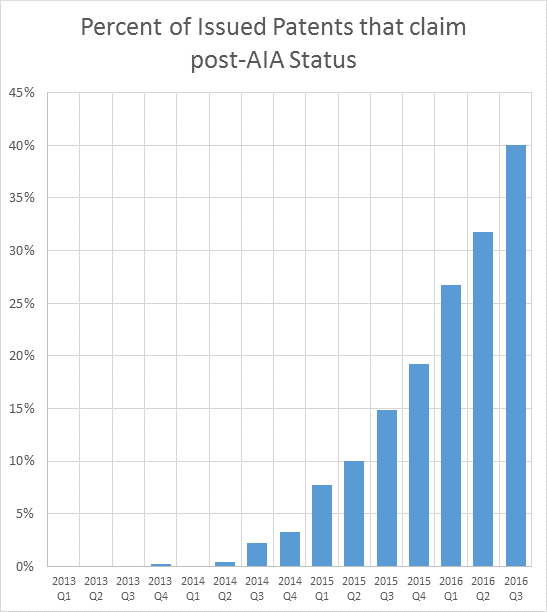 Image credit: Professor Dennis Crouch, Patently-O
Summary: While the EPO reportedly strives to eliminate pendency and appeal windows altogether (rubberstamping being optimal performance as per the yardstick du jour), the USPTO introduces changes that would strengthen the system and shield innovation, not protect the business model of serial litigants
PATENT systems across the world vary, but they're streamlined/unified by various programs which enable litigation across nations and entire continents. We've covered some of these programs here before and half a decade ago we wrote numerous articles about the vision of a global patent system, at times citing leaked diplomatic cables that had been published by Wikileaks. 'National' patent offices are actually not so national and the 'European' Patent Office isn't really about Europe (some of its member states, for example, are not in Europe). The same is true in the UK-IPO, which is going 'to bed' with Facebook right now (surveillance, censorship and propaganda site from another continent). Here is a new MIP article on patent litigation trends in Russia. It's not often that we hear about Russian plaintiffs in European, Australian or American courts; domestic policy there probably does not incentivise pursuing patents in other countries (especially NATO members), either. As we shall show in a later article, China is increasingly going abroad for litigation, albeit it wasn't traditionally the case (the West wrongly assumed all China could do was knockoffs or 'piracy' [sic] as the think tanks label it).
"It's not hard to envision the beneficiaries of a global patent system and their actions."Days ago IP Kat wrote about the Rhodia v Molycorp "patent jurisdiction tussle," to quote the author's headline. Here is some background for the uninitiated: "Rhodia is the exclusive licensee of the UK and German designations of a European patent entitled "Ceric Oxide and method for production thereof, and catalyst for exhaust gas clarification". Rhodia commenced infringement proceedings in the English High Court alleging that the English domiciled Defendant, Molycorp, had infringed the UK and German designations of the patent." Here we have a reminder of the unifying patent factor which does not even necessitate a so-called 'unitary' patent. Do we really need a 'globalisation' of patent systems? That is a rhetorical question of course. It's not hard to envision the beneficiaries of a global patent system and their actions.

One country dominates the world's patent systems (including the EPO where it's ranked number one) and that country is not China, albeit it's by far the largest population in the world. "In today's free-trade environment, the USITC's role is somewhat counter — protecting of U.S. industry," Patently-O wrote the other day about the ITC, guardian of large US corporations, a nationalist body which has the word "international" in its name/acronym. To quote Patently-O, the "USITC Procedure sets up the USITC as the party prosecuting the case rather than the patentee. As such, the agency is the named respondent and will be represented by the Solicitor's Office. I expect that the patentee BriarTek will also weigh-in. The patent at issue is U.S. Patent No. 7,991,380 and covers an emergency satellite communication system. The asserted claims were found invalid as anticipated and/or obvious. That holding was then affirmed on appeal by the Federal Circuit."
"Suffice to say, calls to abolish CAFC altogether increased in recent years."Well, the Court of Appeals for the Federal Circuit (CAFC), as we noted here repeatedly, is an exceptionally abusive court which not only bypasses constitutional issues but also works for large corporations and for patent lawyers rather than the public (or justice). Simply put, it's corruptible. Suffice to say, calls to abolish CAFC altogether increased in recent years. And speaking of CAFC, MIP says: "The Federal Circuit has provided some guidance on the issue of 180 days' notice of launch in a recent biosimilars ruling, in Amgen v Apotex, but practitioners say there will be a lot more litigation before the patent dance is fully clarified" (we are not optimistic).

About the USPTO Patently-O wrote that "Patent Filings Rising Slowly," according to figures plotted by Professor Dennis Crouch. Is this a case of the more, the merrier? Well, for patent lawyers surely it is merrier (more profitable). Here is what Crouch wrote about it:


The chart above shows USPTO application filings for non-provisional patent applications as well as RCE's. Both have been on the rise for many years. The filing numbers appear to have continued to rise since implementation of the America Invents Act, although at a slower rate (acceleration has slowed). The USPTO expects that applications filed today will receive a first action within 16 months.
America Invents Act (AIA),
with PTAB in particular
, has served to introduce some new quality control (potential slowdown and greater pendency to be expected), albeit at too slow a pace as PTAB needs to be expanded to be able to deal with more than just a couple of thousands of patents per year (such workload keeps growing fast).
Patently-O
wrote
another article exclusively about AIA
in which it's said:
Although more than three years have passed since the changeover date, most new patents still fall under the old-rule. This long transition period is explained by the reality that most patents that issue claim priority to a prior patent filing document such as a foreign priority filing, international PCT application, US provisional application or parent non-provisional US filing. Once the non-provisional application is filed, patent prosecution process still that typically takes around three years. This results in an average pendency from priority filing to issuance of around five years.
The chart there shows that, even though
there's a patent litigation slowdown
(we'll expand on that in a later article), problems are far from over. There's a capacity problem and there's growing demand. An article by Zachary Kinnaird (posted on his behalf by Professor Jason Rantanen), a patent attorney with International IP Law Group,
looks at the number of patent practitioners
. He shows some fancy charts and notes: "The number of practitioners removed from the USPTO database reveals a practitioner percentage removal trend that can be seen as a retirement estimate for patent practitioners. This trend shows that the longer a practitioner has had a registration number, the more likely they are to have retired, or otherwise been removed, from the roster.
"The health of the patent system worldwide is oftentimes improving, except at the EPO where patent quality declines* (more on that later today) and human rights are routinely violated.""The chart below shows the percentage of patent practitioners who still remain registered on the USPTO roster as a function of each practitioner's year of registration. The further to the right, the more recently the practitioner earned their registration number."

Not much can be deduced from this (the way it's presented is not too helpful), unless one is interested in a sob story which serves the party line of the patent microcosm, or the industry associated with patent activity as opposed to production of merchandise, software, etc.

The health of the patent system worldwide is oftentimes improving, except at the EPO where patent quality declines (more on that later today) and human rights are routinely violated. As a European national I am sad and ashamed to see what was once the best patent system in the world becoming one of the worst and most notorious (unless one asks the EPO's mouthpieces). Battistelli tramples everyone and everything. ⬆ ____ * Pressured examiners, unskilled (new) examiners and expensive appeals (short duration, very high fees) in an already-understaffed department make the entire process applicants-friendly at the expense of long-term reputation (which made the EPO appealing and worth the exceptionally high prices).