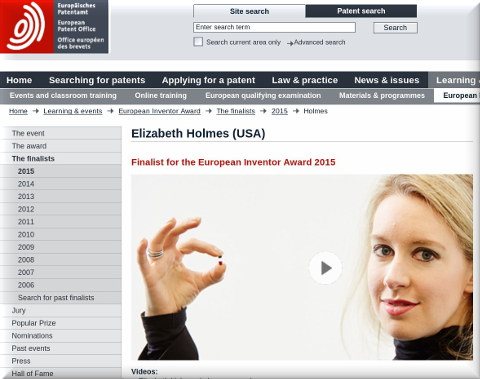 Summary: A new series exploring the highly disturbing and political aspect of the so-called European Inventor Award, which for the most part involves passing EPO budget to publishers (i.e. paying the media) and to particular cities
T
HE 'Inventor Award' of the
EPO
,
in spite
of the EPO wasting millions of euros on it (including paying the media), has earned its share of notoriety. There are
many
scandals associated with it, even corruption and fraud. We already covered many examples and we shall be covering more soon. Currently, as part of this series, we also look at underlying patents that are being not just awarded but also
rewarded
for -- a gross distortion of the concept of patent neutrality, giving parity to patents as opposed to 'ranking' them. The lack of patent neutrality at the EPO is a very serious problem. That also led the EPO to 'endorsing'
literal frauds that killed many people
. They basically made a fraud a "top rank" patent, lending legitimacy to the fraud.
Frenchman Benoît Battistelli is back to former French colonies this week. Last night the EPO published another photo op for him (amid major EPO scandals). Suffice to say, as usual, it was all about Battistelli, not the EPO. And it was about Morocco. To
quote the puff piece
(
warning
:
epo.org
link)
On 8 May EPO President Benoît Battistelli met Morocco's Minister for Industry, Investment, Trade and the Digital Economy, Moulay Hafid Elalamy, in Rabat. The meeting is part of a major co-operation programme between the Moroccan Office for Industrial and Commercial Property (OMPIC) and the EPO which has been running for a number of years with a view to setting up a patent and innovation system to foster the competitiveness of Moroccan businesses and the development of foreign investment.

[...]

"We are delighted that the number of European patent applications designating Morocco has doubled over the past three years, and now stands at 2 000 applications a year," President Battistelli said.
In part 2 of this series we'll cover the Moroccan aspect of the 'Inventor Award' scam, or what some EPO insiders deem to be somewhat of a "scam". This prize has become very political and almost a lobbying opportunity; Battistelli's choice of venues, moreover, is a facility/vehicle of 'gifting' millions of euros to particular countries or districts. There's no oversight guarding against corruption here. Think FIFA/Blatter.
"This prize has become very political and almost a lobbying opportunity; Battistelli's choice of venues, moreover, is a facility/vehicle of 'gifting' millions of euros to particular countries or districts. There's no oversight guarding against corruption here."For the time being, investigation/research notwithstanding, we wish to draw attention to three items published by Patent Docs on Sunday. One is this "webinar entitled "Patenting Antibodies at the EPO" on May 17, 2018" and another (from the same site) about the Federal Circuit Bar Association (FCBA) amplifying USTR propaganda (notorious 'IP' maximalism by shaming of countries). The last (third) one concerns "Webinar on U.S. Patent Exclusivity for Biologics" (also known as patents on nature/life).

As we shall show soon, the EPO not only grants patents on nature/life (EPC does not permits this) but also specially rewards these, even when prior art exists. Another political stunt by Battistelli? Readers can decide for themselves... ⬆