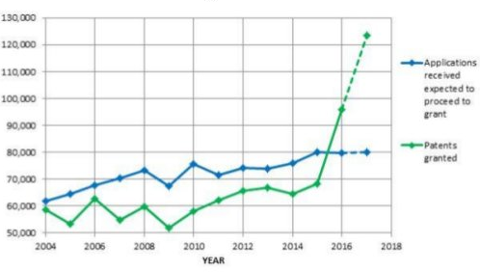 Source: "European Patent Office Attacks its Examination Backlog"
Summary: Low-quality patent grants by the EPO are a road to nowhere but a litigious climate in Europe and an unattractive EPO
THE EPO never had as many patents as the USPTO granted (e.g. per year or totals), but that is not a bad thing. What matters is the goodness of patents, not the number (quality over quantity). But Battistelli is currently just printing patents like a lunatic at the spigot. He clearly doesn't know what he's doing and having surrounded himself by "yes men" (mostly French, many former colleagues) nobody will tell him just how crazy he is. What do they care? They participate in the destruction and they profit while it lasts.
Someone has just passed to us a new document which circulates around the EPO and warns about what Battistelli is doing. We've decided to reproduce it below.
---
MORE and MORE, but NEVER ENOUGH
Examining staff in Principal Directorate HBC recently received a communiqué
1
that started with:
"HBC strives to deliver consistently high qualitative and quantitative output, i.e. an output which is in line with the agreed2 objectives.
After 4 months, I can report that we are well on target with respect to our qualitative goals3 – well done and thank you for this. However, at this very moment HBC as a whole is behind in view of the set production objectives with approx. 3.8% which means approx. 1.900 SEO products."
What follows is yet another call to make an extra effort and produce more
"to achieve the common goal in what we call "to be green in June"".
Similar calls are made in the other technical areas. But:
why, how
, and
what for
? And more importantly:
what next
?
Why?
Battistelli has claimed record performances for many years, both financially and in terms of production/productivity. The EPO is currently making an operational surplus ("profit") of well over a million EUR/calendar day. It is sitting on an over 2 billion cash reserve. It seems that the EPO's search backlog has all but vanished. Its examination back-log has been greatly reduced.
So why are examiners being whipped to do even more?
How?
In the recent years, Mr Battistelli has already used every means at his disposal to increase examiner
4
productivity. Among the more controversial measures by Mr Battistelli are:
- a new reporting system solely based on annual production, thereby excluding staff members who have a significant period of sick leave, who take maternity leave (!), or who work part-time from any form of career advancement or other rewards.
- use of the electronic file cabinet to oblige examiners to prioritise "easy" files , e.g. files that only have "A" documents,
- the suppression of time made available for non-examining tasks (examining staff are asked to do such "work packages" in addition to their normal duties, in return for a modest financial reward,
- the suppression of time for company visits (examining staff is asked to take annual leave),
- the suppression of (time for) training,
- the suppression of leave days, including national holidays,
- refusal of part-time, parental leave or even annual leave,
- reduction of time available for staff representation to less than half.
The above-mentioned Communiqué explicitly calls for staff
"to take their our responsibility (sic) in maximizing presence in the office during the months May and June and to contribute to the best possible output."
It also talks about part-timers who
"express the readiness to temporarily return to 100% full time"
(question: just for May and June?). But otherwise the Communiqué brings no new ideas.
What for?
Mr Kober, one of our previous Presidents, at some point called for a one-off increase in productivity. When the objective was achieved, all staff in the Office was rewarded with a bonus, on top of the normal step advancements and promotions. In other years staff was rewarded for the good results with one or two days extra leave. Under Mr Battistelli, staff lost days of leave. And it was "rewarded" for its record-breaking performances with a new career system that suppressed step advancements and promotions for a majority of staff. That makes us worry what "reward" will be in store for staff should it reach Mr Battistelli's mid-year targets.
What next?
Probably the most important question now is:
what will come next
? Mr Battistelli will leave his successor an exhausted and demoralised work-force, not only in DG1 (now examiners and formalities officers) but all around the Office, and a stock from which the "easy" files have already been picked, together with an Administrative Council that has been mesmerised by "record-breaking" results achieved using sweatshop management practices.
Mr Campinos will have to choose how to continue: either trying to outperform those results or else returning to a more realistic and sustainable management policy. We hope that he will chose wisely. ___
1
Communiqué
HBC 03 May 2018
2
There are no longer any
agreed
objectives. The following paragraph more correctly refers to set production objectives.
3
Presumably €« timeliness €».
4
Patent Administration expected to follow the pace despite a serious shortage of staff
---
They neglect to mention that 'stock' is running out, which probably means layoffs or
grossly
under-worked staff.
⬆