The EPO nowadays resembles the worst of cults [1, 2]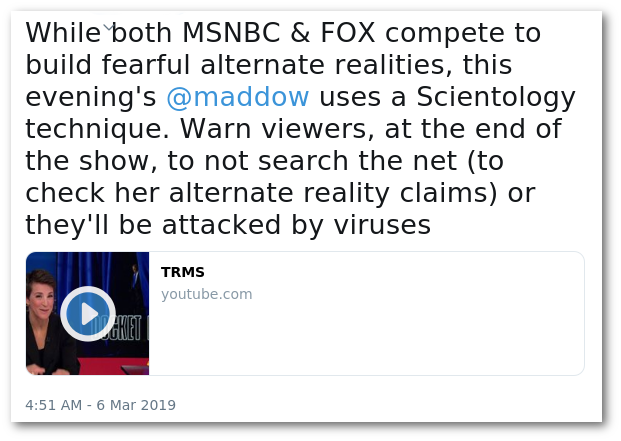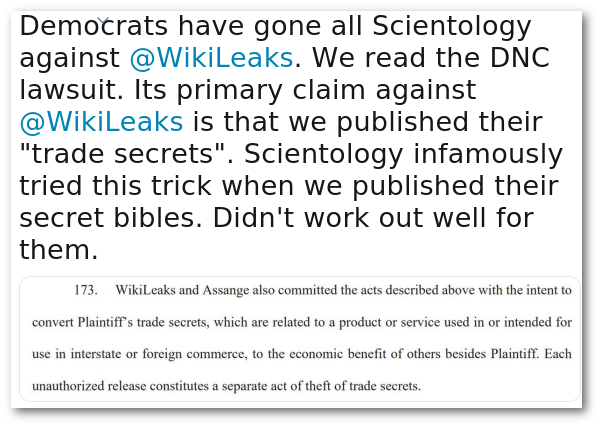 Summary: The EPO's corruption and violations of the law are a threat to everyone in the world; the EPO only ever listens to those who pay for "access" or those who embrace the "religion" of the EPO
THE EPC does not matter to the European Patent Office (EPO); it is routinely being violated or 'danced around', just like 35 U.S.C. § 101 in today's USPTO. António Campinos hasn't blogged in months, but his most recent blog posts advocate software patents in Europe. They disguise that using familiar buzzwords. In addition, Campinos is ignoring clear directions from European politicians by allowing patents on nature and life, not just maths. It's outrageous.
Patent quality (or scope of patenting) does not seem matter when offices knowingly grant
so many patents which they know to be fake patent monopolies
(not in compliance with the EPC) that merely attack the innocent and enrich lawyers. Today's EPO has gotten so badly-behaved and so utterly out of touch with the law (it breaks many laws
routinely
and casually) that it is granting patents on plants, seeds (yes,
it's as bad as that sounds
) and algorithms.
"ZBM Patents & Trademarks" (i.e. the patent microcosm) published "EPO Plant patentability" in
Lexology
the other day. It's the
same old controversy
:
Decisions G2/12 and G2/13 of the Enlarged Board of Appeal (EBA) of the EPO (Tomatoes II and Broccoli II) allowed the protection of plants per se…
EBA is not independent (from the Office President), unlike those other rulings that tackled this issue. Over at Mondaq, another site of patent maximalists, Matthew Handley (Venner Shipley LLP) has just spoken of the EPO "President's decision to refer the matter to the EBA," saying it "is highly controversial and has been widely criticised."
By who? It's not as controversial as patents on nature. To quote Handley's
article
:
The President of the European Patent Office (EPO) has submitted questions to the Enlarged Board of Appeal (EBA) which relate to the patentability of plants exclusively obtained by essentially biological processes and to T1063/18, a Technical Board of Appeal decision of December 2018.

In T1063/18, the Appeal Board disregarded an amendment to Rule 28(2) EPC, thereby undoing what was effectively an amendment to the Implementing Regulations to the Convention on the Grant of European Patents initiated by the European Union (EU). This decision has been widely seen as underlining the independence of the EPO's Boards of Appeal from the EU, an important and timely reminder for everyone grappling with the impact of Brexit on IP in Europe.

The President's decision to refer the matter to the EBA is highly controversial and has been widely criticised. The referral is described by the President as being necessary to restore legal certainty, but commentators have argued that rather than alleviating uncertainty, the President is adding to it by asking the EBA to revisit a question that they have already considered.

The decision issued in T1063/18 was an appeal against an Examining Division objection under amended Rule 28(2) EPC. The amendment to Rule 28(2) EPC was deemed void and the application, relating to pepper plants with improved nutritional value, was remitted to the Examining Division for further prosecution.

[...]

Nevertheless, the decision of T1063/18 was very warmly received by applicants in this field and news of the President's referral will be of concern to companies that filed European patent applications based on the G2/12 and G2/13 decisions, and generally to patent applicants in the European agricultural sector. In the meantime, however, the EPO has returned to granting patents in respect of plants or animals exclusively obtained by means of an essentially biological process. It is also worth emphasising that plants and plant material obtained by a technical process are unquestionably patentable.

It is not clear when the EBA will decide on the President's referral, but in the meantime it is worth noting that the decision in T1063/18, and the President's subsequent referral to the EPO's Enlarged Board of Appeal, sends a clear signal that it is the EPO's Appeal Boards that decide how to interpret the European Patent Convention for the purpose of granting patents, and not the EU or individual national governments.
Handley's colleague, also in Mondaq, has
just promoted
patents on maths. Paul Misselbrook (Venner Shipley LLP) uses ridiculous buzzwords like "Smart Patents" and latches onto another buzzword/phrase, "4IR" (sometimes "Industry 4.0" instead), which EPO made up, spread (e.g. by paying large German publishers), then exploited in order to grant illegal European patents on software. As if a "revolution" is upon us, hence we must welcome abstract patents.
To quote:
The patent system is credited as the crucial legal foundation from which the first industrial revolution was built. Milestone inventions such as the steam engine, power looms, the Cotton Gin and many more were all granted patent protection and by providing manufacturers with legal rights to prevent copying, innovation and industry flourished.
Using words like "revolution" he's equating/associating software with things like "the steam engine". This is the kind of propaganda the EPO likes to see.
Yesterday the EPO published
this nonsense
(
warning
:
epo.org
link) titled
"Search Matters 2019: Insight for searchers and patent information professionals focuses on AI"
(when the EPO says "AI" it typically means software patents which are
not
legal but are granted anyway, even in clear defiance of the laws of Europe). To quote:
The EPO has held its annual Search Matters conference at its headquarters in Munich. The three day event, which has run for 31 consecutive years, offered training to patent search professionals from around the world. The programme focussed heavily on search strategies and techniques used by the Office.

The event was multi-faceted and comprised various learning formats, including at-the-desk sessions, interactive workshops as well as plenary lectures provided by EPO examiners and external experts. For the first time in the history of Search Matters, the programme featured a panel discussion that delved deeper into artificial intelligence (AI) and its implications in searching.
This echo chamber focused on "AI" in the context of search rather than patenting, but usually -- as per prior events -- they intentionally conflate the two.
We have meanwhile learned that the EPO isn't really interested in what the public has to say. And
as this leak proved 4 years ago
, you need to be a billionaire for the EPO to change the whole system for you.
"Trying to submit a contribution to the public consultation which ends today,"
Benjamin Henrion (FFII) wrote yesterday
after the EPO
had stated
: "It's your last chance to give us your feedback on our draft Strategic Plan 2023. Take the opportunity to share your thoughts with us..."
"EPO's 2023 consultation is already biased," Henrion
wrote
, "simply in the list of categories, there is no space for a simple "company", I am forced to pick the box "other", as they maybe consider that all companies are "patent applicant: company" [
...
] Last day to participate in the EPO public consultation, who is pushing for the
extension of its toxic software patents to other parts of the globe
..."
The EPO "does not want your opinion unless you're biased," I told him. It is
literally paying people for opinions that favour its agenda
and blocking critical voices. The EPO has blocked
Techrights
(since 2014 we believe) because it provides true, accurate information which the EPO does not want people to have access to. It's like a cult. Scientology warns people to not even consider opinions other than its own (or be punished for it). The very act of reading/assessing/searching for refutation is treated as an offense.
"When a multiple "choice" sheet feels like you're in the GDR,"
he wrote
, "it's the @EPOorg."
Here's what he showed: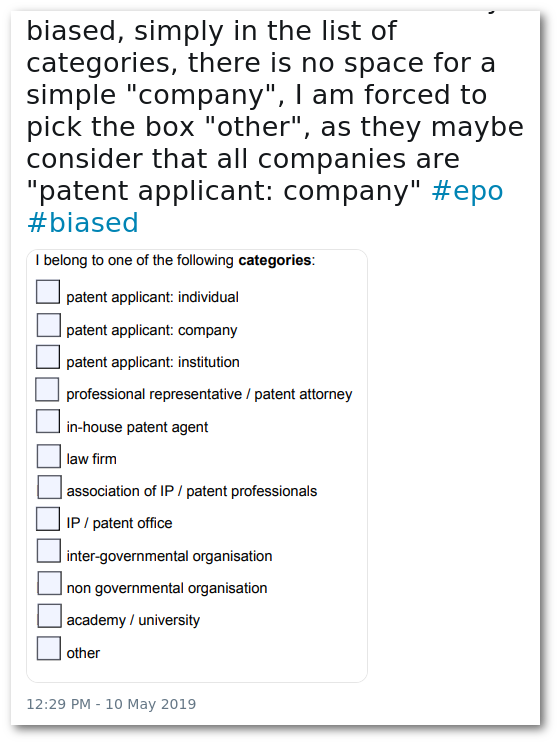 He has meanwhile
added
: "It seems the "Open Source Ecology eV" is gone now from the template of EPO's public consultation..." (a day after we mentioned it)
⬆