How Techrights is Run
Dr. Roy Schestowitz

2019-12-29 15:47:47 UTC
Modified: 2019-12-29 15:47:47 UTC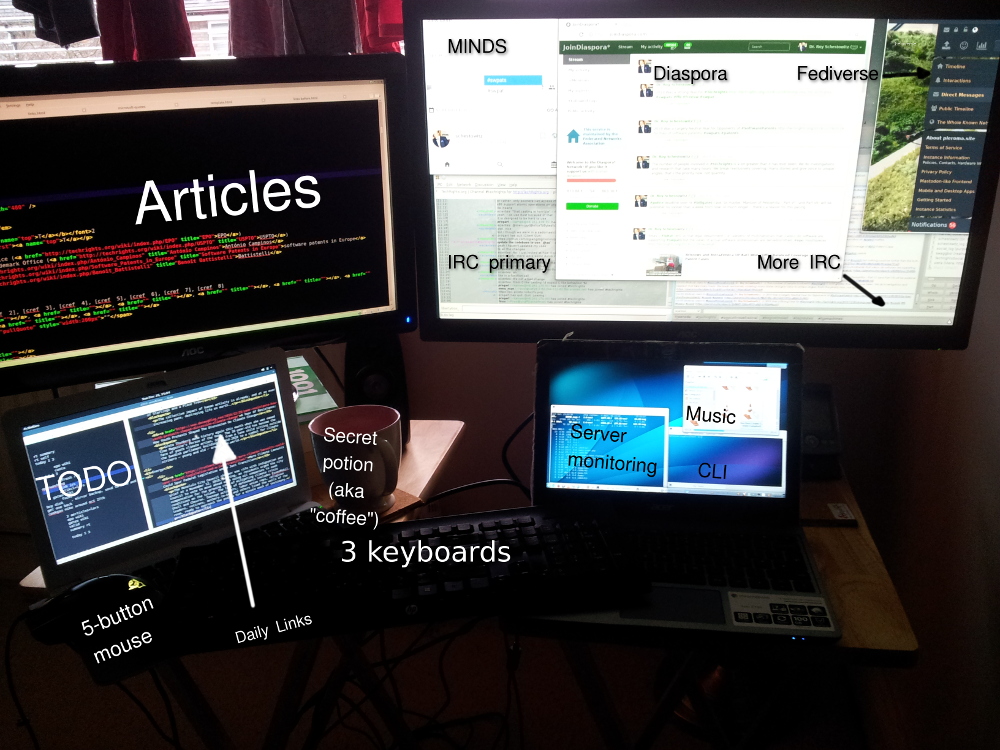 Zoom in or click here for a larger version
Summary: What it takes to keep abreast of the site, monitor the server, produce articles and collect Daily Links
IN the interests of transparency, which we intend to improve (the only secrets we keep are our sources), I thought now would be a good opportunity to explain how Techrights is run from my end. So I took this photograph a few moments ago, with active workspaces being the most relevant of several (no E-mail and RSS feeds' workspaces, for instance, are shown in this photograph). The above may be self-explanatory; the lower left runs GNOME Shell, top left Openbox, and it is KDE (4.x) on the right hand side. The workflow changes sometimes (there are also virtual desktops in use), but for composing articles, gathering news and so on things remain mostly the same. I keep all notifications well out of sight to avoid getting distracted (replying to comments only in large batches at a particular time).
There used to be 5 screens, but one of them died last year. There were only three screens when we began covering European Patent Office (
EPO
) scandals. The complexity associated with social control media (top right in the photo) makes matters a lot harder. I thought about quitting it altogether to better focus on producing articles, but social control media can still be marginally useful if used responsibly (with strict time limits and
all
notifications turned off or hidden away).
⬆