Is this what we want?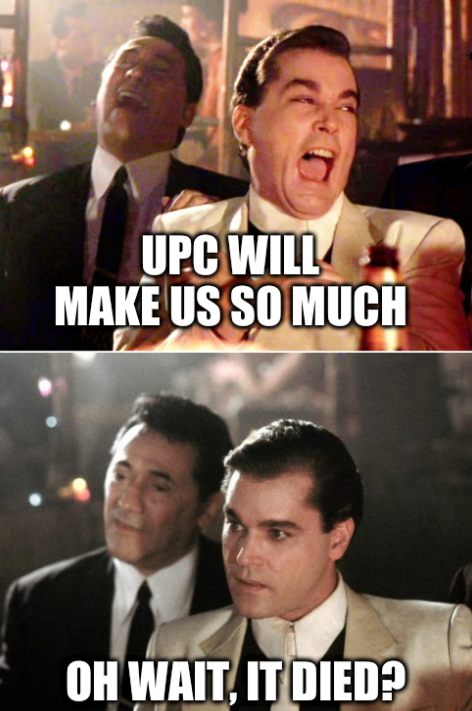 Summary: Misguided and dangerous policies, many of which imposed against the law and in direct violation of governing documents, strive to benefit/enrich a fake industry whose sole 'product' is lawsuits; people must fight back because this fake industry has taken over the media as well, misinforming the wider public about patent ramifications, the UPC and so on
THE SHEER TYRANNY OF TEAM Campinos/Battistelli, now in charge of the European Patent Office (EPO) for a whole decade, has corrupted the media, corrupted academia and rewarded a massive fraud whose patents were passed to patent trolls which attack COVID-19 researchers in France. The impact of this regime has been tremendously negative. It turned me from semi-proud of the EPO to utterly embarrassed by it. Prior to this regime I submitted correspondence to the EPO; my sole issue was with software patents. Thankfully, if not belatedly (2014), insiders shed light on what had been happening at the Office. That was about 4 years since 'Battistelli and co' ousted Brimelow, who wasn't truly terrible (our sole criticism of her was, once again, only to do with patents on software "as such"). Those patents often ended up at the laps of patent trolls and many of these trolls prey on Europe's automobile and software industry, making it less competitive.
"Those patents often ended up at the laps of patent trolls and many of these trolls prey on Europe's automobile and software industry, making it less competitive."Back then media was still receiving some money/investment for independent journalism, leaving it unreliant on bribes from law firms and the EPO. Nowadays, as we've repeatedly alleged, more than 90% of reports on the subject of patents are pure propaganda sponsored if not authored by the litigation 'industry'. It has become so grotesque, leaving us cynical and hopeless.

Consider this new 'article' from Power Technology and several more places, with most of the whole thing [1,2] being just quotes from Andy Docherty, a Partner at Marks & Clerk, i.e. shameless self-marketing. They cross-posted the same EPO 'ad' in at least three 'news' sites...

And speaking of software patents, Sinan Erkan and Simge Kılıç (HERDEM Attorneys at Law) have just promoted (e.g. in Lexology) their post about Software as a Medical Device (SaMD) -- one of many ways to disguise patents on algorithms; today's EPO grants illegal software patents by pretending that they're "medical" and here's the excuse/dodge explained:


The EU Directive 2009/24/EC of the European Parliament and of the Council on the Legal Protection of Computer Programs ("Legal Protection of Computer Programs Directive") sets out the provisions regarding the rights arising, the rights of the beneficiaries, the exclusive rights of the rights holder, limited rights and exceptions related to them, and the cases where the program users are permitted to convert the program back into source code. The ideas and principles underlying any element of a computer program, including those underlying the interfaces, are not protected by copyright under the Legal Protection of Computer Programs Directive. Accordingly, a computer program would be subject to copyright protection provided that it is of a unique nature in terms of the creator's own intellectual creation. However sole copyright protection for stand alone software and software as a medical device ("SaMD") may be circumvented through reverse engineering. Unlike patent protection that protects against individual discoveries, copyrighted works may be decompiled without the knowledge of the author. Particularly for functional software, such as algorithms, copyright protection would not be available for IP protection, since the expression in the computer program is protected under the copyright regime and not its functions.
And somehow we've moved from copyrights of code to patents on code, even when that's clearly not legal. The EPO hoped that a UPC-like court would somehow change de facto law and allow such unlawful patents. The EPO worked with European publishers, paying them to play along with the propaganda. IAM and
Managing IP
were among those publishers.
Managing IP
's UPC pushers, notably Patrick Wingrove, are again giving a voice to patent trolls. They're done that a lot lately, celebrating trolls as though they champion innovation although they produce nothing whatsoever. "Blackbird, IPCom, Dominion Harbor, Longhorn IP, Acacia Research and Harfang IP" were named as
'not trolls'
yesterday, even though they're
classic
examples of trolling. This serves to show that
Managing IP
has become a propaganda farm of trolls, just like
IAM
. Obviously they're also linked to the EPO's management.
"Yet another
Nokia
troll," one reader told us, "is WSOU."
"Just found this," he told us last night, "because today's RPX Alerts contain a story entitled "WSOU Follows Established Filing Path Against Its Third Defendant, Microsoft," and I was wondering who WSOU was..."
Here's
some background
:
The single case that WSOU Investments, LLC filed against Huawei has become a barrage ( 6:20-cv-00189, 6:20-cv-00190, 6:20-cv-00191, 6:20-cv-00192, 6:20-cv-00196, 6:20-cv-00198, 6:20-cv-00199, 6:20-cv-204, 6:20-cv-205), with WSOU filing nine new Western District of Texas cases, each asserting a single patent from a portfolio of assets received from Nokia (including from Alcatel-Lucent) throughout 2017. Together, the ten suits target a range of networking devices and systems provided by Huawei.

The first of a family of three, the patent asserted in the -189 case ( 7,095,713) issued to Alcatel-Lucent in August 2006 with an estimated priority date in April 2003. The NPE accuses Huawei of infringement through the provision of certain S9300 series (e.g., S9303, S9306, and S9312) network switches. The '713 patent generally relates to a "fabric access device" with "multiple system interfaces".

Comprising a one-member family, the patent asserted in the -190 case ( 7,487,240) generally relates to verifying network activity and displaying the results of that verification, as well as generating alarms based on certain related thresholds. It issued to Alcatel-Lucent in February 2009 with an estimated priority date in April 2003. WSOU has sued Huawei over the provision of network management products (including the iManager U2000 Unified Network Management System), targeting features related to performance management and fault detection.
Our latest and our next Daily Links contain articles about weak patents and software patents being scuttled by Patent Trial and Appeal Board (PTAB) inter partes reviews (IPRs). Those patents were erroneously granted by the U.S. Patent and Trademark Office (
USPTO
), leaving leeway for trolls like the above to leverage quantity over quality. Today's EPO is the same; always quantity over quality. We know the inevitable consequence.
⬆
Related/contextual items from the news
:




The latest data from the European Patent Office shows continued innovation in the energy sector with the number of European applications jumping from 10,668 to 11,255, a rise of 5.5% on the previous year.







Andy Docherty, a Partner at Marks & Clerk, an intellectual property firm, commented on the report and its findings:

"Energy plays a key role in driving the global economy, and, as the ongoing instability in oil prices highlights, is a highly complicated and fluid sector, subject to all kinds of externalities. Innovation is key in this sector therefore, in giving companies the edge and allowing them to tackle the many energy challenges we face – whether finding more efficient fossil fuel sources, or developing exciting new technologies such as nuclear fusion.

"The reduction in the oil price will no doubt inspire further innovation in this sector, as the global economy slowly transitions out of lockdown over the coming months, and demand for oil begins to increase."