The mindless yet abundant "Bill says" or "Bill thinks" pieces (no experts and/or fact-checking required) are often paid for; they paint an ignorant, greedy maniac (with arrests record and no college degree) as a benevolent guru in every imaginable domain and every conceivable facet of the economy (which he's still pillaging)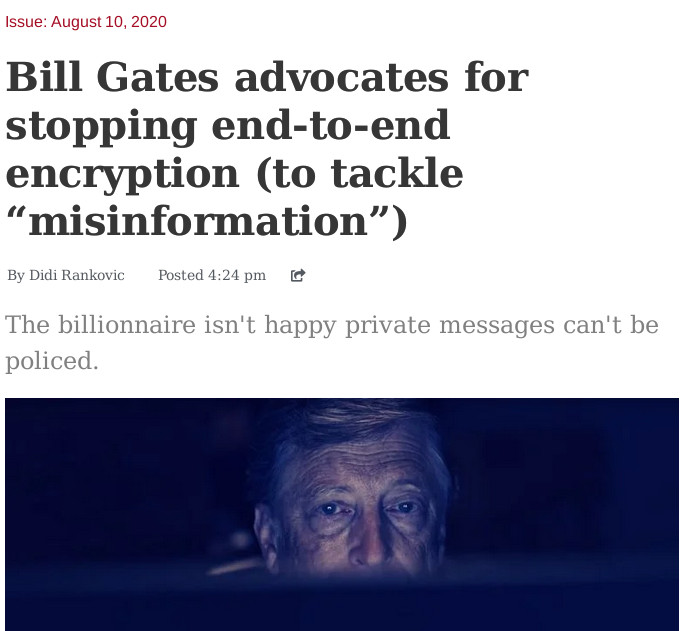 Summary: The villain who wants to be viewed as an angel has corrupted a lot of the media all around the world in order to build reputation or craft a fictional image of himself; real journalists (not bribed by him) need to respond and correct the record, which was distorted for two decades using a fake 'charity'
THE investigative journalist Tim Schwab wrote about it for The Nation back in March and now he's doing it again for CJR, this time focusing on Bill Gates' attack on the media (basically bribery to eliminate or weaken its ability to report properly).
"The corruption and bribes went so far (deep and wide) that nobody wanted to write about the topic."A few months ago we wrote a number of posts (a series) about Bill Gates 'firing' journalists who expose his corruption (they contacted us about it) and judging by some comments I see online (especially today) we're belatedly getting some credit after 13 years, having covered this sort of corruption of the news for longer than 13 years. The corruption and bribes went so far (deep and wide) that nobody wanted to write about the topic. Head over to CJR and read "Journalism's Gates keepers":


NPR's funding from Gates "was not a factor in why or how we did the story," reporter Pam Fessler says, adding that her reporting went beyond the voices quoted in her article. The story, nevertheless, is one of hundreds NPR has reported about the Gates Foundation or the work it funds, including myriad favorable pieces written from the perspective of Gates or its grantees.

And that speaks to a larger trend—and ethical issue—with billionaire philanthropists' bankrolling the news. The Broad Foundation, whose philanthropic agenda includes promoting charter schools, at one point funded part of the LA Times' reporting on education. Charles Koch has made charitable donations to journalistic institutions such as the Poynter Institute, as well as to news outlets such as the Daily Caller, that support his conservative politics. And the Rockefeller Foundation funds Vox's Future Perfect, a reporting project that examines the world "through the lens of effective altruism"—often looking at philanthropy.

As philanthropists increasingly fill in the funding gaps at news organizations—a role that is almost certain to expand in the media downturn following the coronavirus pandemic—an underexamined worry is how this will affect the ways newsrooms report on their benefactors. Nowhere does this concern loom larger than with the Gates Foundation, a leading donor to newsrooms and a frequent subject of favorable news coverage.

I recently examined nearly twenty thousand charitable grants the Gates Foundation had made through the end of June and found more than $250 million going toward journalism. Recipients included news operations like the BBC, NBC, Al Jazeera, ProPublica, National Journal, The Guardian, Univision, Medium, the Financial Times, The Atlantic, the Texas Tribune, Gannett, Washington Monthly, Le Monde, and the Center for Investigative Reporting; charitable organizations affiliated with news outlets, like BBC Media Action and the New York Times' Neediest Cases Fund; media companies such as Participant, whose documentary Waiting for "Superman" supports Gates's agenda on charter schools; journalistic organizations such as the Pulitzer Center on Crisis Reporting, the National Press Foundation, and the International Center for Journalists; and a variety of other groups creating news content or working on journalism, such as the Leo Burnett Company, an ad agency that Gates commissioned to create a "news site" to promote the success of aid groups. In some cases, recipients say they distributed part of the funding as subgrants to other journalistic organizations—which makes it difficult to see the full picture of Gates's funding into the fourth estate.

[...]

As CJR was finalizing its fact check of this article, the Gates Foundation offered a more pointed response: "Recipients of foundation journalism grants have been and continue to be some of the most respected journalism outlets in the world.… The line of questioning for this story implies that these organizations have compromised their integrity and independence by reporting on global health, development, and education with foundation funding. We strongly dispute this notion."

The foundation's response also volunteered other ties it has to the news media, including "participating in dozens of conferences, such as the Perugia Journalism Festival, the Global Editors Network, or the World Conference of Science Journalism," as well as "help[ing] build capacity through the likes of the Innovation in Development Reporting fund."

The full scope of Gates's giving to the news media remains unknown because the foundation only publicly discloses money awarded through charitable grants, not through contracts. In response to questions, Gates only disclosed one contract—Vox's—but did describe how some of this contract money is spent: producing sponsored content, and occasionally funding "non-media nonprofit entities to support efforts such as journalist trainings, media convenings, and attendance at events."
Many of the above publishers, which took bribes from Gates, keep painting him as 'Captain Planet', the person who will save the world from COVID-19. But he's no COVID-19 expert; he's
a shameless COVID-19 profiteer
. Suffice to say, those same publishers also covered Microsoft very 'softly'. It's inseparable.
⬆