The Open Source Initiative Cannot Lecture People on Manners and Tolerance (and Probably Never Could)
Dr. Roy Schestowitz

2020-10-11 15:55:15 UTC
Modified: 2020-10-11 15:55:15 UTC
The fiction of ethical/moral/inclusive corporations (all they care about is money and power; hurdles to this agenda of theirs would be tackled not directly as it's a PR risk)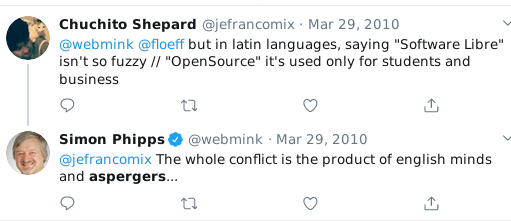 The tweets below and above are clickable (originals still in tact and we've taken screenshots in case they get removed)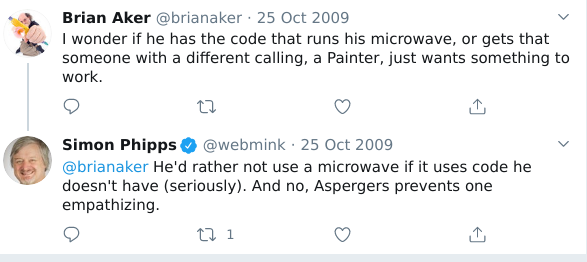 "Everyday people measure empathy (and all sorts of other things) by social cues and norms," someone noted last year. "If the person they're evaluating has trouble with social cues and norms, an improper evaluation is going to be made by most people. Science does not agree with Mr. Phipps, he is not only perpetuating a stereotype that harms human relationships, he is doing so in a way that benefits him politically (I have always considered this dubious and no amount of learning more about him has made me like him more.)"
Summary: Richard Stallman (RMS) is often on the receiving end of malicious insults unsupported by any clinical analysis; a proper critical analysis suggests that "Open Source" is inherently dishonest (stealing credit for other people's work) and moreover intolerant
WE recently showed rather extreme and intolerant views from the OSI's co-founders. Nobody is perfect. Contrary to what they tell us, they're never and were never better than RMS and Torvalds spews out bad words all the time (yet rarely receives the same level of criticism RMS gets).
"...suggesting without evidence that particular people he does not agree with are mildly autistic is a lot more offensive than calling people "crazy" and "lame"."With claims of tolerance and intolerance being increasingly weaponised by those looking to engineer leadership vacuums we thought it would be a good time to remind readers that large corporations now work to remove words like "crazy" and "lame". "Master race" (genocide)? Fine! They'd not only support that but even profit from it! Just don't mention how "crazy" and "lame" that may seem. Even "stupid" is apparently a bad word now.


In defence of Simon Phipps, he was still trying to better understand Asperger's at the time (see his tweet and link to "Investing And Asperger's" around the time of the above tweets). But suggesting without evidence that particular people he does not agree with are mildly autistic is a lot more offensive than calling people "crazy" and "lame". Using imaginary (fictional or unproven) medical conditions to demean and belittle the other side is deeply unethical, not just by CoC-type standards but the standards of medical professionals (including psychiatrists and even psychologists).

We could go even deeper into the dark past of those labels (see image on the right), but then Mr. Godwin would moan. As if Nazis had a monopoly on eugenics. They mostly copied what the US government had done with IBM because old Mr. Watson (IBM's founder) was a racist. ⬆