With EPO Strike Participation in the Thousands, European Patents Plunge in Number
Dr. Roy Schestowitz

2022-03-24 22:39:55 UTC
Modified: 2022-03-24 22:46:58 UTC
"Highest result [participation in the strike] since 2016 even during the pandemic"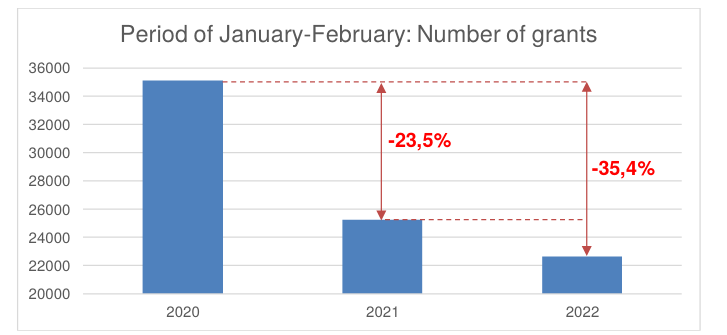 In the words of the union (SUEPO Central), "we count that at least 40% of non-managerial available staff went on strike."
Summary: Actions by (and courage of) the examiners at the EPO have yielded a massive difference in so-called 'production' (management's lowering of the quality bar in order to fake 'growth')
THE EPO's staff union has just released this 2-page publication [PDF] about the strike which took place two days ago. Like Benoît Battistelli before him, António Campinos is shamelessly lying about it. The number of patents -- including European software patents -- fell sharply. Moreover, many workers participated in the strike, and workers are generally unhappy/dissatisfied with the way things are going.
"In the Administrative Council meeting which took place during the day of strike," the staff union says, "management carefully avoided to officially communicate on the drop in production figures but cannot hide the reality for long. Mr Campinos even provocatively stated that staff who did not go on strike actually showed that they supported his salary adjustment procedure. As long as Mr Campinos stays in denial mode and does not solve the issues raised in the action plan, SUEPO calls for a continuation of the Work-to-Rule actions."
"The Administrative Council's "e" "meeting" (not a meeting but a webchat) was probably the typical gallery of docile cowards. No wonder 0% of surveyed staff said the Administrative Council could be trusted."The management is hurting; but they'll never admit it and they'll instead try to gag the media (preventing coverage by using bribes and blackmail, i.e. the usual).

The Administrative Council's "e" "meeting" (not a meeting but a webchat) was probably the typical gallery of docile cowards. No wonder 0% of surveyed staff said the Administrative Council could be trusted. Unless they accept that real change is needed (they may need to cooperate behind the scenes with other delegates to avoid being singled out), their role at the EPO will be immortalised as an epic failure. ⬆