Heads of Patent Offices Are Immune to Coronavirus
Dr. Roy Schestowitz

2022-05-26 06:00:59 UTC
Modified: 2022-05-26 06:00:59 UTC
No Masks, Microsoft Vidal (Kathi Vidal)? COVID "minimiser" or "denier"?

Microsoft's 'turn' [1, 2] to run the Office? And impose DOCX on everybody? It is a proprietary format of proprietary software (Microsoft Office). "OOXML is not actually used by Microsoft Office," an associate explains, and "no one actually uses [it], not even Microsoft itself, [so] implying that OOXML is in use or that DOCX is a single format is misleading at best"; the Office (USPTO) pushes people into Microsoft Office -- a sordid array of Microsoft vendor lock-in.
Summary: The overconfident chiefs of the U.S. Patent and Trademark Office (USPTO) and EPO might love speaking about COVID-19 (in relation to patents), but they do not take it seriously themselves
"J
ust got an e-mail linking to
this big long blog from Microsoft Vidal
," a reader has told us. "They're trying to make it look like she "hit the ground running," as they say in America. Running the world, calling in IP [sic] people from around the world to her table. Everybody is wearing masks, except Microsoft Vidal and the man opposite her. Maybe he's from China, and it's an adversary/power-type thing."
We're long noticed the same from
António Campinos
(
chronic mask rejection
; we did a couple of memes about it earlier this week). Maybe there's nothing to it, but here we go...
Just getting started

Blog by Kathi Vidal, Under Secretary of Commerce for Intellectual Property and Director of the USPTO




On World IP [sic] Day on April 26, Director Vidal met with representatives from the World Intellectual Property Organization, including Director General Daren Tang and Deputy Director Lisa Jorgenson (Photo by Jay Premack/USPTO)
So much confidence! "World IP [sic] Day" is a PR ploy.
⬆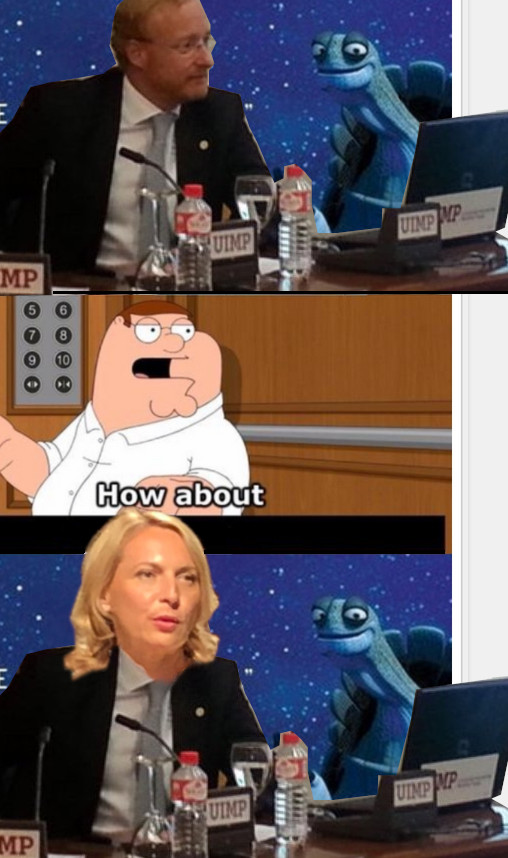 We know who runs the show (Team Battistelli)