German UPCA Ratification Was Expected, But It Does Nothing to Resolve Brexit (UK Cannot Ratify), So Unified Patent Court (UPC) Remains Illegal and Unconstitutional, Violating Several Conventions and Harming Europe's Image, Economy, Access to Justice
Dr. Roy Schestowitz

2023-02-20 02:27:54 UTC
Modified: 2023-02-20 02:27:54 UTC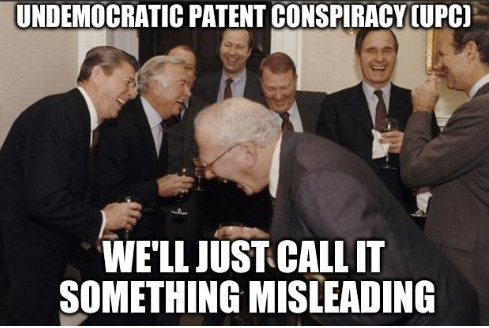 Summary: The Unified Patent Court Agreement (UPCA) was ratified in Germany, but noboby expected Germany not to ratify (in fact it happened very late after several delays) and the signature of the UK is still required, but since the UK is no longer in the EU it is unable to do so, which means that any efforts to start the Unified Patent Court (UPC) would be illegal and would be legally challenged in high courts while the EPO has several of its own crises, including a collapse in patent numbers and patent quality
Some people have asked us in IRC -- and even over E-mail -- about the EPO's statement as well as cheerleading from Team UPC (already in Daily Links).
They basically pretend that a German ratification means that the UPC is about to start, but nothing could be further from the truth. The original expectation was German ratification last year, but this did not happen. And the German ratification is a bit of a red herring, though one that's wildly spun by
the lying lobbyists
, including
António Campinos
and
Benoît Battistelli
's cronies.
We'll say a lot more about it in the coming days as
European software patents
are at stake.
⬆