09.30.08
Gemini version available ♊︎
A FEW DAYS after IBM protested [1, 2] against the abomination which is ISO/Microsoft (the latter had captured the former) there's some response but not in the form of a statement. That evidently-corruptible ISO is instead reminding people of what it calls "World Standards Day":
World Standards Day is celebrated each year on 14 October to pay tribute to the efforts of thousands of experts worldwide who collaborate within IEC, ISO and ITU to develop voluntary International Standards that facilitate trade, spread knowledge and disseminate technological advances.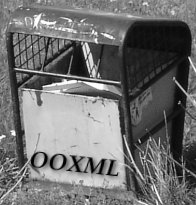 Shown on the right is the man who, along with Microsoft, denied the endless manipulations involved. They care not for gruesome evidence but only for their own ever-sinking reputation. And over at Honeymoon Island, one can now see Patrick Durusau and his new friends from Microsoft, who might be having a jolly good time, and not for the first time, either.
More important, however, is the following leak, which reveals the official ISO circulation (still internal) of the ISO-OOXML specification. According to the directives, these specifications ought to have been circulated back in March, not the end of September.
So, magically enough, ISO can pass shoddy specifications in a matter of 6 months (fast track) but is still unable to pass a copy in less than 6 months. How come? 6 months late, available to members only? Appended below are those details of interest. Is ISO operating a stamping shop? More countries and companies should follow IBM's lead and let ISO dwindle in the darkness where it already operates anyway. █
---
[jtc1sc34 57] Announcement of Document Availability (34i041)
P, O and L members of ISO/IEC JTC 1/SC 34,
The following documents have been posted on the document repository of
JTC 1/SC 34 at http://www.itscj.ipsj.or.jp/sc34/.
Announcement of Document Availability
==================================================================
Committee: ISO/IEC JTC 1/SC 34
==================================================================
Date of Posting: 2008-09-26
==================================================================
Issue Number: 42
==================================================================
Document Numbers: 1080 1081 1082 1083
==================================================================
Ballot Documents: none
==================================================================
Document Register:
http://lucia.itscj.ipsj.or.jp/itscj/servlets/ScmDoc10?Com_Id=34
==================================================================
Number: 1080
Replaces: –
Date: 2008-09-26
Type: Final Text Submitted for IS Publication
Title: Final Text for ISO/IEC 29500-1, Information technology –
Document description and processing languages — Office Open
XML File Formats — Part 1: Fundamentals and Markup Language
Reference
Due date: –
Source: Mr. Rex JAESCHKE – Project editor
Project: JTC 1.34.29500.01
Status: This text has been submitted to ITTF for publication. It is
circulated to the SC 34 members for information.
Action ID: FYI
Access: DEFINED
http://www.itscj.ipsj.or.jp/sc34/def/1080c.htm
==================================================================
Number: 1081
Replaces: –
Date: 2008-09-26
Type: Final Text Submitted for IS Publication
Title: Final Text for ISO/IEC 29500-2, Information technology –
Document description and processing languages — Office Open
XML File Formats — Part 2: Open Packaging Conventions Due date: –
Source: Mr. Rex JAESCHKE – Project editor
Project: JTC 1.34.29500.02
Status: This text has been submitted to ITTF for publication. It is
circulated to the SC 34 members for information.
Action ID: FYI
Access: DEFINED
http://www.itscj.ipsj.or.jp/sc34/def/1081c.htm
==================================================================
Number: 1082
Replaces: –
Date: 2008-09-26
Type: Final Text Submitted for IS Publication
Title: Final Text for ISO/IEC 29500-3, Information technology –
Document description and processing languages — Office Open
XML File Formats — Part 3: Markup Compatibility and
Extensibility
Due date: –
Source: Mr. Rex JAESCHKE – Project editor
Project: JTC 1.34.29500.03
Status: This text has been submitted to ITTF for publication. It is
circulated to the SC 34 members for information.
Action ID: FYI
Access: DEFINED
http://www.itscj.ipsj.or.jp/sc34/def/1082c.htm
==================================================================
Number: 1083
Replaces: –
Date: 2008-09-26
Type: Final Text Submitted for IS Publication
Title: Final Text for ISO/IEC 29500-4, Information technology –
Document description and processing languages — Office Open
XML File Formats — Part 4: Transitional Migration Features
Due date: –
Source: Mr. Rex JAESCHKE – Project editor
Project: JTC 1.34.29500.04
Status: This text has been submitted to ITTF for publication. It is
circulated to the SC 34 members for information.
Action ID: FYI
Access: DEFINED
http://www.itscj.ipsj.or.jp/sc34/def/1083c.htm
==================================================================
ISO/IEC JTC 1/SC 34 Secretariat: kimura@itscj.ipsj.or.jp
==================================================================
Permalink
Send this to a friend