05.10.10
Gemini version available ♊︎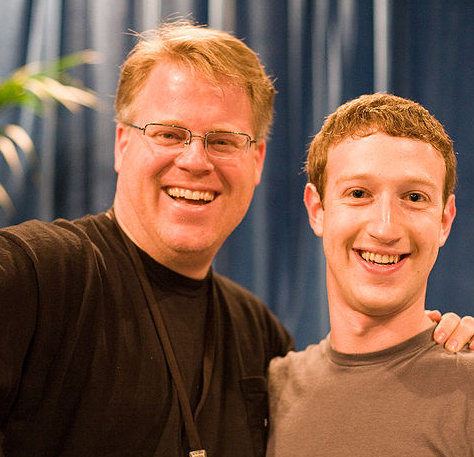 Facebook co-founder Mark Zuckerberg
with former Microsoft evangelist (source: Robert Scoble)
Summary: Facebook is growing ever more intimate with Microsoft and poses a threat this way
IN A VERY RECENT public talk, Professor Eben Moglen complained about Facebook and it's easy to see why. We have begun assembling links in this Wiki page. It talks about the subject and today we will add the latest developments, based on this month's news.
Privacy in Facebook has become a subject of concern in the press. Over at Wired Magazine, a new article says that "Facebook's Gone Rogue; It's Time for an Open Alternative" and some other new articles go as far as listing X number of reasons to dump the platform and close accounts (Windows zombies might knock it offline sometimes). But the reason we are worried about Facebook is different (privacy problems withstanding). As we showed some months ago, Facebook is friends with Microsoft's patent troll (world's biggest patent troll) and does badly with software patents [1, 2].
Now we discover that in addition to its close relationship with Microsoft (yes, the co-founder is very close to Microsoft and he received an investment from Microsoft) the site also passes private information to Microsoft. To quote some new articles:
The three companies getting personal information from Facebook are Microsoft, Pandora, and Yelp.
ii. The Relationship Between Facebook and Privacy: It's Really Complicated
The complaint specifically mentions the "instant personalization" feature that allows Microsoft's Doc.com, Yelp, and Pandora to personalize their services when a user is logged in to Facebook, and also refers to the fact that Facebook connects profile details such as hometown, movie and music preferences, etc. to public "community pages."
iii. Bad week for Facebook privacy
Not only that, the complaint also takes a dim view of Facebook giving out users' personal information to companies like Microsoft, Yelp and Pandora without first obtaining their consent.
This issue of data sharing outside Facebook (a Microsoft peephole) gets mentioned in [1, 2], among many other news sites. This is probably allowed based on the ever-devolving terms of service, but anyway, why would Microsoft need such data? And why does Facebook give that away? What does Microsoft do with it? What might it do with it in the future? Facebook has a lot of personal data it can hand over to Microsoft, but it rarely (if ever) speaks about these arrangements in public. Zuckerberg has a history of using this data to attack individuals whom he did not like. Why wouldn't Microsoft do the same thing now that it has access to the dataset?
Last month we saw Facebook harming ODF by promoting Microsoft Office and its proprietary formats. There is still new coverage about this, including:
There are other new ways in which Facebook works with Microsoft. To name examples from the news (the past 2 weeks):
If Facebook is taking sides here, that side of choice is clearly Microsoft's.
Here is where it gets interesting. A new article from eWEEK is titled "Cloud Computing: 10 Reasons Microsoft Should Buy Facebook Now" and another one is titled "FACEBOOK, When Will Mark Zuckerberg Finally Cash Out and Sell to Microsoft?"
Groklaw commented on the latter article by writing: "This is a rumor, but imagine what it means for your privacy if Microsoft does buy Facebook."
It is expected that Facebook might just sell itself to Microsoft rather than simply give its data to Microsoft, which is already a Facebook shareholder (that clearly gets its money's worth).
Another batch of news articles says that Facebook is expanding right near Microsoft's back door:
1. Facebook plans to open Seattle engineering office
2. Facebook exec to Seattle: Bring us your very best engineers
When companies move that close to Microsoft (and inevitably hire from Microsoft) they sooner or later get closer to Microsoft and not just physically, suggests experience. █
"Privacy protects us from abuses by those in power, even if we're doing nothing wrong at the time of surveillance."
Permalink
Send this to a friend