06.10.10
Gemini version available ♊︎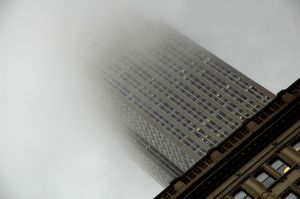 Summary: The now-vulnerable Novell swings with some of the most threatening (to software freedom) phenomena
NOVELL is rusty and it is confused. It still uses old buzzwords like "agility" and it advertises Fog Computing. Not quite the "Linux company" we were once led to believe in, eh?
According to this new announcement (a joint press release), VMware decided to help spread the GNU/Linux (or Ballnux) distribution which comes with Microsoft tax. To give examples of press coverage:
i. VMware to support Novell's Suse Linux Enterprise Server OS
ii. VMware, Novell partner on Linux, virtualization
Users who want to deploy VMware vSphere virtual machines with Suse Linux can get a free subscription to the Linux OS that includes patches and updates. VMware and solution provider partners will offer customers an option to purchase technical support for Suse Linux to be delivered directly by VMware.
iii. VMware to standardize on Novell SUSE Linux
A new VMware and Novell partnership will eventually push all VMware virtual appliances onto Novell SUSE Linux Enterprise Server (SLES).
Ignition Partners with its obvious Microsoft connection [1, 2] is up to no good again. These people are funneling money into Microsoft's Hyper-V enablers.
Server virtualization is not as easy as vendors make it sound, which is why VM6 Software has created a set of tools that may make using Hyper-V a whole lot easier.

[...]

To fund its VMex product development, VM6 Software sold off its consulting business. In April, the company said it had closed $4m in Series A venture funding, kicked in by Ignition Partners and RBC Venture Partners, who now have seats on the VM6 Software board. Stephen Pollack, who founded PlateSpin and who, along with Courville, grew that company so Novell would shell out $205m to acquire it, joined the board as well.
Ignition Partners is like an offshoot of Microsoft and we have very recent examples (e.g. Heroku) where former Microsoft executives from Ignition Partners are put in the board of companies that can help Microsoft. Ignition Partners is essentially buying those seats.
Stephen Pollack, who quit Novell after he had sold PlateSpin to Microsoft, is also mentioned up there. "Novell beefs up PlateSpin management with Linux support," says a new article from IDG. PlateSpin was very much a failure for Novell, which simply lacks strategic direction. The product line was renamed.
Here is Novell's promotional rant about 'cloud' computing (Fog Computing). It's an IWM advert which failed to "go viral" as John Dragoon would have wanted.
This video mentions TechRepublic, with whom Novell advertises heavily (those anti-Red Hat ads are still all over Google News, serving as proof that Novell is cannibalising GNU/Linux rather than go against Windows, which is low-hanging fruit).
Here is another new video where Novell is pushing for Fog Computing. It is clear that Novell has shifted its focus to other areas and strategies; it's no longer about "Open Source". █
Permalink
Send this to a friend