07.03.10
Gemini version available ♊︎
Summary: "Xandros hasn't released a new version of Xandros Server since May 2007. That's over three years," argues a blogger
IT WAS almost exactly 2 years ago (prior to Independence Day) that Linspire threw itself at Xandros' arms, only to see everything from Linspire dusted away into a nearby ashtray. Both Xandros and Linspire had signed patent deals with Microsoft and shown the world what happens to those who sidle with the convicted monopolist.
"Stick a fork in Xandros," writes one blogger today, "it's done."
Xandros hasn't released a new version of Xandros Desktop since November 2006 when they released Xandros 4.1. That's almost four years without a new OS.

Xandros hasn't released a new version of Xandros Server since May 2007. That's over three years.

Xandros' Presto OS pretty much came into the market with a whimper and went out with a sigh – most likely in the span of one month.

DistroWatch has declared Xandros Desktop to be a discontinued distribution.

Many former Xandrosians – myself included – have moved on to other OSes such as Ubuntu, Mint, and PCLinuxOS. Most abandoned Xandros when they sold out to Microsoft's racketeering scam (the "patent agreement"). (I should note that I abandoned Xandros upon release of Ubuntu 6.06 Dapper Drake LTS.)
SUSE suffered from Novell's deal with Microsoft as well. Listen to this new episode of Linux Basement. About 15 minutes from the start they begin explaining why they left SUSE (as did yours truly). OpenSUSE needs to distance itself from Novell, otherwise it will continue to scare existing and prospective users.
At the moment, Novell blurs the gap between SUSE (in the SLE* sense) and OpenSUSE. It is selling SUSE appliances and advertises them massively in its PR blog. Just looking at the past week alone we found three examples [1, 2, 3], one of which focuses on the mainframe:
As employee number 135 at SUSE (bought by Novell in 2004), Joerg Eberwein has seen it all. With a small team of engineers and partners—numbering around 10 in the early days—they were able to rely on innovation, teamwork and each other to create a product that has been around a decade.

[...]

"We saw the chance and we took it," said Eberwein. "We started to spread the message of Linux on the mainframe."
Novell does not grant the user much control. In fact, it is moving control away from the user [1, 2] while at the same time spreading FUD about SaaS, e.g. when losing a contract in Los Angeles.
With NetWare SMB 'AccountName' flaws and BSM failure, Novell is headed nowhere, just like Xandros. Last week it advertised [1, 2] its recently-acquired BSM assets (buyout one year ago) but this BSM's CEO quit Novell last year. It doesn't look particularly good for any of Novell's business areas. Even the marketing people (after some major departures) can't get their grammar right:
Within the Novell BSM solution we speak in terms of the Configuration Management System (CMS) accessing data at it's source as data in memory (or federated in real-time) because the value is joining the data metrics in a model providing the relationships that illustrate "value" through the creation of "information".
Novell — like Linspire — might be sold for some of its assets to be buried and others to be sold away cheaply (those that have positive market value). The boycott against Novell has fulfilled itself almost entirely. Meanwhile we saw massive companies like Nokia and Google leveraging GNU/Linux and bringing it further into the mainstream. █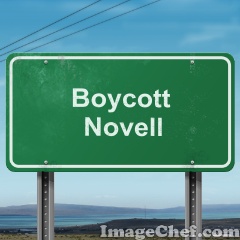 Permalink
Send this to a friend