09.20.10
Gemini version available ♊︎

Summary: An explanation about the drugs (patents) Bill Gates is investing in and promoting in populations too poor to legally fight back when something goes awry
The following is a verbatim copy of an article just sent to us from China for publication (for background, see our page about Gates Foundation, learn about girls' deaths caused by a Gates-backed HPV vaccine project earlier this year, and remember those staff intersections between Merck, GlaxoSmithKline [1, 2], and the Gates Foundation).
---
Here is an article you may find interesting for your readers about how Bill Gates of Microsoft is funding more unethical business practices for profiteering on socially disadvantaged people in India (and other nations) under the "Bill and Melinda Gates Foundation" philanthropy outreach masquerade as plundering IPR pirate profiteers.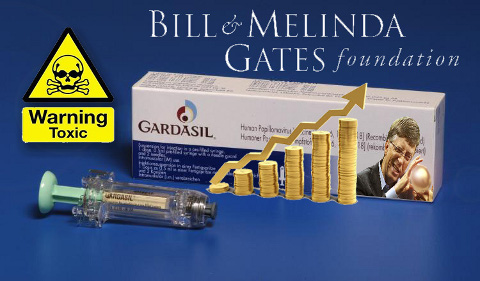 HPV Vaccination Experimentation on Children backed by "Bill and Melinda Gates Foundation"
Bill and Melinda Gates Foundation [1], with Merck and GlaxoSmithKline are providing the (Gardasil and Cervarix) vaccine that has been causing the following serious side effects such as seizures, strokes, autoimmune diseases, chronic fatigue, hair loss, chest pains, muscle weakness, menstrual cycle changes, temporary vision and hearing loss, and paralysis. Deaths (78+ in U.S.) have also been reported after receiving the vaccine.
Comment: Merck and the CDC classify the symptoms as non-serious. However, if it was your daughter who was suffering from the above adverse reactions wouldn't you – as a parent – consider them to be serious side effects?

Just why should the "Bill and Melinda Gates Foundation" NOT be held socially or financially responsible for having supported human rights violations, where young healthy girls (living in poverty-stricken regions) had to die for being part of a philanthropy-endorsed experiment, initiated by a profit-making private company?
There have been allegations on ethical violation issues, and even exploitation. It seems that some of these (14,000) girls and their families (whom are socially disadvantaged) were given a document in which they were told that, "The vaccine has no side effects, creates life long immunity and will not create any health problems for their child", according to Activist Kalpana of Saheli who has been tracking this case for the last eight months.
Comment: The two human papillomavirus (HPV) Gardasil and Cervarix vaccines have been implicated in at least 78 deaths and 18,461 reported adverse reactions in the U.S., by the Vaccine Adverse Event Report System (co-sponsored by the Centers for Disease Control and Prevention and the U.S. Food and Drug Administration), prompting no response from U.S. officials other than to keep pushing it on the public, but the six deaths in India have prompted the government there to immediately stop all trials of the vaccines.

According to reports, the trials were wholly unethical and illegitimate to begin with, and were nothing more than blatant exploitation by drug companies of disadvantaged people from a developing nation. Both the Gardasil and Cervarix vaccines, were allowed to undergo clinical trial (Phase III) in India, before being granted permission for import and market authorization," explained S. Gandhiselvan, minister of state for healthy and family welfare, in a statement to India's parliament.

Gardasil is intended to protect against FOUR types of HPV. There are over 120 different strains of HPV. Also, there are no studies indicating how long this "expensive" vaccine is effective in clinical trials longer than five years. According to Dr Harper (a paid speaker and consultant to Merck)[3], "11 to 12 year olds are not promised protection until they leave the age range for highest acquisition of high risk HPV infections, which is (the age of) 36. So, even if there was a chance it would last 15 years – which is highly unlikely – girls vaccinated at 12 still would not be fully protected."

While, if you are already infected with HPV (60% of the U.S. population – according to Merck's website), the risk of cervical cancer actually increases if you are given the vaccine, which are NOT effective in women already infected with those specific types of HPV.

Less than 0.8% of the population carries one of the four HPV strain types that both the Gardasil and Cervarix vaccines are intended to protect against. In addition, HPV vaccines are not tested to see if they are carcinogenic (cancer causing). Cervarix has over twice the amount of aluminum adjuvant as gardasil contain

This makes Gardasil very limited, if any, clinical benefit. Who does it benefit most, the philanthropy investor or the healthy young women here before taking the vaccination?
Sources
[1] http://truthaboutgardasil.org…
[2] http://articles.mercola.com…
[3] printed version of the Irish Examiner Monday, August 30, 2010 "Cancer Vaccine Warning" by Jennifer Hough
---
The explanation above was kindly contributed by a Chinese reader, so editors of Techrights need not be held accountable for inaccuracies, if any. █
"Gates has created a huge blood-buying operation that only cares about money, not about people."
–AIDS organisation manager in China, December 2009 (New York Times)
Permalink
Send this to a friend