11.23.10
Gemini version available ♊︎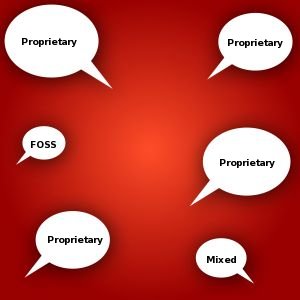 Summary: Setting the record straight on the nature of Novell's business based on some very recent news
AN article that caught our eyes the other day labels Novell an "open source company". Well, even Novell does not pretend to be an open source company, it calls itself a "mixed source" company. Watch the discussion where Matt Aslett corrects this:
With just under 1,600 combined customers and revenues that doubled in the last year, de Montcheuil claims that the combined company will be the fifth-largest open source company, following Red Hat (NYSE: RHT), Novell (NASDAQ: NOVL), Sourcefire (NASDAQ: FIRE) and Ingres.

451 Group analyst Matthew Aslett said the company "may well be there or thereabouts; depends on how you cut the numbers."

"You have to decide where to draw the line on 'pure play,'" Aslett told eCRM Guide. "For example, we would not count Novell. Although they do break out figures for the Linux business, if you include that you could also include a company like Actuate [$18 million in BIRT-related business last year] and then you might as well include IBM or Oracle.
The truth of the matter is, almost everything which Novell does these days is proprietary. We wrote many posts to illustrate this. Novell's PR people are still clinging onto corruptible yardsticks like the so-called 'Magic Quadrant' which the Gartner Group uses to make companies pay for Gartner contracts, according to numerous allegations. Needless to say, it's usually proprietary software whose owner pays Gartner that makes it into the Magic Quadrant. Gartner was even sued for it. Anyway, looking at the remainder of the Novell headlines, Novell's BSM (business service management) product has an announcement to make just before the sale of the company (rushed disclosure of products before AttachMSFT [sic] comes).
Here is an announcement of a Novell partnership [1, 2, 3], which is further explained in "New Version of SAPERION's ECM and BPM Suite Successfully Merges Compliance With User Friendliness; Joint Solution With Novell Provides Collaboration, Compliance, and Revision-Proof Archiving" (Guess what? That's proprietary too).
Novell SecureLogin gets this security product attached to it:
To address market demand for strong authentication support for Identity and Access Management solutions, Authasas® now offers full support for strong authentication to Novell® SecureLogin.
Novell gets mentioned among other companies in all sorts of lists including this one:
As this step becomes more complex, a commercial enterprise access governance tool — such as Aveksa Inc.'s Access Certification, Oracle Corp.'s Oracle Identity Analytics, Novell Inc.'s Access Governance Suite, etc. — is needed to perform this activity.
There is also this report from New Zealand about a school that looks for change, including the possibility or replacing Novell's proprietary stack (now is a likely time for it to happen).
The Ministry has contracts in place with Renaissance, Novell and Datacom for software licensing and support for Apple, Novell, Symantec and Microsoft technology, and with Telecom, Watchdog and Websense for web filtering and firewalls.
Back in 2005-2006 Novell had a lot of SUSE news to share. Now it's just a proprietary company, so passing of this company to AttachMSFT is not a major loss. The free/libre (or open source) community will do fine without Novell. █
Permalink
Send this to a friend