12.04.10
Gemini version available ♊︎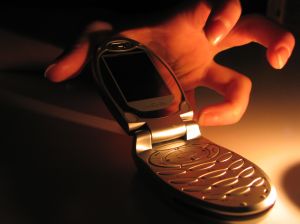 Phones can be stolen, phone ideas cannot
Summary: Patent infringement is not "theft" and not "piracy" either, even when developers are ripped off by the likes of Tandberg
ABOUT a week ago we wrote about Tandberg and we are flattered to be cited by Patrick Anderson, who is in the patents business and plays somewhat of an apologist's role for it in his post "Pirated Patents?"
One polite request which ought to be made to Mr. Anderson is that he should help drop this silly vocabulary and show respect to people whose only 'crime' is inspiration or imitation. "Pirates" are actually a vicious class of men who pillage and plunder, even murder. Patent lawyers could be called "rapists" (for raping defendants for their money), but this is generally not done. What Tandberg does is abominable not because they take/inherit someone else's idea; it's the fact they strive to get a monopoly with which to practically exclude the original innovators, the source if the idea/s. This is utterly malicious and it's facilitated by the USPTO.
Anderson beat us to it with links that we were about to use anyway because there was a limited number of blogs that covered the Tandberg saga (accumulated here since December first), not the mainstream news. A few days ago we caught this coverage and Mike Masnick's belated coverage, which says:
The first, found via Dave Farber's IP list is a patent which an open source developer suggests almost identically matches code that he committed to an open source project. The guy who wrote that post has since backed down a bit on his original claims that the patent was clearly "copied" from his open source commits, but still notes that the patent application in question is ridiculous.

Then there's a similar story, found via Slashdot of a guy who coded an open source library for Windows in 2001 (inspired by a Bruce Perens project from 12 years earlier) and just discovered that IBM appears to have patented the same technology — even mentioning this guy's own blog post in the references section.
Just before leaving ZDNet's "Linux and Open Source" blog (now in good hands under Steven J. Vaughan-Nichols, aka SJVN), Dana correctly pointed out that "Tandberg illustrates stupidity of software patent policy".
Tandberg, the videoconferencing unit of Cisco that some reporters have called a patent troll, has accidentally revealed the stupidity of software patents with a recent application.

X264 developer Jason Garrett-Glaser, a student at Harvey Mudd College (from which this picture was taken after Apple co-founder Steve Jobs referenced his blog) wrote that Tandberg had tried to patent his open source code.
In later posts we are going to go deeper into the software patents news. A lot is going on right now. It can easily determine who wins the operating systems 'war'. █
Permalink
Send this to a friend