01.19.11
Gemini version available ♊︎
Summary: Interesting admissions and revelations from an apparent lobby group which deals with patents
OW LOVELY it is when the patent boosters themselves are admitting the obvious, refuting some of their peers' tired propaganda in the process. PatentFairness.org has this new page about myths and Groklaw quotes from it the following:
Patent reform will drive jobs overseas.

The patent system today discourages U.S. job growth. Productive companies are spending billions of dollars in money and resources to defend themselves against patent lawsuits. The cost of defending an average patent lawsuit is between $2 million and $4.5 million. Furthermore, prior to 1990 there had been only one patent damages award in history larger than $100 million, yet in the past five years, there have been at least ten judgments and settlements in that category, and at least four that topped $500 million. One topped $1.5 billion. This is money that could be otherwise re-invested in the companies, spurring innovation and creating high-paying jobs.
Groklaw has also found this congressional testimony from Chuck Fish, who says:
One popular strategy abusive patent enforcement companies employ is to demand substantial sums of money from an entire industry based on shared procedures mandated by regulations or technical standards. For example, Data Treasury has aggressively asserted its patents against the banking industry – claiming that its patents cover technology for various stages of the check archiving process, including image capturing, centralized processing and electronic storage of document and check information. Several financial institutions have entered into very large settlements instead of running the risk with litigation.

Other plaintiffs that pursue this route often assert that their patents cover a technical interoperability standard. Typically, the purported infringement claims are not raised in the standard-setting process and instead are asserted only after the standard has been adopted. By the time the purported infringement is discovered, it may be prohibitively expensive to adopt and implement a new standard to avoid the patent.

The economic impact of abusive patent cases is by no means limited to lawsuits that are filed, which are only the tip of the iceberg. For example, it is routine for these patent enforcement companies to send demand letters simultaneously to many companies. Indeed, one plaintiff reportedly sent such letters to 75,000 companies. The theory seems to be that at least some recipients will agree to pay license fees to avoid the costs and uncertainties of the current patent litigation system – especially after seeing how companies in similar situations have fared – and their contributions will fund actions against those who have refused to pay tribute.
To quote Groklaw's remarks on it (because they are relevant and valuable to us): "The former is one of the things Apple is accusing Nokia of doing, "promotion of standards to the relevant standards-setting organizations while concealing its own patent applications allegedly covering these standards". The latter is essentially the strategy that Microsoft seems to follow, avoiding litigation which would put their patents at risk of being found invalid, but instead trying to get companies to sign up to avoid litigation. As Fish points out, that doesn't at all mean that such a strategy excludes litigation eventually against those who don't sign up." In the next post we are going to cover the codecs debate, which to Nokia, Microsoft and Apple matters a lot because of penetration of patent monopolies. To them, patent thickets are an advantage point. █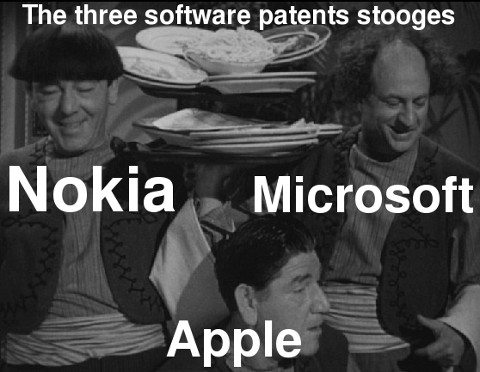 Permalink
Send this to a friend