01.22.11
Gemini version available ♊︎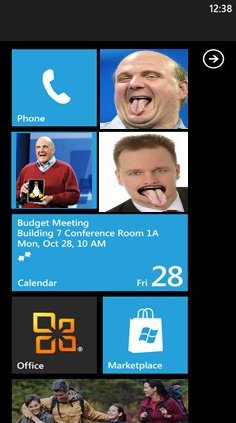 Summary: Microsoft's hope of boosting Vista Phony 7 [sic] still relies on lies regarding Android and many lawsuits; Microsoft Florian plays an instrumental role, even if he just keeps lying
ANOTHER week, another attack on GNU/Linux, courtesy of course of Microsoft Florian, who is trying to be another Enderle/O'Gara (attacking Android like these people attack Linux). Those big lies and unbacked allegations carry on flying, such as the claims he made for TurboHercules (that's how he started the anti-Linux lobbying a year ago) before it turned out that TurboHercules is partly owned by Microsoft. For the uninitiated, Microsoft Florian's strategy involves flooding forums with repeated messages (he denied comments in his blog after people had exposed him right there in his own platform) and he is mass-mailing journalists with bits he wants inserted into articles, attributed to him of course. Journalists will need learn to ignore mobbyists (Florian personalises his messages slightly, so they can't see it's mass-mailed), especially ones who do not deny a connection to Microsoft and have a proven history of being paid to lobby. Microsoft Florian himself would not deny this. He is an experienced lobbyist and his shameless tactics (like abusing mail and schmoozing journalists) are well documented in Techrights.
Florian has just been caught lying again, but the mainstream press does not appear to have caught up with it yet. One forum that Microsoft Florian regularly trolls (inserting anti-Linux tripe to a pro-Linux forum is considered Internet trolling) is right now slamming Microsoft Florian while linking to this report, which says:
A close look at the actual files and accompanying documentation, however, suggest that it's not a simple case of copy and paste. The infringing files are found in a compressed archive in a third-party component supplied by SONiVOX, a member of Google's Open Handset Alliance (OHA). SONiVOX, which was previously called Sonic, develops an Embedded Audio Synthesis (EAS) framework and accompanying Java API wrappers which it markets as audioINSIDE.
"More proof Florian Mueller is a paid Microsoft troll," called it one reader of ours (IRC logs to appear shortly) and "Florian in fact copied this research," alleges another. There is a more in the IRC logs (I was away the entire time it was discussed, recording TechBytes and then sleeping).
"I had deja vu reading FM's "analysis"," wrote one reader, "because I have seen it before. This what Florian does is just vague FUD. It can be proven or disproven. It is just to FUD people… To make manufacturers think about WP7″.
There is also pathetic damage control from people who hate Linux and attack it while pretending not to. Those anti-FOSS minions try to imply that everyone who disagrees with Microsoft Florian is yours truly, even though I never had any account in Reddit. That's libel. As gnufreex put it, "Microsoft cronies at Reddit are telling me that I am you
… In fact, they say that to everyone who points out Florian Mueller lied about Android"
Here is one of the key analyses that disprove all that FUD from Microsoft Florian:
Sometimes the sheer wrongness of what is posted on the web leaves us speechless. Especially when it's picked up and repeated as gospel by otherwise reputable sites like Engadget. "Google copied Oracle's Java code, pasted in a new license, and shipped it," they reported this morning.

Sorry, but that just isn't true.

[...]

Sadly, while sensational articles like Engadget's and Mueller's will get splashed all over the web and lavished with thousands of views and hundreds of comments, the boring truth will rate no such attention.
Exactly.
"Copied code not in Android source after all," says the headline from Android Central.
The other 37 files exist as well, but are inside a zip file in an area of the source tree used for one particular audio chipset. These files look like they were uploaded by mistake, and also aren't used to build Android or ship with any Android devices. These will probably just be deleted from the tree, as they don't do anything.

One more anti-Android story proven false and put out to pasture. Let's get ready for the next one, because everyone wants to see some of those beautiful, green Android dollars. [ZDNet]
"If I were Google," wrote gnufreex, "I would be suing Florian Mueller for libel. He clearly tries to create FUD so device manufacturers dump Android for WP7″
He also linked to this FUD from Microsoft Nick, alleging that the "article is veeeery incorrect… Schmidt left from Novell for Google in 2001. That is before Novell bought SUSE and Ximian. And yet, that article claims that it was Schmidt who started those."
All these attacks on Google often turn out to be connected to Microsoft. Is anybody shocked? █
Permalink
Send this to a friend